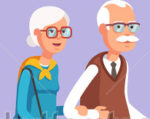 "I'm passionate about old people because I am one myself."—Len Goodman, Dancing with the Stars professional dancer
Monday is International Day of Older Persons. The UN General Assembly established it as a global observance Dec. 14, 1990. It was celebrated for the first time Oct. 1, 1991with a "Universal Declaration of Human Rights."
This year's theme, "Celebrating Older Human Rights Champions," is intended to promote the UDHR and recognize those who raise visibility of older folks and the process of becoming old. It reflects on progress and challenges to ensure basic freedoms of older persons and mobilize people around the globe to recognize human rights at all stages of life.
This observance is well-intentioned but boring. It isn't even a public holiday. I hate to complain, but where are the parties, parades and picnics celebrating senior citizens? The idea hasn't caught on like Labor Day did, when 20,000 workers marched up Broadway in tribute to the economic achievements of American workers. Labor Day is celebrated with a three-day weekend packed with parades, political rallies, picnics and kegs of beer.
On the other hand, for retired and semi-retired seniors like me, every week is a long weekend. Surely someone could come up with more than a stuffy declaration honoring the 700 million people age 60 and over around the world. The format needs pizzazz. Let's have a picnic. I'll bring potato salad in honor of my favorite senior citizen Mom; she made the best.
She also gave wise and free advice that fit nearly all situations: 1.) "Don't spend it; 2.) Just do it (Where do you think Nike got the slogan? And perhaps they should go back to it); 3.) You've made your bed, now lie in it, and the all-encompassing 4.) So you think you have problems?"
As French writer Francois de La Rochefoucauld said: "Old people love to give good advice; it compensates them for their inability to set a bad example."  
Author Lailah Gifty Akita said: "Blessed is the society that has oldies."
Nevertheless, the question remains: how best to honor those in their golden years? Galas, speeches, awards dinners, parades? I lay awake most of the night thinking about it. Now I need a nap. Nap? That's it! On Oct. 1, let's all take a nap in observance of International Day of Older Persons.