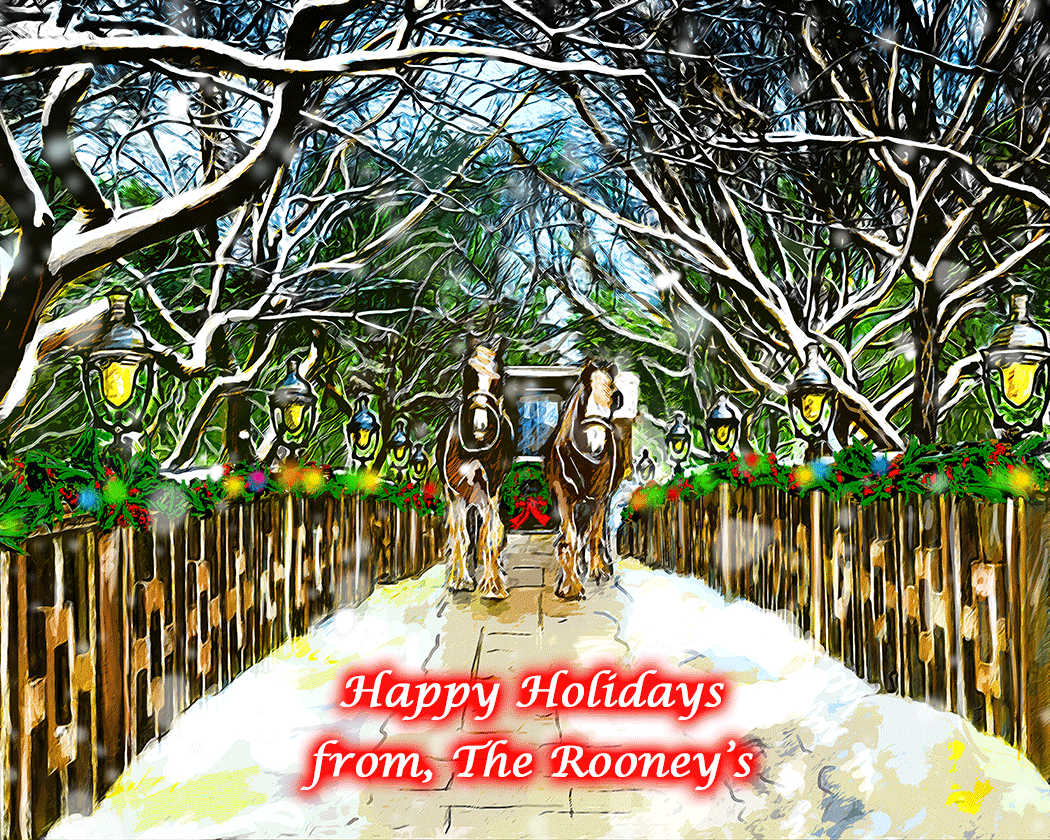 Going to the North Carolina mountains the week before Thanksgiving put us behind in the holiday decorating ritual, so we forfeited the annual light-the-bushes competition with the across the street neighbors. We won last year, by untangling nets and strings of lights three weeks after Halloween…boy were they surprised.
Decking halls with boughs of holly, trimming a tree, and hanging stockings from the mantle are ancient rites that have gotten old at the Rooney Bin. It must be my age, but starting off the holiday season at a mountain resort where somebody else has done all the work had great appeal. We enjoyed beautiful tree decorations and a gingerbread house competition at Asheville's Grove Park Inn and returned inspired to recreate our own holiday wonderland. That lasted about 15 minutes for my spouse Binmeister and me. However, No.1 daughter is urging us on, determined to deck the halls and light the lights as we've always done.
Once upon a time, bringing evergreens indoors symbolized renewed life. Pine boughs brought inside magically ensured the return of vegetation in the spring, unless of course someone in the family is allergic to pine, so we renew life with dusty artificial greenery that causes almost as much sneezing. The oft celebrated in song "boughs of holly" were reputed to have magical powers that warded off witches. Holly was viewed as a masculine plant. When brought indoors on Christmas day, the prickly-leaf variety was a sign that the man of the house was in charge.
The legend of the Christmas tree harks back 1000 years or so, when monk St. Boniface traveled about Germany converting people to Christianity. One day while walking in a forest, he came upon a group of pagans worshipping an oak tree. Appalled by the irreverence, he ran to Home Depot to purchase a chain saw and a gallon of gas, which as I recall was about 25 cents way back then. The lines were long, so he stopped by Starbucks for an eggnog latte. By the time he returned to the woods, the heathens had moved on to worship a boulder. Switching his boni-face to a Grinch face, his anger escalated as he struggled to start the chain saw to cut down the offensive tree. Suddenly a small fir sprang up in the tree's roots. The good saint knew a miracle when he saw one. For example, it was a miracle he got the chain saw working in the first place. He declared the little tree a sign of Christian faith and headed back to Starbucks to brag and try a peppermint mocha grande. Nevertheless, it was hundreds of years before German wives could convince husbands—tell me about it—to bring evergreen trees indoors to be decorated with candles, tinsel and the cute little ornaments they got on vacations.
Heavy rain for a couple of weekends in a row postponed the Rooney Bin's annual outdoor bush lighting fiasco. Now it's time for Binmeister to put on his Grinch-face and help me solve the eternal Christmas mystery: why were all the lights working in January, when they were taken down and carefully wound up or folded for storage, but half a string here and there refuse to light in December? Seeing his chance to escape, Binmeister went off to the Home Depot time warp for the male species and returned two hours later in good spirits bearing a frothy coffee beverage, a sack of hardware "necessities" and, amazingly, he remembered replacement lights.
However, by then it was too late to actually have the annual outdoor lighting ceremony. Today is the day we hope to get the job done, but Mr. Grumpy says: "This is the time of year when a menorah seems like a good idea."