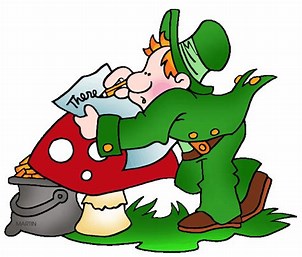 "Spring is nature's way of saying, 'let's party.'"—Robin Williams
If each month of the year was assigned a different color, there is no doubt March would be spring green, the color of nature, health, growth, fertility and shamrocks. March 1 is generally considered the start of spring by meteorologists, who divide the year into quarters based on temperatures and the position of Earth with the Sun. However, astronomically speaking, this year the vernal equinox officially falls on Thursday [Mar. 19].
The first day of spring is determined by the position of the Sun and the Moon and happens at the same moment worldwide; on the other side of the equator it marks the arrival of fall. It is said that during the vernal equinox you can balance an egg on end. (Cheat: hard boil the egg first and smash flat the larger end on the counter. It works every time.)
In addition to celebrating the arrival of spring, March offers plenty of opportunities to party. The most popular is Tuesday [March 17], the day folks wear their "Kiss Me I'm Irish "T-shirts and green genes with pride. About 40 million Americans claim Irish roots. That's eight times the population of Ireland, which has about 4.9 million people, give or take a leprechaun or two. O'Rooney Bin residents unearth green garments, scarves and shamrocks and rehearse Irish proverbs, jokes and toasts to show off at St. Paddy's Day parties.
Indeed, the Irish are known to be fond of drinking, as illustrated by the toast: "In all this world, why I do think, there are four reasons why we drink: good friends, good wine, lest we be dry and any other reason why. Sláinte!"
Sláinte, the Gaelic word for "health," is used in Irish toasts as a brief message of good luck and good cheer when you down a Guinness or sip a Jameson with Irish friends.
In addition to imbibing a few drinks, the Irish have an innate ability to turn a witty phrase. I like to think I inherited the inclination from my Irish grandmother Margaret Tracey. (Doesn't everyone have an Irish grandmother?) For example, my Nanny used to offer this advice: "You can't borrow money from a leprechaun, because they're always a little short."
The Final Word…According to Wikipedia, green was the color worn by members of the revolutionary Society of United Irishmen during the Irish rebellion of 1798. They dressed in green clothes, wore ribbons and shamrocks and sang a ballad "The Wearing of the Green" lamenting their persecution. Today the Irish celebrate The Wearing of the Green, and proclaim: "If you're lucky enough to be Irish, you're lucky enough."Beannachtam Na Feile Padraig! (Happy St. Patrick's Day!)