June 27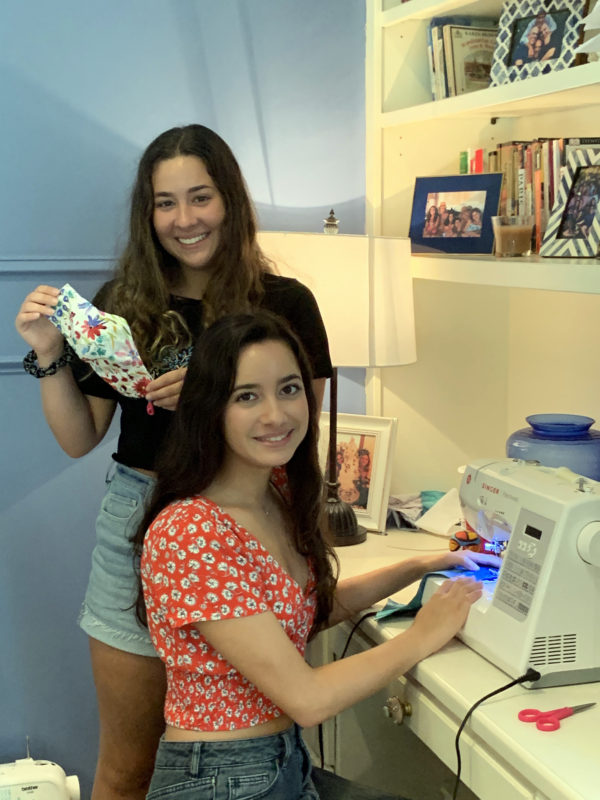 Mask "R' Aid…And so 17-year-old twins Carolina and Marina Mechetti decided to help the community by making and donating facemasks. The Ponte Vedra High School seniors came up with the idea during spring break.
"It was my idea," said Carolina, who went on to explain she got a sewing machine five years ago, but didn't know how to use it. They put their heads together and looked up instructions for sewing the masks. Marina cuts fabric and Carolina sews.
"We're having fun with it," Marina said. The industrious pair has even recruited friends to help.
They began by making and giving about 150 masks to Baptist Hospital, the Sulzbacher Center for homeless men, women and children, and to the Jacksonville police department. Now they make and sell them to raise money to help organizations affected by the Coronavirus crisis. Thus far they've raised more than $2,100 for Hugs Across the County, a non-profit that provides needy children and teens with food.
Cute masks make a fashion statement, my hair dresser told me when I finally got in for a cut (Yeah!). The girls' mother Aida Mechetti said " I had a friend going to a wedding, who wanted a mask to match her dress. Now the demand is so big we are having trouble keeping up."
The Mask "R" Aid sisters now have two sewing machines to create the masks in a variety of styles in colorful fabrics and prints, from floral to ballerinas, butterflies and bikes, as well as solid colors, checks, polka dots and more. They come in different sizes and two styles, pleated ($7) and fitted ($10.) All have nose wires and pockets for Hepa filters. Go to www.maskraid.life to learn more, and call (904) 679-8210 to order.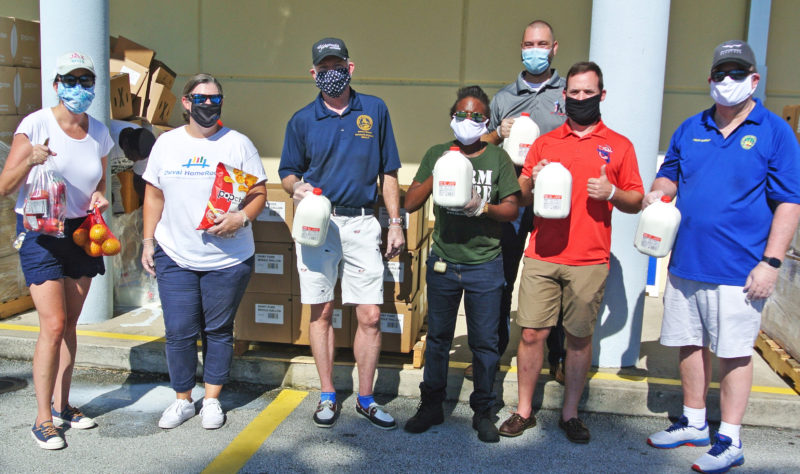 Covid-19 didn't stop Farm Share from carrying out its mission to make sure no Floridian goes hungry and no food goes to waste. Last year the non-profit, established in 1991, distributed more than 88 million pounds of free food, including 20 million pounds of fresh fruits and vegetables, to 17.5 million households in all of Florida's 67 counties.
"Our founder saw a lot of produce being thrown away in grocery stores. So she wanted to collect it and give it away for free." Farm Share distribution coordinator Leighsha Johnson said. "Since March 26 we have distributed 26,000 pounds of food,"
Farm Share partners with food pantries, churches, schools and other non-profits to distribute food to people in need. On June 20, local officials, including Jacksonville city councilmen Rory Diamond, Terrance Freeman and Aaron Bowman, Jacksonville Beach Mayor Charlie Latham, Jacksonville Beach city councilwoman/executive director of the Beaches Museum Christine Hoffman and Duval County school board member Elizabeth Andersen, were on hand at Jacksonville Beach elementary school to help with a drive-through distribution of food, including milk, apples, oranges, chickens, turkeys, canned goods, popchips, cereal, pasta, tomato sauce and small packs of toys for children. More information is at www.farmshare.org.
The Beaches Museum will happily reopen Tuesday [June 30] with docent guided tours of its permanent and art exhibits. Health precautions are being taken, such as limiting the number of people in the museum and size of groups in tours. Masks are recommended and hand sanitizer will be available, says executive director Christine Hoffman.
The reopening features a new—or should I say old?—addition to the permanent exhibit. The "Our Land: Indigenous Northeast Florida" exhibit takes visitors back 10,000 years to when small family bands moved through the area followed by native populations moving here to live near the Atlantic coast. Students from the University of North Florida helped design the exhibit for a UNF course called "Public Archaeology and History of Florida Indians."
Also on view is an art exhibit "The Ballot and the Brush: Celebrating Women's Suffrage through Art." The show, which features the abstract expressionist work of Sara Conca, Tiffany Manning and Princess Simpson, celebrates the 100th anniversary of the passage of the 19th amendment. For information, go to www.beachesmuseum.org.
Undaunted by the shutdown, many local non-profits are making plans for the near future. For example, The Cultural Center at Ponte Vedra Beach is planning its 10th Annual Home Tour on Sept. 12. Five beautiful homes in prestigious Ponte Vedra Beach neighborhoods will be featured. Contact Gina Fiore at (904) 280-0614, ext. 1202 to purchase program advertising space.
Also looking for things to get back to normal is the Sawgrass Women's Club with a membership of more than 300. President Laura Torrey Kettell said the club is planning its first general meeting of the year on Sept. 14, and its fashion show that was canceled in April because of the shutdown has been rescheduled for Oct. 19.
May 23
Cultural Center Masks… Many folks have found mask-making can be a fashionable and useful way to fill boring quarantine hours. Ponte Vedra resident and eye surgeon Arun Gulani, M.D., of Gulani Vision Institute, teamed with The Cultural Center at Ponte Vedra Beach executive director Donna Guzzo in a global community challenge, Mask-A-Rate. For five days in April participants came up with creative ways to make face masks.
"I was inspired to create a global community event that revolved around the two things I am passionate about, health and fashion," Gulani said. "During the COVID-19 pandemic, it is crucial that every person be able to access a face mask. I want people to know they can be creative and use household items to stay safe during this lockdown."
The challenge at the end of April attracted entries from all over the world and was judged by an international jury: Francisco Guitard from Spain; Barbara Colaciello of Jacksonville, who once worked with Andy Warhol; New York City designer Alex Vinash; Ana Lucia Tejeira of Panama and Catherine de Beaumont from France.
Denise DiSantis of Jacksonville won first place and a weeklong Virtual Exhibit at the Cultural Center for a colorful mask made with an old bra covered with dance costume fabric and a message "If you can read this mask you are TOO close!"
Designs by Sharon Warner of Ponte Vedra Beach and Michelle Marra of Del Ray Beach, tied for second. Warner made masks for each month from leftover quilt squares and decorated them with charms. Marra made one-time-use masks from differently shaped paper napkins.
Third place went to Maria D. Gaitan of Milan, Italy; she made a mask from pajamas, cotton, cellulose and a piano key. M. Janet Robles of Jupiter, Fl, won the People's Choice award for using fabric from her daughter's wedding dress, recycled grocery bags and old pajamas.
"We had participation from every continent in the world," Guzzo said. "All the masks are beautiful and worth recognition."
The Center's Spring Virtual Exhibition juried by New York-based artist Ashley G. Garner followed Mask-A-Rate. The show's focus is on new works developed by artists at home during the pandemic. Deming Harriman's collage image "Masks 1" was the first place winner. Oil on a panel titled "Cheryl's Garden" by Patrick Mahoney came in second, and the third place winner was watercolor and gold leaf on paper by Susanne Schuenke.
"All of the submissions were incredibly inspiring to go through," Garner said. "Seeing what artists are creating while in this dark confusing time really does remind you that art and creativity never can be silenced."
The center at 50 Executive Way in Ponte Vedra Beach brings the arts into the community through art education, exhibitions and outreach. To view the virtual spring exhibition on line, go to www.ccpvb.org.
Vicar's Scholarships… Proms, graduation ceremonies, galas and annual celebrations have been canceled. However, local organizations and communities haven't let COVID-19 stop them from proceeding with good works. For the past 26 years residents of Vicar's Landing continuing care retirement community have awarded $4 million in scholarships to deserving employees working work in all areas from plant operations to health and dining services, housekeeping and activities.
This year there was no ceremony, but scholarships totaling $288,250 were given to 87 appreciative recipients for the upcoming school year. The awards will be used for expenses related to college, trade schools, English as a second language courses, nursing school requirements and continuing education credits.
Proceeds from the annual Vicar's Landing Boutique held in November help fund the scholarships. Plan to attend. There are lots of bargains to be had.
"We are very proud of all our awardees," scholarship committee chair Martine Slemp said. "They have ambitious plans for their futures, and we are privileged to help. We appreciate the members of Vicar's Landing and others who have been very generous over the years in giving to this worthy cause."
Food Drive… Troubled times bring people together. On May 16, St. Johns County and United Way of St. Johns County teamed up to hold a "drive-thru" food drive at the Ponte Vedra Concert Hall. The word was sent out via email and neighborhood chat groups to "Rock the Pantries" by donating nonperishable food items that will be distributed to more than 20 critically low food pantries. Volunteers from United Way, the county, the county sheriff's office and Publix wore masks and maintained proper social distancing as they unloaded donations from cars driving through the concert hall parking lot. A week earlier 16 tons of food was dropped off by 643 cars in a similar drive-thru at the county amphitheater.
"We hope to beat that number today. We planned the two [donation days] for now, and it has gone well," United Way CEO Melissa Nelson said.
"We partner with a lot of food shelters," said St. Augustine Beach chief of police Rob Hardwick, who volunteered to help at the amphitheater donation day and again at the concert hall. "This is a great partnership with the amphitheater, United Way and the concert hall."