Aug. 29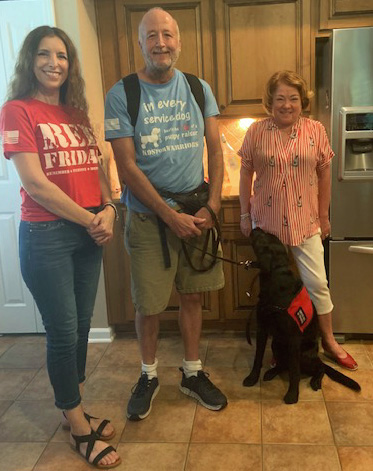 K9s for Warriors…I'm astounded by the number of birthday announcements that have floated in via Facebook during the Leo days of this month.
For example, Judith O'Malley celebrated her Aug. 14 birthday at her Ponte Vedra home with a "PAWty" to benefit K9s for Warriors. The local non-profit, founded in 2011 by Shari Duval, rescues shelter dogs and pairs them with veterans suffering service-connected post traumatic stress, traumatic brain injury and/or military sexual trauma.
The vets form a bond with their four-legged battle buddies as they train for three weeks at the main Ponte Vedra campus. After graduating they return to their home communities with a new sense of purpose and attitude that they can heal and reduce their medications, K9s community relations director Stephanie Vogt said.
Since its inception more than 650 veterans have completed the program and 1200 shelter dogs have been rescued. The wait list to participate in the program is almost three years long.
Due to restrictions of the Covidvirus crisis, traditional fundraising has been difficult for non-profits, so O'Malley, who began volunteering at the Ponte Vedra K9s campus more than two years ago, decided that something could be done and be fun at the same time.
She asked local and national businesses to contribute and held a drawing for prizes that ranged from a painting by artist Angie Maisengerger and a Coach handbag to gift cards from area restaurants and stores. More than $5,000 was raised. There were few actual guests at the affair which was conducted primarily on-line. However, Vogt, plus canine-in-training Brisket and puppy-raiser Scott Fuchs were on hand to watch the drawings for prizes.
"I could not believe how incredible the outpouring of giving was," O'Malley said. "It truly makes you realize how people want to come together for a special cause, even when they can't physically."
To help K9s For Warriors continue to fulfill their motto "A new leash on life," by volunteering or contributing, call 904-686-1956. Amazon shoppers can help by going to AmazonSmile; search for and select K9s For Warriors, and AmazonSmile will donate 0.5% of your purchases to the charity.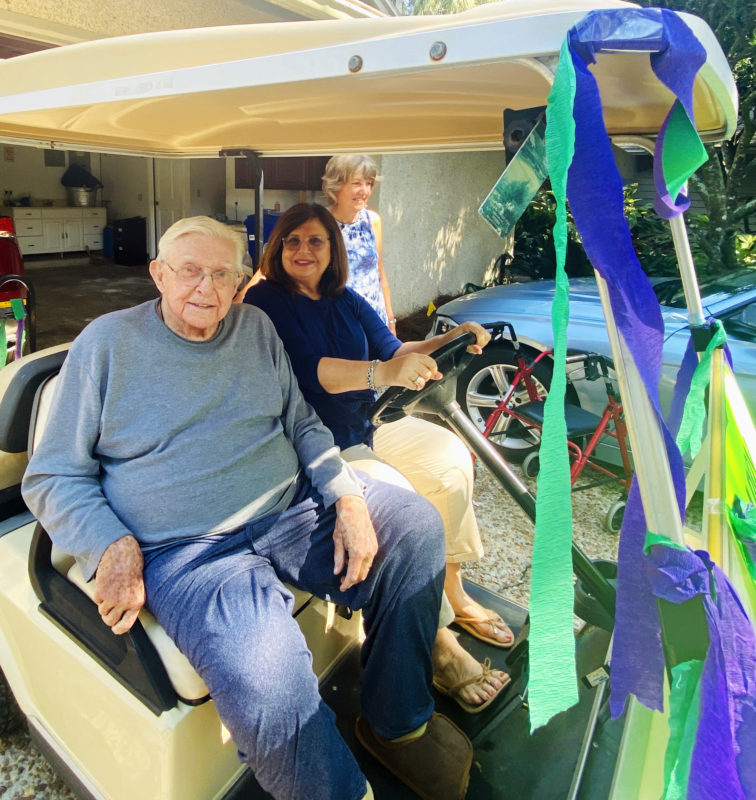 Tony Trabert…Aug. 16 marked the 90th birthday of U.S. tennis great Tony Trabert. Tournament Players Club neighbors and friends celebrated the International Tennis Hall-of-Famer outside his Ponte Vedra home with a surprise parade, yard signs, applause and cheers.
Over the years Trabert has been the subject of much applauding and cheering. As a young man in 1953, he won both the Wimbledon and U.S. Championships. In 1955, 25-year-old Trabert was the world's No. 1 ranked player. He was elected to the International Tennis Hall of Fame in 1970. His amazing career led to 31 years as a lead tennis and golf commentator for CBS Sports.
In 1982, Trabert met wife Vicki at a party, when he was covering the Players Championship in Ponte Vedra Beach.
"We fell in love that weekend," Vicki said. "He lived in Palm Springs, CA, and moved here after we married."
Vicki organized the birthday surprise that included a festive gathering of neighbors waving signs followed by a parade of 25 cars led by a TPC guard. They got in their golf cart, and drove to the end of their cul de sac, where cheering neighbors were assembled. About 15 minutes later a parade of decorated cars slowly drove by.
"The car parade was a complete surprise," Trabert said. "I was overwhelmed!
It was a fabulous 90th birthday celebration! It couldn't have been more special. "
Speaking of tennis, this year's SenioRITA (Research Is The Answer) women's doubles tennis tournament and related Pusser's party and auction dinner fundraisers have been canceled. However, the non-profit that in the past has raised more than $5 million dollars for local cancer research and patient care for Mayo Clinic and Baptist Beaches Medical Center is still seeking donations thanks to a generous matching gift.
Still not all the "fun" is gone. The infamous and successful "Booze Bucket Raffle" that has been a traditional feature of the annual auction party will carry on thanks to the efforts of Sam "Bulldog" Carter and Stan Roman. The Booze Bucket includes $1,000 of premier, quality wine from the Rob Stuart Winery in Willamette Valley, OR. First prize valued at $500 will be a case of premier selected wines and vintages featuring Pinot Noir, Chardonnay, Pinot Gris, Rose and sparkling wines. Second and third prizes will be three-liter bottles of single vineyard Daffodil Hill Pinot Noir valued at $250 each.
The goal is to raise more than $5,000. Tickets are $10 for one, $20 for three, $50 for 10 and $100 for 25. Participants can purchase tickets by contacting Roman at stanleyroman1961@gmail.com or Carter at bulldogcarter@yahoo.com. The drawing will be in October, Breast Cancer month. Contributions are tax deductible.
Aug. 15
BEAM…Social distancing and fear of catching the Coronavirus hasn't stopped Beaches organizations from carrying on with good works and celebrations that raise funds to continue charitable activities.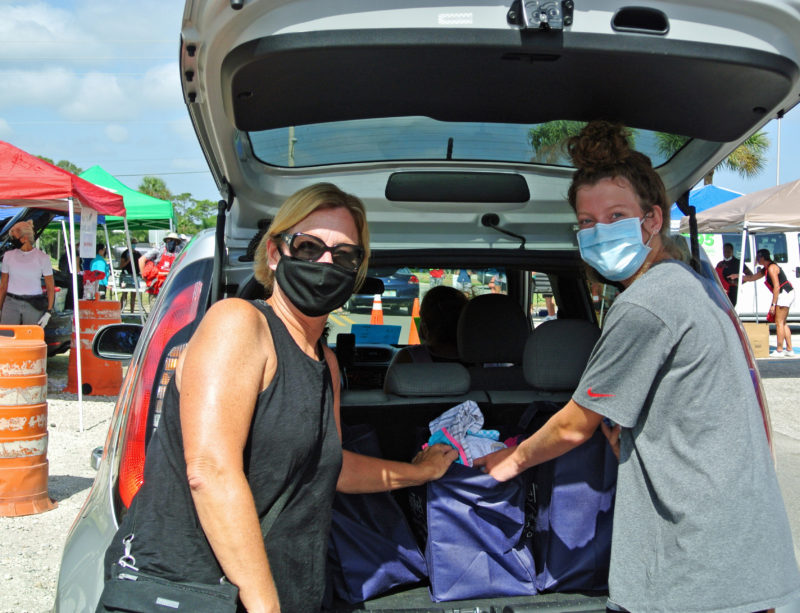 For example, Covid-19 cancelled the BEAM of Light Beach Ball that raises funds for Beaches Emergency Assistance Ministry. Nevertheless, the pandemic coupled with the threat of tropical storm Isaias did not undermine the 26th annual Back to School with BEAM charitable event that this year provided clothing, school supplies, back packs and books for more than 900 children from needy Beaches families.
Granted, there were changes to distribution place and methods at the 2020 annual give away. In the past, Beach Church opened its doors for BEAM clients; in 2019 parents and youngsters went inside and made selections from racks of clothes and stacks of backpacks and supplies. This year's Aug.1 drive-through event was at Neptune Baptist Church.
The Neptune Beach police department directed lines of traffic to Walnut Street next to the church, where masked BEAM volunteers loaded supplies into car trunks. There were $10 gift cards for new shoes at Wal-Mart or Target, and gift cards for clothing at BEAM thrift shops, school supplies based on grade and gender, three pairs of new underwear per child, and colorful backpacks. A van from READUSA was in the lineup to give each child three books and Ponte Vedra Beach Rotarians handed each youngster a bag of snacks.
"The Deerwood and Ponte Vedra Rotaries also donated vouchers to help buy school supplies and backpacks," BEAM development director Gracie Simendinger said.
"We had to reinvent the event. The venue was perfect," BEAM executive director Lori Richards said. "Since the outbreak of the Coronavirus all our food distribution has changed to drive-through or curb-side pantries at senior housing sites, such as Pablo Hamlet and Pablo Towers as well as Joseph Finnegan and Mayport elementary schools. It was incredible."
BEAM was founded by local churches in 1985 to provide low income families in the community with support in times of need and to prevent homelessness by covering overdue rent and utility payments as well as food. In 2019, BEAM helped 1,004 families avoid homelessness. In addition to programs, such as Back to School with BEAM, seasonal services such as Thanksgiving food are provided.
Because its main fundraiser was canceled for 2020, BEAM is holding a "No Show Gala" and asks people to donate what they would have given if they had come to the annual event. $50 will provide a weekend's worth of food for five elementary aged students, and $100 will feed a single parent family for a week. To help, go to www.jaxbeam.org and click on the DONATE button or call 904-241-2326.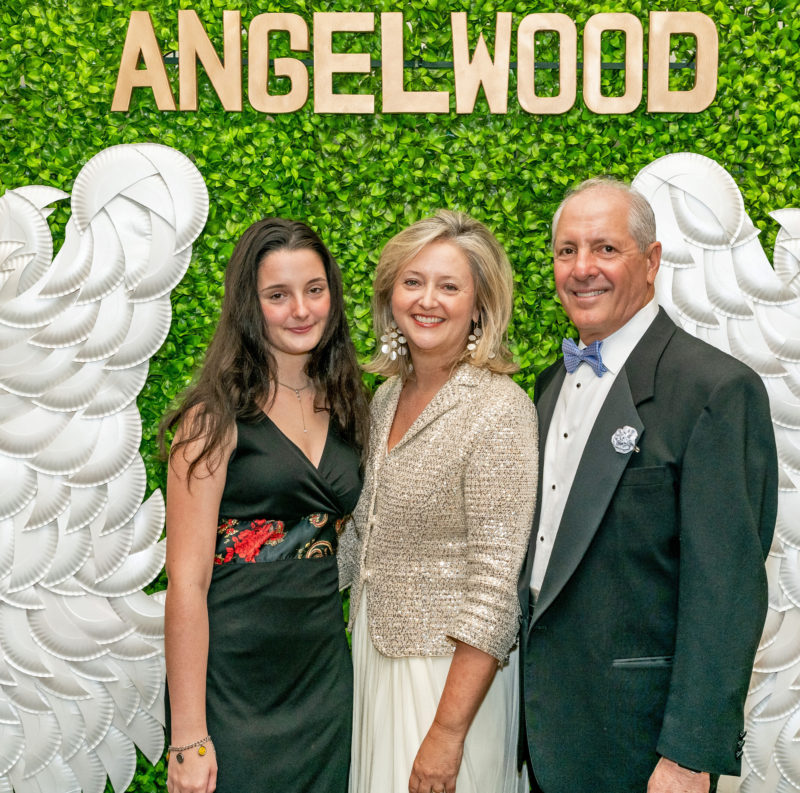 Tune into Facebook Live to enjoy a gala evening at home Friday, Aug. 21, while helping Angelwood, Inc., a Northeast Florida organization that works to improve the lives of children and adults with disabilities. The organization was founded in 1993 to offer high quality care and vital services to Jacksonville community residents with disabilities, such as autism, cerebral palsy, Down syndrome, spina bifida and intellectual disabilities. Angelwood provides group homes located in residential neighborhoods and respite to re-energize families living with a family member, who has a disability. Among its services are summer day camp, holiday kid's camps, an adult day training program, supported employment and vocational rehabilitation for children, adults and their families.
Angelwood's Soaring Possibilities & Silver Linings gala scheduled for 6:30 p.m., Friday, Aug 21, is a "live via Facebook" virtual event featuring an emcee and auctioneer. This year's affair honors board president Robin Wahby. She has served on the Angelwood board of directors for 20 years. Wahby has a passion and dedication to making sure Jacksonville's most vulnerable citizens have quality, dignity and respect in the care they receive. She advocates in the community and the legislature for Angelwood and people with special needs.
Visit www.Angelwood2020.GiveSmart.com to register to watch the online event, make a gift to honor Wahby, bid on auction items, donate and win prize drawings. For more information and to participate, go to www.AngelwoodJax.org and click "Events." Registration is free, and there will be a drawing for a $50 Amazon gift card.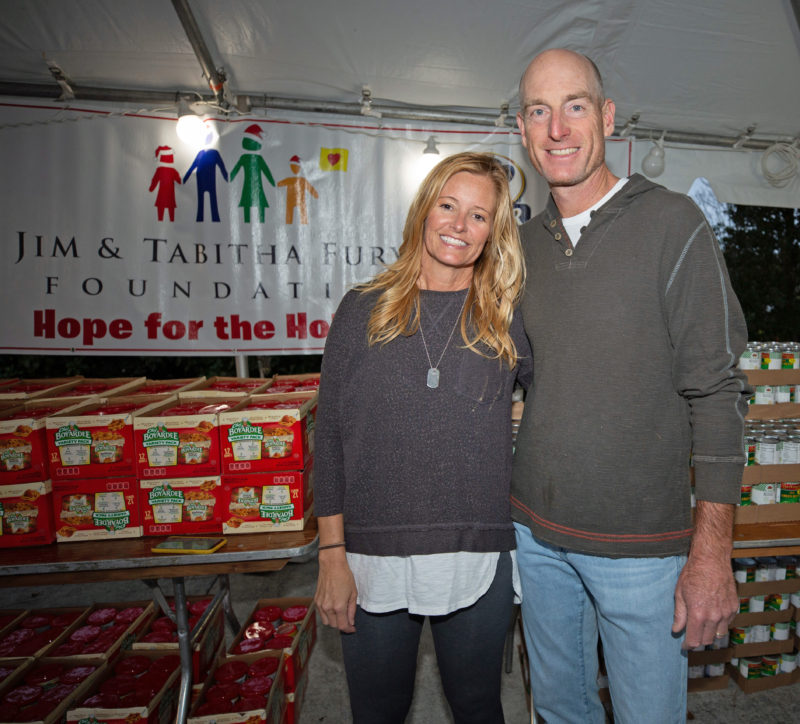 In May, Tabitha Furyk, wife of PGA Tour champion Jim Furyk, was recognized by the Rotary Club of Ponte Vedra Beach with the 2020 Rock of the Community Award for her numerous charitable efforts. The honor was supposed to be presented at the club's annual Mineral City Celebration, which was cancelled because of the Coronavirus. Proceeds from the fundraiser benefit local nonprofits and charities.
Tabitha and her husband formed the Furyk Foundation that provides Blessings in a Backpack meals for food insecure youngster each weekend, Hope for the Holidays meals for needy families, as well as helping with Operation Shower that gives expecting military families essentials for their newborns. She also has served as chair of the Baptist Foundation Board.
"The Ponte Vedra Beach Rotary has done amazing work in our community," Tabitha said. "It is truly an honor to be recognized by my peers and fellow community members for my efforts to support those in need."
The 10th Annual Home Tour hosted by the Cultural Center at Ponte Vedra Beach offers an opportunity for folks to get out and about to see five prestigious Ponte Vedra Beach homes designed by architect Mark Macco. The basic admission price is $45 for the tour that begins at 10 a.m. or 1 p.m., Sept. 12. There are other options for VIP tours and a benefactor party. Go to www.ccpvb.org and click events to buy tickets.
July 11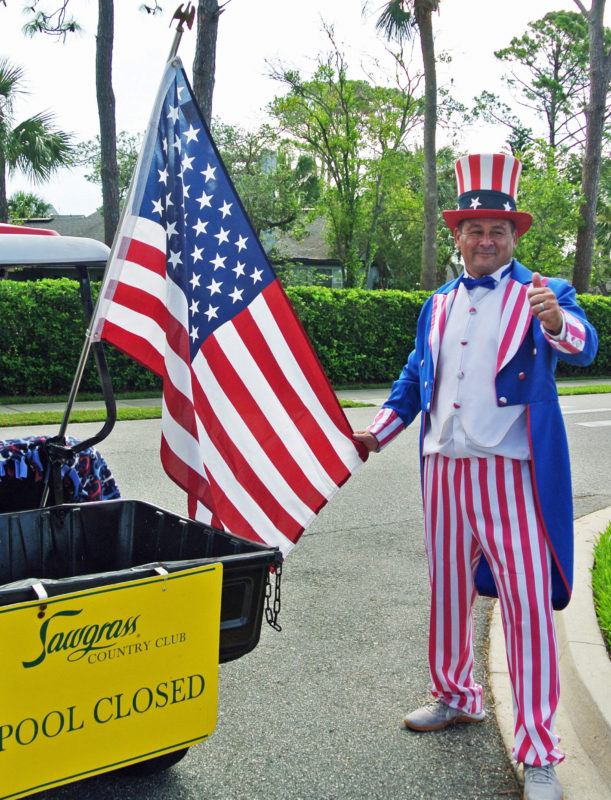 Sawgrass Golf Cart Parade…Uncle Sam without the white goatee (aka Sawgrass Country Club food and beverage director Perry Kenney) directed golf cart traffic to the line-up area for the club's infamous annual decorated golf cart parade. Construction at the usual launching area at the golf club house limited the space for organizing the parade. That didn't stop the 25 or so participating families from having a grand time showing off their mobile creations.
Lily Applebaum and Sophie Mueller created a "Far Out Forth" with cart decorations and symbols harking back to the Far Out '70s. Beverly Beck and grandchildren had fun driving a Mystery Machine. The Lazarus family took off in a Space X rocket cart. Several variations on the tropical/jungle theme included Tiger King by Charlie and Christina Hazelton. A clever cart "Fighting for a Cure" played on the name Corona with tall cutouts of Corona beers on the sides; Sheila Ketler, Grace Kinsella and Karen Aaro wearing blue scrubs came up with the viral theme.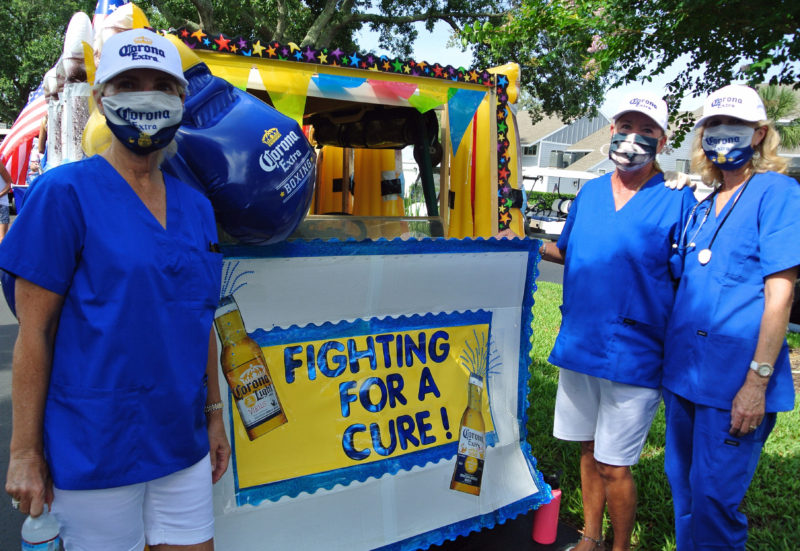 First place winners in each of three categories were Bart Woloson's "Most Creative" Uncle Sam on a surf board fishing for golf balls. The "Most Patriotic" was a colorful balloon- decked Rascals cart driven by Colonel William Loughnane, U.S. Army ret., with wife Carol.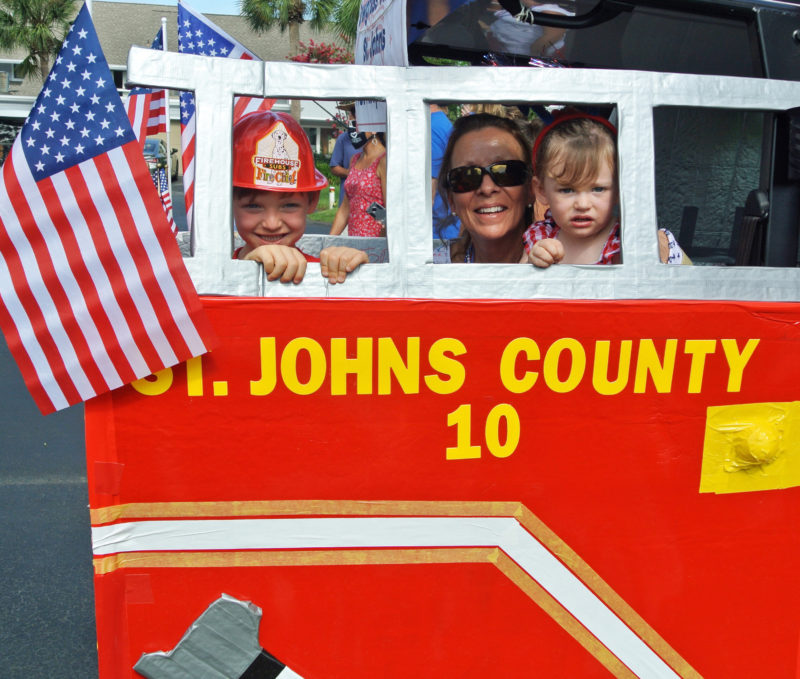 The Eber family can always be counted on to produce a winner. This year's first place "Best In Show" was a dualsalute to St. Johns first responders; one side was a first responder truck in whitedriven by Harvey and Nancy Eber, and the other was a red Station 10 fire engine carrying grand-passengers Aiden and Avery Eber and Jennifer "MeMaw" Heaps.
A St. Johns County sheriff's car led the parade along a three-mile circular route through the Sawgrass Country Club community. Heading the festive line-up was director of membership sales Janet Collins dressed as the Statue of Liberty waving from an open convertible.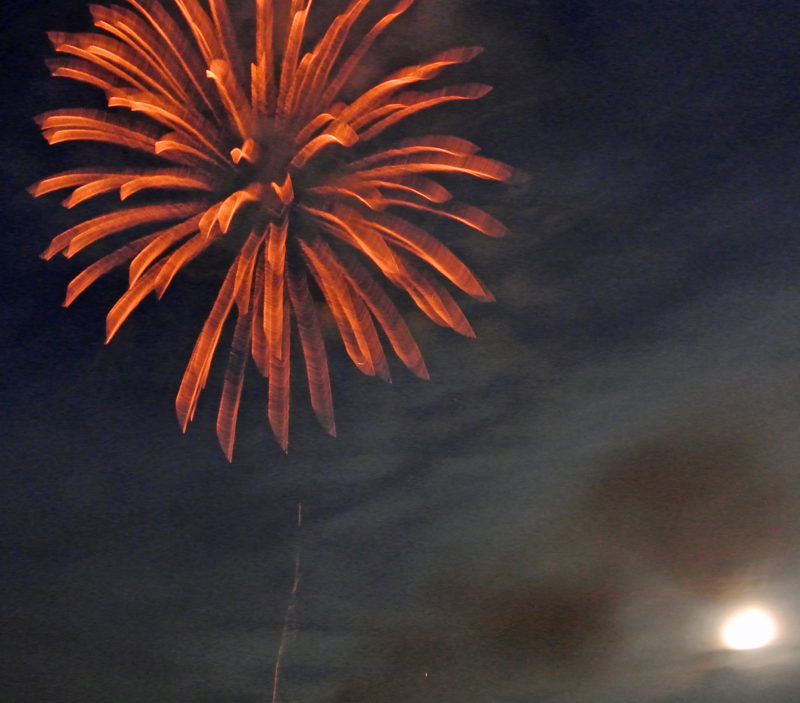 Overcast skies didn't deter Sawgrass residents and their guests from hopping aboard golf carts and heading to the golf course at 9:15 p.m. to watch a spectacular fireworks display. Those who arrived early could see and hear colorful explosions in the distance all along the beaches. All in all, it was a traditional Independence Day celebration.
SenioRITAs… Due to Coronavirus fears, the Rooney Bin's usual reportage is limited to telling you what isn't happening. For example, I'm sad to report that SenioRITAS (Research Is The Answer) annual doubles tennis tournament for women 40 and over, auction Party and Pussers' pre-party has been canceled for this fall. For the past 20 years the tourney and accompanying events have raised more than $2 million for breast cancer research and patient services at Mayo Clinic Jacksonville and Baptist Medical Center Beaches.
On a bright note a generous anonymous donor has agreed to establish a fund to match all supporter donations up to $30,000. To contribute, send a check made to The Rita Foundation SenioRITAs at Sawgrass Country Club, P.O. Box 1293, Ponte Vedra Beach, FL 32004. Donations also are accepted at www.the-rita-foundation.org/senioritas.
June 27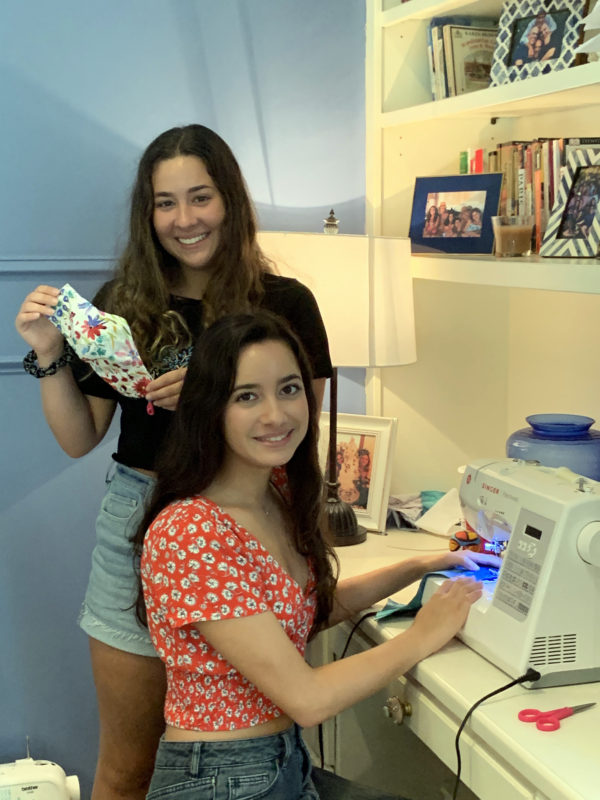 Mask "R' Aid…And so 17-year-old twins Carolina and Marina Mechetti decided to help the community by making and donating facemasks. The Ponte Vedra High School seniors came up with the idea during spring break.
"It was my idea," said Carolina, who went on to explain she got a sewing machine five years ago, but didn't know how to use it. They put their heads together and looked up instructions for sewing the masks. Marina cuts fabric and Carolina sews.
"We're having fun with it," Marina said. The industrious pair has even recruited friends to help.
They began by making and giving about 150 masks to Baptist Hospital, the Sulzbacher Center for homeless men, women and children, and to the Jacksonville police department. Now they make and sell them to raise money to help organizations affected by the Coronavirus crisis. Thus far they've raised more than $2,100 for Hugs Across the County, a non-profit that provides needy children and teens with food.
Cute masks make a fashion statement, my hair dresser told me when I finally got in for a cut (Yeah!). The girls' mother Aida Mechetti said " I had a friend going to a wedding, who wanted a mask to match her dress. Now the demand is so big we are having trouble keeping up."
The Mask "R" Aid sisters now have two sewing machines to create the masks in a variety of styles in colorful fabrics and prints, from floral to ballerinas, butterflies and bikes, as well as solid colors, checks, polka dots and more. They come in different sizes and two styles, pleated ($7) and fitted ($10.) All have nose wires and pockets for Hepa filters. Go to www.maskraid.life to learn more, and call (904) 679-8210 to order.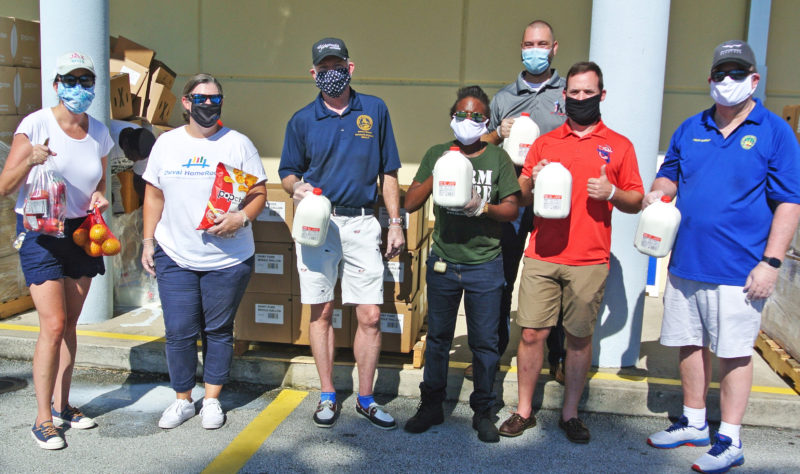 Covid-19 didn't stop Farm Share from carrying out its mission to make sure no Floridian goes hungry and no food goes to waste. Last year the non-profit, established in 1991, distributed more than 88 million pounds of free food, including 20 million pounds of fresh fruits and vegetables, to 17.5 million households in all of Florida's 67 counties.
"Our founder saw a lot of produce being thrown away in grocery stores. So she wanted to collect it and give it away for free." Farm Share distribution coordinator Leighsha Johnson said. "Since March 26 we have distributed 26,000 pounds of food,"
Farm Share partners with food pantries, churches, schools and other non-profits to distribute food to people in need. On June 20, local officials, including Jacksonville city councilmen Rory Diamond, Terrance Freeman and Aaron Bowman, Jacksonville Beach Mayor Charlie Latham, Jacksonville Beach city councilwoman/executive director of the Beaches Museum Christine Hoffman and Duval County school board member Elizabeth Andersen, were on hand at Jacksonville Beach elementary school to help with a drive-through distribution of food, including milk, apples, oranges, chickens, turkeys, canned goods, popchips, cereal, pasta, tomato sauce and small packs of toys for children. More information is at www.farmshare.org.