June 1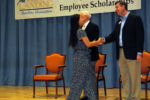 Vicar's Landing...Speaking of "tickles"—forgive this contrived transition—Bill Tickle, Vicar's Landing resident and scholarship committee chairman, presided at the 25th annual scholarship awards for Vicar's employees. On May 18, individual awards up to $2,500 were presented to 88 employees. Twenty-two awardees received additional special prizes ranging from $1,000 to $3,000. This year's grants amounted to $261,500.
Former employee and scholarship recipient Laura Jaramillo was guest speaker at the ceremony. She graduated from Florida State with a degree in family and child science and is now pursuing an MA as an occupational therapist. She expressed her appreciation for Vicar's scholarship aid that helped her graduate debt free.
When the program began in 1994, 11 scholarships totaling $11,000 were given. Since then a dedicated group of Vicar's members has awarded hard-working employees more than $4.7 million. Funds for the program are raised through the annual holiday boutique—mark your calendar for the Nov. 12, 2019 boutique—as well as other fund raisers and endowments. Vicar's is a Ponte Vedra Beach continuing care community that provides independent and assisted living as well as a health care center. To learn more, go to VicarsLanding.com.
Ronald McDonald House… In its ninth year, Ronald McDonald House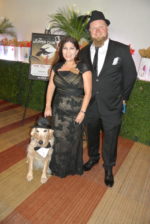 Charities of Jacksonville's annual McGala also hit a new peak in fundraising. This year's May 18 affair at the Sawgrass Marriott Resort raised a record $450,000 to support the facility that provides lodging and other services for critically ill, chronically ill and seriously injured children and their families.
The party theme was based on the Supper Clubs of the 1940's, and attended by about 500 supporters from the community. Joe and Nan Ferrara were presenting sponsors and Matt and Shannon Connell were honorary chairs of the evening that began with a cocktail hour featuring an extensive silent auction, a wine pull and live music followed by a live auction and sit-down dinner. Gina Fishman and Jennifer Kaltman co-chaired the event.
"I personally benefited from the services of Ronald McDonald House when my son had open-heart surgery nine years ago," Fishman said. "It is one of the most amazing organizations and touches many families."
Reed, a yellow Lab/Golden Retriever mix, greeted guests and posed for photos. The popular canine spends about 40 hours a week at Ronald McDonald House where he provides comfort for children undergoing treatment.
Executive director Diane Boyle described the new Ronald McDonald House KidZone Learning Center "as a place of great excitement, a wonderful place of joy and discovery."
The home away from home has served more than 36,000 families in the past 31 years. Ronald McDonald House Charities supports five local hospitals, and the Ronald McDonald Family Room at Wolfson Children's Hospital provides a place of respite for more than 25,000 visitors a year. For more information go to www.rmhcjacksonville.org.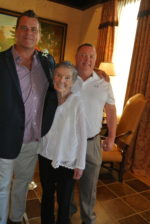 Jay Fund…Recently I've reported several times on the doings of the Tom Coughlin Jay Fund, but it's hard to keep up with the foundation that raises money to help families with children who have cancer; it's going full speed.
Early in his career, Tom Coughlin coached at Boston College, where one of his players Jay McGillis was diagnosed with leukemia. He lost his battle with the disease, but Coughlin and his family vowed to help other families with children tackling cancer. In1996, when Couglin was head Jacksonville Jaguars coach, he established the Jay Fund Foundation and hosted the first celebrity golf tournament. The foundation evolved and has since helped thousands of families in Northeast Florida and the New York/New Jersey area who are dealing with childhood cancer.
The May 19 gala preceded the Jay Fund's 24th annual Celebrity Golf Classic at TPC Sawgrass on May 20. Among the famed sports figures, actors and media personalities were former NFL stars Tony Boselli, Mark Brunell, Josh Lambo, Tom McManus and Nick Foles, actor Jeff Nordling, broadcast personalities Scot "Froggy" Langley and Brian Sexton, former PGA Tour commissioner Tim Finchem and Jaguars head football coach Doug Marrone.
An on-stage star for the night was local Jacksonville cancer survivor Blake Herndon, 18, who performed an original rap song inspired by his personal journey dealing with acute lymphoblastic leukemia. He was diagnosed on this seventh birthday, has had several relapses and is an inspiration to all. Also lauded at the gala, three young cancer survivors were awarded scholarships; Bryce Williams is in Emerson College's film program; Payton Titus, is studying journalism and sports medicine at University of Florida, and Gillian Vangham is attending University of North Carolina-Chapel Hill for a degree in nursing.
Also among the celebrities at the event, were children who are being treated for cancer. They created art for auction at the gala. Railynn, 6, painted a "happy birdfeeder;" Liam, 10, decorated a "cheerful birdhouse," and Savannah, 8, created a "blossoming planter." To contribute to the Jay Fund, go to www.tcjayfund.org.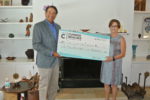 Cummer Beaches…Art was on the minds of Cummer Beaches members when they gathered at the Sawgrass Country Club home of Bill and Judy Struck for an annual meeting. President Peter Karpen gave an update on St. John's County, which is the eighth fastest growing county in Florida and has the No. 1 school system with an A+ credit rating. "We have a lot of opportunity here," he said. As a Cummer Museum Affinity Group, the organization has sent 639 Beaches elementary school children on field trips to the museum, supports a fall lecture series, has a book club led by Tad Shuman that discusses books related to museum exhibits. Most significant, this year $62,500 was raised for the Cummer Museum of Art and Gardens.
Karpen presented a check to Cummer chief advancement officer Kerrie Slattery. She announced the gardens will open soon and talked about summer at the Cummer which features a French Moderns exhibit. She pointed out that the museum has different programs from different regions of the world and is known for its family2family program. "Our challenge is to make it a community resource for everyone," she said. "This is a very philanthropic community. We cannot thank you enough for your support."
May 25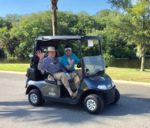 Fleet Landing Golf Classic...Folks at Fleet Landing relish the annual Fleet Landing Golf Classic at Atlantic Beach Country Club, which this year raised more than $150,000 for the retirement community's endowment fund for staff scholarships. The May 6 competition was followed by a buffet luncheon. Then on May 8, Fleet Landing CEO Joshua Ashby announced 35 staff members who received scholarship funds to continue their education.
Fleet Landing is a life care retirement community for people age 62 and older. Located near the ocean in Atlantic Beach, it offers home and apartment residences as well as healthcare and supportive living services. Go to www.fleetlanding.com for information.
Chair Affair…Once again, Kurtis Loftus, executive director and founder of the Deck the Chairs holiday event has chairs on his mind, This time in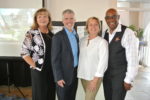 addition to planning the annual spectacle featuring illuminated and decorated beach lifeguard chairs in Latham Park, he hosted a May 8 "Chair Affair" and challenged schools and local artists to turn ordinary chairs into art.
Deck the Chairs is celebrating its seventh season turning iconic lifeguard chairs into colorful light creations. The event attracts thousands of visitors and has earned national recognition as one of the best light displays in Florida. Proceeds from the holiday display and related activities fund operations and benefit the Jacksonville Beach Volunteer Lifesaving Corps.
"This year's goal is to add more lights on the trees so the entire park is a light show. It will be the talk of North Florida," Loftus said.
DTC president Teresa Pratt headed the Chair Affair party at Casa Marina Hotel, Jacksonville Beach. A food and wine tasting, live music and silent auction added to the fun. The main attraction was the announcement of winners, who decorated household or workplace chairs. The idea was to encourage and showcase creativity; that it did. The Chair Affair named winners in three categories. Bolts and Bytes won $400 in the student category for an out of this world creation "Plants versus Aliens," which depicted a battle between a massive vine and an alien spacecraft. The $600 amateur winner was "Turtle Throne" by Anne Marie Moquin, and Cathy Thomasson of Sydney Cardel's won $1,000 for turning a dining chair into a fabulous peacock.

House Tour…On May 9, Brad and Joy Scott were "dill-lighted" (pardon the pickle pun) to open their beautiful San Juan Drive home for a benefactor's reception preceding the ninth annual Cultural Center of Ponte Vedra Beach Home and Art Tour. In an informal welcoming talk, center executive director Donna Guzzo said visitors from all over Northeast Florida and beyond come to see the extraordinary Ponte Vedra Beach homes.
The evening featured a wine and hors d'oeuvres tasting catered by Alice Hickok and also served tidbits of news about the possibility of a new cultural center facility to be built fronting Florida A1A on the Oak Bridge golf course. Board president Art Hayden told guests that the center is "looking for another venue and hopes to close the deal with folks at Oak Bridge." The current facility serves 8,000 people per year, and a new more spacious building could serve 30,000 to 35,000 people. If all goes well,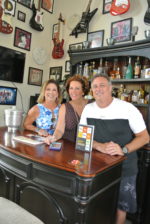 ground breaking is expected in early 2020.
Janet Westling chaired the May 11 art and home tour that featured seven homes. Funds raised benefit the center's Sound Connections Music Therapy outreach program serving 800 special needs youngsters at four elementary schools. The tour also will benefit the center's first national show "1 Cent Life," a pop exhibit of the works of Andy Warhol coming this fall.
The tour featured a range of homes, from the Kolisek's oceanfront condo at Spinnakers Reach Drive, to a 13,000 square foot mansion owned by Jen and Rick Enright in The Plantation. The beautifully decorated Plantation manse had seven bedrooms and a separate apartment. It was built in 1992 and completely re-done three or four years ago by the Enrights.
The contemporary Puente home on San Juan Drive was designed by architect Mark Macco and is remarkable for its open living area and wood and stone details. Jill and Glenn Barr's five bedroom home on Indian Cove Lane in Marsh Landing has many lovely features, but the Tiki Bar is Glenn's favorite. "It was originally an orange tree," he said. Also on tour was the home of Janette and Mark Allen, Mark was on hand to talk about his extraordinary collection of authentic autographed music items that includes an original skate board designed and signed by the Linkin Park Rock band as well as autographed guitars, license plates and drum skins.
The Merganser Lane home of Janet and John Wilson showed off Janet's working art studio; she was one of the founders of the center. Also in Marsh Landing on Lamp Lighter Lane, is the home of Patricia and Tylee Wilson featuring an antique key collection as well as a Native American pottery collection. The tour was sponsored by the Tourist Development Counsel, The Florida Times-Union and the St. Augustine Record.
BEAM…On May 11, the Beaches Emergency Assistance Ministry food bank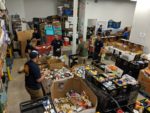 was the recipient of 17,788 pounds of food from the National Association of Letter Carriers'27th annual national Stamp Out Hunger Food Drive. The donations, collected at the Atlantic Beach post office, stay in the community to help local residents in need. On May 15, volunteers from the United States Coast Guard Northeast Florida came to the food bank to help sort the food. They also presented BEAM with a $500 donation thanking the food bank for about 73,000 meals it provided Coast Guard families during the partial government shutdown earlier this year.
BEAM provides low income families and individuals in the Jacksonville Beaches area with emergency assistance and a path to economic stability. The Beaches Community Food Bank and organic garden provides thousands of pounds of fresh vegetables and fruits to BEAM clients, as well as nutritional education programs, assistance with food stamp and Medicaid applications and income tax filing, Thanksgiving baskets and a Back to School program. For more information, visit www.jaxbeam.org.
May 18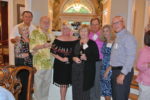 Mondiale…Wine was the beverage of choice at a May 5 Société Mondiale du Vin gathering hosted by Bob and Christie Gray at their TPC Sawgrass home. Mondiale is an offshoot of the Bailliage de Chaine des Rôtisseurs Northeast Florida, an affiliate of the largest and oldest food and wine society in the world headquartered in Paris. About 50 oenophiles attended the "Cinco de Mayo" event that included a wine auction to raise money for culinary scholarships. They enjoyed a delicious Mexican buffet prepared by Christie and sampled a wide variety of fine wines donated by the guests. To learn more about Chaine go to www.chaine-nef.org.
Rotary Club... A Roaring Twenties evening at TPC Sawgrass clubhouse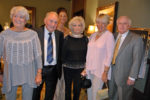 began with champagne and Cuba Libres. Members and guests of the Rotary Club of Ponte Vedra Beach stepped out on the town May 4 to "Party Like Gatsby!" Flappers in glamorous, glitzy gowns and gangsters wearing their fedoras set at a rakish tilt gathered at the TPC Sawgrass clubhouse for a spectacular evening. Talented Matus Kianicka, a Rotary exchange student from Slovakia, tickled the ivories with tunes like the Charleston. Rotary president /event chair Vickie Cavey set the scene with acrobatic performers and a stilt walker dressed in gold sparkles from her head way down to her toes. There was a speakeasy silent auction bar, and a "Bees Knees" buffet. The Groov Band provided music for toe taping and dancing.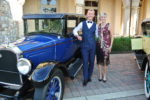 The star of the Rotary's annual Mineral City Celebration was four-time PGA Tour champion and former PGA Tour commissioner Deane Beman. By way of introduction, Cavey said, "Welcome to the house that Deane built." The Rotary honored him with its "Rock of the Community" award, recognizing his "transformative impact on our community and for living the Rotary values of 'Service Above Self.'"
One of Beman's greatest achievements came in 1978 when as commissioner he initiated the purchase of 415 acres in Ponte Vedra Beach for $1. That investment became TPC Sawgrass. Since then, tournament proceeds have donated more than $100 million to local charities, more than half of which focused on children's health and education.
"It's great to be honored, but you don't do something like this yourself, but with the people who help you," Beman said,
The Mineral City Celebration benefits local nonprofits and has given $1.5 million to charities such as Mission House, BEAM, HEAL and the Council on Aging, as well as Vision is Priceless, a special charity selected by Beman and his wife Judy. The mission of Vision is Priceless is to assess, sustain and improve the visual health of children and adults in Northeast Florida through education, screenings, treatment and referrals. Last year free screenings were provided to 39,000 children and 3,300 adults.
Connecting Thru Music… A year ago Karen Demuth initiated the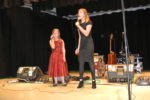 formation of Connecting Thru Music, a Neptune Beach Elementary School music program for children with special needs. It was inspired by her son Dante, who was born with Down Syndrome and without an esophagus requiring dozens of surgeries and hospital stays. He survived, but because he is nonverbal, he led a solitary life until Demuth discovered Kindermusik, a program that gave him great joy. That led to the creation of Connecting Thru Music, which instituted a pilot program for special needs students taught at Neptune Beach Elementary by music therapists. The privately funded program now includes Mandarin Oaks Elementary, and serves more than 150 students in the two schools. Demuth hopes to expand the program to private schools and after school programs.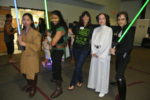 On May 3, Connecting thru Music hosted its second annual May the Force Be With You fundraiser in the Neptune Beach Elementary auditorium. The evening benefiting special needs children offered treats—sno-cones, cotton candy and hot dogs—events and entertainment. A group of enthusiastic youngsters drummed in time with on-stage music by the Cain't Never Could Band. The Fletcher High School Chorus performed and a talented young girl Jean Reid, 12, from LaVilla School of the Arts sang and danced with her special needs sister Alison; Alison, 11, has Down syndrome and attends North Florida School of Special Education. In keeping with the Star Wars theme, Princess Leia and Luke Skywalker led a costumed, light saber wielding parade of characters around the auditorium.
Neptune Beach Mayor Elaine Brown thanked the audience for supporting the program. "It seems that we as a neighborhood can do the right thing. It's all about community with special needs," she said. For more information, go to www.connectingthrumusic.com.
Jay Fund…Eleven–year-old Julie Walker was just four when her then two-year-old sister Natalie was diagnosed with Burkitt's Lymphoma, an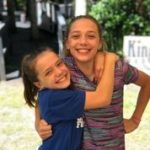 aggressive cancer of the lymphatic system. The thing that stands out in her memory is that she lived at her grandmother's house while her parents stayed 24-days around the clock sleeping on couches or makeshift chair beds at Wolfson Children's Hospital.
"Natalie needed both of us to be there to help when she was undergoing aggressive chemotherapy. It was traumatic for everyone, especially for Julie. Their whole world gets flipped upside down," mom Deborah Walker said.
Childhood cancer impacts the entire family physically, emotionally and financially. Fortunately, the Jay Fund "reached out to us through a social worker when we were in the hospital," dad Chris Walker said. "They offered to help anyway they could with financial help, mortgage payments, food vouchers and gift cards."
"Jay Fund also has a support group called the J.A.Y.S. (Just Among You Siblings) Team for siblings of children with cancer. Opportunities are provided to meet other children who understand what's happening. They have fun and create friendships," communications specialist Marissa Icrna said. "The goal is to keep the whole family together."
On May 4, Fantasy Farm in Palm Valley was the site of a Jay Fund sibling party. Big sister Julie was happy to host her parents and lively, fully recovered younger sister for a morning of fun. A magician entertained at the farm's party house and everyone enjoyed tours of the exotic menagerie of tropical birds and animals that populate the farm. Julie and her family have attended most of the fun sibling events, such as a Halloween pumpkin carving and painting and pottery-making parties. Thanks to the Jay Fund, she has made friends with other youngsters who share the experience of having a sister or brother with cancer.
The Jay Fund was created in 1996 by Jaguars coach Tom Coughlin in response to the death of Jay McGillis, a player for Coughlin when he coached at Boston College. He saw how cancer impacted the McGillis family and wanted to help others. The Jay Fund Foundation helps childhood cancer victims and families in the Jacksonville area and parts of Southeast Georgia. Go to https://tcjayfund.org for information
May 11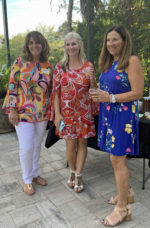 Ponte Vedra Woman's Club… Mothers or not, Beaches women deserve recognition for supporting worthy causes. The Ponte Vedra Woman's Club formed in 1970 as a social and philanthropic organization dedicated to charitable and educational causes. It also provides opportunities to socialize and enjoy many activities.
Island attire was the dress code for the April 20 PVWC Caribbean Night party at the Sawgrass Country Club home of Emily Longhino. Nancy Marsh, Michelle Purdy and Susan Hardy organized the evening of fun that included Caribbean music and silent and live auctions to raise money for selected charities: The Betty Griffin House, the STEM (science, technology, engineering and math) Conference for 5th through 8th grade girls, Florida School for the Deaf and Blind, Beaches Emergency Assistance Ministry and St. Augustine Youth Services as well as scholarships. PVWC is based in Ponte Vedra Beach, but welcomes members from across the greater Jacksonville area. To join, go to www.pontevedrawomansclub.com.
Newcomers of First Coast…An April 18 lunch at Sawgrass Beach Club was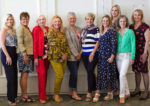 the scene for the annual Newcomers of the First Coast style show. The event chaired by Mimi Bryant featured fashions presented by independent Cabi stylist Lisa Schoenberg. Spring trends were illustrated by bursting blossoms and geometric stripes, wedge sandals, animal prints, bright colors and necklaces worn long or doubled up. Schoenberg offered tips on changing an outfit from day to night with accessories. Lindsay Hardy moderated the show that featured belted safari jackets, cropped sweaters, flowing skirts, jeans and tailored pants modeled by members Carolyn Frangiamore, Judy Ellis, Kathy Chapman, Jackie Thornton, Jenice Dunayer, Jayme Melofchik, Peggy Whalen and Mimi Bryant.
Lunch was followed by a 50/50 raffle with part of the proceeds donated to the Three Grains of Rice "Sunshine Bags" program. Members assemble bags of essentials and deliver them to the Jacksonville City Rescue Mission. The club's more than 240 members enjoy monthly meetings featuring interesting speakers as well as special events and activities such as book club, genealogy, poker, canasta, wine socials and coffee chats. Club co-presidents are Christine Durham and Suzanne Robertson.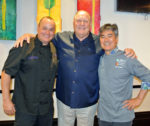 Monique Burr Foundation… The late Monique Burr was a mother concerned about all children. In 1997, after she passed away, her husband Edward Burr formed the Monique Burr Foundation for Children in her honor. The foundation developed prevention programs to educate and empower children and adults with strategies and safety rules that apply to bullying, cyber bullying, digital dangers, physical, sexual and emotional abuse and neglect. The foundation has reached more than 3 million students across Florida and more in 18 other states.
The theme for the annual A Night at Roy's benefiting the foundation was the Hawaiian tropics. The April 30 affair took place in the parking lot and inside Roy's Jacksonville Beach restaurant. Volunteers draped leis around the necks of guests who came anticipating tropical cocktails, beer and wine, and Hawaiian-influenced cuisine by Chef Roy Yamaguchi. The evening included a wine pull, a live and silent auction and live music by the TJ Brown Band with a guest appearance by country singer Colleen Orender
VIPs at the event included Roy's Restaurant founder Chef Yamaguchi with his culinary director Chris George, Jacksonville Mayor Lenny Curry with his wife Molly, Hampton Golf president and foundation supporter M G Orender and board chair Edward Burr. During the course of the evening, Yamaguchi was recognized with a Champions for Child Safety award for going above and beyond in supporting child safety. The fundraiser raised $76,000, including a donation of $10,000 from Kappa Delta.
Angelwood… Underwood's Jewelers hosted a May 1 trunk show featuring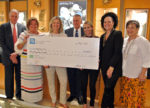 creations by Italian designer Ippolita Rostagno. The affair benefitted Angelwood, a Jacksonville non-profit serving children, adults and seniors living with intellectual and developmental differences, such as autism, cerebral palsy, Down syndrome and spina bifida. Poppy's Italian Restaurant catered the party, and Ippolita was a special guest. A raffle of a stunning Ippolita necklace added to the excitement. Underwood's donated 10 percent of the evening's Ippolita sales to Angelwood.
The reception also recognized a $5,000 Community Impact Grant presented by Rachel DuBois, representing the Jacksonville office of New York Life. Since it was established in 2008, about 600 grants totaling $7 million have been awarded across the country. The gift to Angelwood will help fund its summer day camp for special needs school age children.
"We are thankful to have the opportunity everyday to help people with developmental differences grow and be part of our lives," Angelwood executive director Diane Tuttle said.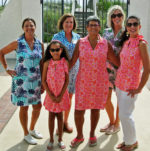 First Coast Women's Services…Women stick together, whether shopping or helping female friends in need. The annual Women Helping Women One Life at a Time benefit for First Coast Women's Services served both purposes. A May 2 Katherine Way of Jacksonville Beach fashion show/brunch brought about 180 women together at Casa Marina Restaurant for a day of fun and to learn how they could empower women to make informed choices about pregnancy.
The event began with coffee and doughnuts and shopping for the latest Katherine Way designs as well as jewelry provided by Kathy's Accessories. Then everyone enjoyed ocean breezes in the courtyard as models showed off Way's colorful designs, from dresses, palazzo pants and Panama pants to skorts, shorts (Bermudas are back) and golf outfits. All of Way's creations are made from wrinkle resistant and washable fabric.
Brunch followed with a testimony by Analee Kruge. "A 2014 study said one in four women will have an abortion. I am one in four," she said, then explained the physical and emotional pain she experienced when she had an abortion as a young woman.
Beach Center director Cathy Fox said, "in 2018, FCWS Beach Center made a difference one woman at a time for 2,372 women and 925 babies…Clients average 18 to 24 years old…each has a unique story, and diverse beliefs." Services offered include education, options counseling, parenting, adoption and abortions and the risks associated. "We hope they'll choose life. Some leave and some do not. We have abortion healing assistance."
May 4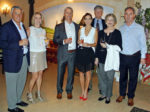 JJ Bistro… For a safe and easy trip to Europe without leaving home, try the gourmet French food and wine at JJ's Bistro. JJ's opened in 1994 at the Shoppes of Ponte Vedra when Ponte Vedra Beach was starting to boom. JJ Vigoureux took a chance and left a position as manager of Marsh Landing Country Club to start his own dining establishment. Since that time restaurants have come and gone. JJ's weathered a few storms, but prevailed in spite of warnings from his CPA that "this might not work out," Vigoureux said. "I was the pioneer of fine food, caviar, pate and fine wines in Jacksonville."
"What are the chances for a small restaurant like ours to have stayed open for that long?" he asked long time customers and friends gathered to celebrate JJ's 25th anniversary with an elegant wine dinner benefiting the Tom Coughlin Jay Fund. "I am not going to lie to you. We went through quite a few bumps in the road." He cited the Iraq War when businesses or brands associated with France experienced a drop in sales because France did not join the war, and the recession in the early 2000's closed the doors of many successful eateries.
Among the 34 guests were long time fans of JJ's, including Tom Coughlin, when he was head Jacksonville Jaguars coach. In 1992, Coughlin coached the Boston College Eagles and one of his players Jay McGillis died of leukemia. Coughlin was saddened and inspired to help the McGillis family. In 1995, he established a foundation in Jay's memory to provide a network of financial, emotional and practical support for young people with cancer and their families in the Jacksonville area, as well as parts of Southeast Georgia. The JJ's anniversary party raised $25,000 for the Jay Fund, which Vigoureux selected as the recipient of the fundraiser's proceeds.
Newcomers of Beaches...Everyday is a vacation for those of us living at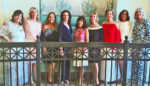 Northeast Florida Beaches. "Life on the First Coast" was the theme for the annual Newcomers of the Beaches spring fashion show/luncheon at Sawgrass Beach Club. The April 10 event featured Stein Mart apparel for all the wonderful activities we enjoy from exercise, sports and walks on the beach to luncheons, dinner, evenings at the symphony and even beach weddings. The 114 women in attendance enjoyed viewing the latest fashions such as jumpsuits, romped dresses in stripes and florals, wide leg pants and ankle cropped pants. Belle France was the featured vendor from the Stein Mart's Boutique as well as Stein Mart brand bathing suits.
Stein Mart fashion coordinator Lana Kisiel moderated the event; club members were models, including Peggy Knowles, Vicky Divertie, Andrea Smith, Christine Smith, Mary Miller, Nancy Ziolkowski, Cheryl Rowbotton and Cheryl Knutsen, event co-chair with Pam Hesterlee.
Newcomers of the Beaches is a social organization for women who are new to the Beaches or who have had a life change in the past two years. "Club activities include monthly luncheons and volunteer opportunities," Knutsen said. "It's a great way to get to know other women in the community and all the wonderful activities in the Jacksonville area."
Christ Church Easter... As sweet as a gelato were the preschoolers dressed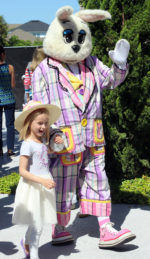 in their finest spring attire and fancy decorated Easter bonnets and top hats for the annual Christ Episcopal Church April 16 and the April 17 Easter Parades. Led by the Easter Bunny, youngsters ages 2 ½ through kindergarten marched, hopped, and bounced around the church playground to tunes, such as Peter Cottontail and Easter Parade. Treats in their classrooms followed the parade.
Christ Episcopal Church Preschool, located at 400 San Juan Drive, Ponte Vedra Beach, was founded in 1952 to provide opportunities for meaningful play that recognizes each child's individual physical, emotional, social and intellectual development.
Playgarden...The Jax Beach Brunch Haus offers a varied menu for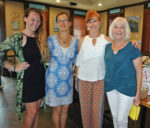 "breakfast, brunch and beyond." However, the evening of April 26 was reserved for a silent auction party for The Playgarden by the Sea, a school for children three to six years old. In addition to bidding on more than 150 items donated by local businesses, guests enjoyed "light bites and drinks." Money raised supports the school's programming as well as scholarship and hardship programs.
The school's mission is to strengthen and inspire its 80 students, their families and community. Based on the Waldorf model, it offers LifeWays Early Childhood Certification Training for parents, childcare providers, nursery teachers and those who want to open their own home programs. LifeWays training includes courses on the basics of establishing rhythm, cooking, gardening, nature observation, circle games and more. For information go to www.lifewaysnorthamerica.org. To learn more about Playgarden, go to www.theplaygarden.org.
Habitat… "Home sweet home" goes through one's mind when returning
from a long trip. It also rings true for residents of the Atlantic Beach OceanGate community. Love Thy Neighborhood was the theme for an April 27 event that included workers, sponsors, educators, volunteers, donors and home owners. They celebrated the completion of 70 charming homes in the Mayport Road community built by Beaches Habitat for Humanity on a once blighted vacant lot. Habitat partners with local families and volunteers to build and rehabilitate simple, decent homes for qualified families in need. To date Beaches Habitat has served more than 400 families.
"Once an eyesore here, this community started with a vision," Atlantic Beach Mayor Ellen Glasser said. "We are proud to show OceanGate as who we are and what we need to be."
Habitat board chairwoman Marianne Hillegass welcomed everyone and introduced VIPs, such as development director Mary Anne Christensen, benefactors Lory Doolittle and Phil Porter of Subaru of Jacksonville, Habitat COO & CFO Debbie Jones, homeowners' association board members and Kathy Christensen from Take Stock in Children, the education arm of Habitat.
"It's been like baking a cake," HOA director Ebony Ogoh said. "You gave us all the ingredients, now we're enjoying the cake."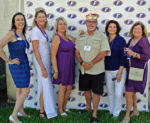 Fletcher Homecoming… "Homecoming at the Beaches" was this year's Fletcher All-Class Block Party theme. The April 27 event was hosted by the Beaches Museum and History Park. A display of former Fletcher homecoming royalty was featured in the museum, along with a red velvet ball gown made by historic society founder the late Jean McCormick for her daughter Suzanne. Past kings and queens were recognized throughout the evening. The Paul Lundgren Band played while folks circulated hugging and handshaking as they recognized former classmates. A table of members of the class of '49—Betty Jo Lester, Mame Foy, Buddy Smith, Una Brown and Gilbert Mier—was perhaps the most senior group at the affair. Committee members who organized the event were museum director Chris Hoffman,'95, Joanna Queen Stackura,'76, Margie Horvath,'74, Kevin Brown,'78, Cam Brown,'74 and Cathy Shane Peper,'74.