March 21
There's a saying; volunteers are seldom paid; not because they are worthless, but because they are priceless. Nevertheless, there are benefits to giving time and money to a good cause. Volunteerism teaches new skills and keeps you active as well as earning recognition. Listing volunteer experience on a resume can lead to employment in a related field and expand your social and business networks. Volunteering is said to improve health by strengthening the body, improving mood and lessening stress. Donating your time and skill also can be a lot of fun.
For example, the perfect volunteer job for dog lovers is bound to be available at K9s For Warriors, a non-profit founded in 2011 to rescue and train service dogs that in turn serve veterans who have post traumatic stress disorder. Shari Duval founded K9s For Warriors when her son Brett returned from Iraq, where he did contract work as a canine police officer and developed PTSD. She created a program to train service dogs to help her son and other vets reduce their risk of suicide. K9s pairs the rescued dogs with veterans and trains them to work together. As a result, the Palm Valley non-profit has become this country's largest provider of service dogs for disabled American vets.
Some of the ways volunteers help are by cooking for the veterans in training, caring for the dogs and raising puppies. There are many stories behind each pairing, but March 10 was a three Rory tale at THE PLAYERS Championship. That is when K9s CEO Rory Diamond introduced defending Players Championship golfer Rory McIlroy to his namesakeRory, a one-year-old white Labrador service dog in-training to be paired with a disabled vet in a couple of months. Rory the canine wagged his tail as McIlroy dropped to his knees to pet him. "I could do this all day long," he said.
Top PGA Tour golfer Jim Furyk and his wife Tabitha are a wonderful example of turning good fortune into a charitable enterprise that keeps on expanding and giving.
"When we first moved here in 1995, I volunteered for Blessings in a Back Pack and Community PedsCare, which helps children and families in need," Tabitha said. "Then in 2010, Jim won the FedExCup and the Tour championship. There was a big cash prize, so we thought it was a good idea to start a foundation."
They formed the Jim & Tabitha Furyk Foundation, a non-profit that partners with children's charities in North Florida, including Wolfson Children's Hospital, Blessings in a Backpack and Community PedsCare.
On March 8, the Furyks hosted a shower for pregnant military moms or those who have recently given birth. Operation Shower, a group party for 39 moms (one is expecting twins) was held at the Patriots' Outpost in partnership with The Players Championship, Birdies for the Brave, Morgan Stanley, Grant Thornton and Optum. Executive director of THE PLAYERS Jared Rice introduced First Coast News anchor Katie Jeffries, who emceed the From Sea to Shining Sea themed event.
"It's Operation Shower's favorite day of the year," director of program outreach Ginger Shockley said.
The Furyks greeted the moms, some dads and newborns. They were given gifts, such as Operation Showers' signature shower-in-a-box, tote bags of essentials for new babies, raffle prizes and supplies and cozy robes for the moms. Tabitha said she was touched by the mom's response to the party. "I watched the tears in their eyes as they received shower gifts."
Among the special guests was singer-songwriter Patrick Davis. He entertained with a song about "love." Naval Station Mayport executive officer Commander Patricia Tyler said, "I know what it's like to serve as a Navy spouse, and I know what it's like to be on active duty. The whole point of it all is you're serving, and I applaud you for your service."
It was a busy day for the Furyks. In the evening they celebrated 10 years of giving with a PLAYERS Championship preview party at The Grove on THE PLAYERS' grounds. The fun included signature treats prepared by top local restaurants, such as Ruth's Chris, Taco Lu, Roy's, the Bearded Pig, Rue Saint-Marc and TPC Sawgrass Nineteen, as well as a concert by award-winning musicians, shopping at THE PLAYERS merchandise tent and a silent auction that included autographed sports memorabilia and guitars.  
A closest to the pin contest on the famous 17th hole featured PGA Tour players competing to win $10,000 for charity. Phil Mickelson won the challenge and donated the prize back to the Jim & Tabitha Furyk Foundation. The outdoor event was held in collaboration with Habitat for Humanity to raise money for needy children and families in the Jacksonville area and to build a home for a single mother, who has a child with cerebral palsy.
A special announcement was made during the affair. The Jim and Tabitha Furyk Foundation in partnership with Baltimore-based energy company Constellation and PGA TOUR Champions will debut a new tournament, the Constellation Furyk & Friends tournament at Timuquana Country Club, Oct. 8-10, 2021.
The Furyks awakened bright and early the next day for a Furyk & Friends Celebrity Golf Classic at Sawgrass Country Club. PGA TOUR professionals teamed up with foursomes of professional athletes, actors and musicians to compete to win a custom sports coat from Rosenblums.
March 14
"Seafoam green" is one of the season's big color trends, J. Jill boutique associate Stacie Bucher told Newcomer Alumnae assembled March 4 for the annual fashion show luncheon. J. Jill is near the center of St. Johns Town Center. Shades of olive green and rose tones are considered neutrals that go with other colors. Tie dye is popular this year, moderator Bucher said as member models paraded around Marsh Landing Country Club's dining room. The latest looks for spring, include "Wearever travel wear," trench coats worn over a dress or pants, and different cuts of denim jeans to please everyone, from pull-on to slim legs.   
Shirin Brenick and Sandra Beroglio co-chaired the event, which Brenick said is quite an undertaking, from finding a shop to produce the show to arranging for Piper Prinzi of Mary Kay and Donna Zimmerman of Zimmiz Hair Salon to help models do their makeup and hair. The models were Judy Adams, Debbie Corsano, Paula Kennedy, Dede Leclaire, Rosanne Lotocki, Joanne Pasquale, Amy Pizzarello, Barbara Tanner and Clara Wittman.
Nancy Scott and Camilla Leininger are co-presidents of the organization formed about 22 years ago to provide a club for women who graduated from local Newcomer's Clubs. The luncheon wound up with door prize raffles and a 50/50 drawing. In addition to monthly luncheons, the group offers activities, such as canasta, mahjong and wine socials, "Newcomer Alumnae has 218 members from all around the Beaches. You don't have to be a Newcomer's graduate to join, and you can be a member as long as you like," Brenick said. To join, email membership chair Brooke Hobberman at Brookemeister@msn.com.
In addition to celebrating the arrival of spring and St. Patrick's Day, March is the month when golfers compete on the greens at THE PLAYERS and excited fans gather to see who will win this year's championship. Or as the ancient Irish saying goes, "Long ago, when men cursed and beat the ground with sticks, it was called witchcraft. Today it's called golf."
The Jax Chamber Beaches Division and St. Johns County Chamber of Commerce got a head start on tournament festivities with After-Hours at The Players, March 5. The annual networking event included a host of local vendors serving food, beverages and providing entertainment. The affair at Stadium Village sold out with more than 800 members and guests attending. The chambers provide opportunities for business promotion and networking as well as staying up-to-date about business events and issues in the Jacksonville area.
The Cultural Center at Ponte Vedra Beach is celebrating the anniversary of the 250th birthday of famed composer Ludwig van Beethoven with a special interactive exhibit. The traveling music exhibition is held in partnership with MIMMA (Interactive Music Museum in Malaga, Spain,) and its first stop is Ponte Vedra Beach before going to Jacksonville and then across the U.S. An opening reception was held March 6.
"Loving Beethoven" is an original music therapy experience that features large lighted spheres. When hugged they vibrate and change color as Beethoven's 5th symphony plays. A small additional installation provides hands-on opportunities for students of all abilities. Even those with special needs can experience how music vibrates through water, and changes pitch and tone when placed on wooden boxes of different sizes, or as flexible plastic tubes are waved in the air.
Guests at the opening reception were introduced to MIMMA director Miguel Angel Piedrola, who explained the exhibit's purpose is to show how people feel and experience music using all their senses, vibrations, vision, auditory and tactile. "Beethoven shows us everything is possible," he said, explaining how the composer was able to write music even as his hearing declined.
"The center has been here 25 years and features not just visual arts, but cooking, music, theater and dance. This is our first collaborative, international project," center president and executive director Donna Guzzo said. "The experience can be appreciated by everyone, even people with special needs."
Top sponsors of the exhibit are Robert and Monica Jacoby and Joseph P. Bryant. The installation benefits the Cultural Center's Sound Connections music therapy program. Also featured at the center is an exhibit of works by the Jacksonville Watercolor Society, featuring 2019 Artist of the Year R. Tuni Weiss. Reserve child and adult tours for Loving Beethoven by calling the center at 904-280-0614, ext. 1202. The exhibit is open to the public with a suggested donation of $5 until May 26. Or go to www.ccpvb.org.
Feb. 29
Helping their children do well is every parent's goal. On Feb. 17 and again Feb.19, at Sawgrass Beach Club, 15 junior high and high school students learned some powerful lessons about how to succeed. In addition to dinner, they had courses in "Manners for Life," such as how to make introductions, shake hands and make a good impression.
"Manners are all about making people around you comfortable," instructor Kaye Simonetta said. "I got a note from a young lady in one of my classes. She went off to college and attended a formal dinner, where she said she 'was the only person who knew what fork to use.'"
At a five-course dinner on night two, they talked about everything "from soup to nuts." They learned the purpose and placement of a name tag, as well as table manners, making a good first impression, body language, interviewing for a job, how to tie a tie and how to go through a buffet line. For information about Simonetta's course, go to www.mannersforlife.net.
Ribault Garden Club…The mangroves are coming, warned Ellen M. Leroy-Reed, executive director of Friends of Guana Tolomato Matanzas National Estuarine Research Reserve. Leroy-Reed spoke Feb. 20 at the monthly meeting of the Ribault Garden Club. She talked about strange-looking pods on the beach that could be seed-like advance troops for the northward march of mangrove trees commonly found in south Florida. There are three varieties of mangroves—red, black and white—creeping up the coast. The most northern sighting has been on Talbot Island. This is not all bad news because the salt-tolerant trees serve as a buffer against high winds, protection from storm surges, provide habitat for endangered species and protect from harmful algae blooms.
Leroy-Reed talked about how to identify different varieties of mangroves and encouraged her audience to look out for them to help scientists track how far north they have moved from south Florida. "Hurricanes and freeze events are moving them up here," she said. "We want to know what's going to happen in 20 to 40 years."
The Ribault Garden Club is a member of Florida Federation of Garden Clubs, and membership is open to the public. Monthly meetings with interesting speakers usually feature a garden plant competition —not to mention great refreshments provided by members. A beautiful jewel orchid by Edith Lotz was the winning plant at the meeting. Fun with Flowers, a demonstration and hands-on workshop, also is held the second Wednesday of the month, October through April. Go to www.ribaultgardenclub.org for details.
*Heal Foundation…Bobby and Leslie Weed are proving you don't have to be a super hero to accomplish seemingly impossible deeds. When their daughter Lanier was diagnosed with autism, they set out on a mission to make life easier for Lanier and other youngsters in the autism community. One in 40 school age children has the disorder characterized by degrees of difficulty with social interaction, verbal and nonverbal communication and repetitive behavior.
They formed the HEAL (Helping Enrich Autistic Lives) Foundation and "have raised $3 million since 2004," Bobby told guests at the 14th annual HEAL Gala Feb. 20 at The Ponte Vedra Inn & Club. About 500 guests attended the gala that included a buffet, live and silent auctions and dancing to music by 7 Street Band. The money raised supports 15 special summer camps, sports leagues, support groups, educational seminars for parents, teachers and therapists, as well as autism service dogs. When it was found that non-verbal children could communicate using iPads, they raised money to supply about 450 iPads to special needs teachers, serving about 1,000 non-verbal autism students. New on their list are "Trikes" that provide recreation for youngsters unable to ride bikes. They demonstrated the fun during a gala high point, when youngsters with autism pedaled three trikes into the Inn & Club ballroom. Their dramatic entrance spurred bids in the "Bid from the Heart" auction that raised about $120,000 for trikes in local schools and to build all abilities parks, one in each of five Northeast Florida counties.
In spite of inclement weather on Feb. 21, folks were in good spirits for Bobby Weed's Golf Gig on the Inn & Club's Lagoon Course, originally designed by Bobby Weed.
"I had no idea [where it would go] when we started this," Leslie said. "God just put it in my heart. I call this my Super Bowl." For information, go to www.HealAutismNow.org.
The Cultural Center at Ponte Vedra Beach believes in using the arts to overcome educational, emotional and physical challenges. To further that goal, the center supports a music therapy program for special needs children in local schools and has raised funds for Sound Connections' music therapy program for children with learning challenges.
On Feb. 23, the center hosted "Beaches, a Celebration of the Arts" at the Ponte Vedra Inn & Club's Surf Club. The fun-filled evening was chaired by Irene Lazzara, trustee of the Lazzara Family Foundation, a co-sponsor of the event. It began with cocktails, live and silent auctions, a buffet dinner, and a performance by famed soprano Sara Gartland. She sang a cappella "If I Loved You" from Carousel. Gartland lives in Texas with her husband and four-year-old , who has physical and intellectual challenges. She will return to perform at the center's March 6 opening reception for "Loving Beethoven, a musical experience."
"Tonight's events highlight the role of artists as engines of important events and sustainable growth of the improvement of the arts," center executive director Donna Guzzo said, by way of introducing the presentation of awards to community leaders in the arts. Guzzo presented the awards with emcee Toni Chrabot.
The Emerging Artist award for an artist of any age who has displayed great accomplishment with a fine art or craft medium went to Gentry Gudal an accomplished young artist with autism. Rod Morris received the arts education & advocacy award for his record of advancing the arts and educating people about the value of arts in the community. Teresa Radzinski earned the art of giving award for commitment to funding and sustaining arts and culture programs in the community. The community impact award went to the St. Augustine Art Association for demonstrating development of arts and culture in the community. And Christine Hoffman, director of the Beaches Museum, received the Beaches Award for an organization dedicated to ensuring the arts and culture are ingrained in the community's everyday life.
Feb. 22
Jax Area Golf Assn….At this time of year most folks are anxious to switch the flu season for the golf season. On Feb. 5, 325 people turned out for the eighth annual Celebration of Golf banquet. The gala event at the TPC Sawgrass clubhouse honored former Florida Times-Union executive John Tucker with the Deane Beman award for a lifetime of contributions to professional golf and other charitable activities. Former PGA Tour commissioner Beman and Tucker were responsible for the Tour's move to the Jacksonville area.
After Jacksonville Area Golf Association president Fred Seely introduced Tucker to the audience, Beman presented the award. Then the two sat down for a "fireside chat" discussing their key successes in the 1970s and '80s.
"Deane's leadership made it possible, and John was the person who put everything together, convincing North Florida leaders to do everything possible to sell the area," banquet chairman and Timuquana JAGA director Michael McKenny said. Tucker is the sixth recipient of the Beman award.
In addition to the JAGA awards, the Jacksonville Women's Golf Association, the Northern Chapter of the North Florida PGA and the North Florida Golf Course Superintendents Association were recognized, and they honored individuals who have made contributions to area golf on and off the course.
The 2020 PLAYERS' Championship is 17 days away, but it teed off Feb. 11 with the annual Charity Shootout featuring local personalities and celebrities at the Island Green 17th hole. The Players executive director Jared Rice pointed out that "Number 17 is the defining moment of the championship."
He gave an update about this year's debut of new technology and new processes. For example, fans will be able to watch every shot of every player live. And there will be mobile/digital ticketing only for the tournament and parking. Go to the website ThePlayers.com or call the sales office (904-543-5222) to download tickets to your mobile device which will be scanned at the gate. Youngsters age 15 and younger will be admitted free when accompanied by a properly ticketed adult. Among the updates will be a new kid zone, a new Meiomi wine lounge as well as a PGA Tour fan shop featuring an expanded array of merchandise. Some new food partners are Valley Smoke, ABBQ, Bonefish Grill, Hawkers and 4 Rivers.
For the Charity Shootout's first round, representatives from five local charities drew names of celebrities to see who could hit the ball closest to the 17th hole. Action News Jax and ESPN 690 Brent Martineau hit the winning ball 7 feet 3 inches from the hole and won $10,000 for Firehouse Subs Public Safety Foundation. Other celebrity hitters were former Jaguars mascot and First Coast News personality Curtis Dvorak, WJXT sports producer Justin Barney, Scot "Froggy" Langley of Elvis Duran & the Morning radio show, Chris Solomon of No Laying Up and former Jacksonville Jaguar Josh Scobee.
In addition to Firehouse Subs' foundation, charities that benefitted were Feeding Northeast Florida, Jacksonville Area Golf Association, The First Tee of North Florida and Walk Off Charities. In round two, each charitable organization designated a hitter. Scobee hit the closest shot to win $5,000 for Walk Off Charities. Each non-profit was given $1,000 plus an additional $1,000 when Dvorak performed a stunt, kneeling to hit the ball 20 feet from the hole.
The Players proceeds donated to Northeast Florida charities have totaled more than $100 million since it began in 1974 and moved to Ponte Vedra Beach in 1977. Morgan Stanley, Grant Thornton LLP and Optum are partners with The Players. Learn more at ThePlayers.com.
"Our motto is treating everyone right," CORA Physical Therapy regional manager Katt Bolduc said at the Feb. 13 grand opening of CORA's new Nocatee facility. "We are happy and excited to provide physical therapy to the community."
The St. Johns Chamber hosted a ribbon cutting party at the recently opened clinic located in the Nocatee Town Center at 465 Town Plaza Ave. Chamber president Isabelle Rodriguez greeted Chamber members, CORA staff and interested members of the community. The festivities included a tour of the clinic, prizes, food, drinks and a golf cart scavenger hunt.
CORA, an outpatient rehabilitation company that treats general orthopedic and sports injuries, including concussion treatment, pre-and post-operative care, vertigo and balance disorders, offers direct access as well as physician referrals. More than 4000 insurance plans are accepted. There are 215 CORA clinics in nine states, with 12 in the Jacksonville area. The Nocatee clinic is the third in St. Johns County; a fourth is scheduled to open in St. Augustine. For more information, go to coraphysicaltherapy.com.
U. S. Navy Capt. Clarence Hill (Ret.) was honored by the Jean Ribault Chapter of the National Society Daughters of the American Revolution in partnership with the city of Atlantic Beach for his outstanding service to military veterans. He was awarded the DAR National Defense Distinguished Citizen Medal Feb. 13 at Queen's Harbour Yacht and Country Club. The presentation was made by Atlantic Beach Mayor Ellen Glasser and the Florida State Society DAR National Defense chair Cynthia Addison.
During his 24 year career, Hill served in the Gulf during Operation Desert Storm and received the Bronze Star with Combat Distinguishing Service as well as four Meritorious Service medals and three Navy Commendation medals. Beyond retirement, he has worked to develop the Beaches Veterans Memorial Park and support the Jacksonville National Cemetery and Veteran's Clinic for local vets. He also is a three-time commander of the Dewitt B. Tilden Memorial American Legion Post 316, Atlantic Beach, and in 2009-10 was the American Legion's National Commander. Hill now serves as president of the Jacksonville-Oceanside Rotary and participates in Habitat for Humanity Build Days as well as other community activities.
With about 3,000 chapters worldwide, DAR is one of the world's largest and most active service organizations. To learn more, go to www.DAR.org.
Feb. 15
On Jan. 26, members of Cummer Beaches gathered at TPC Sawgrass clubhouse for the Cummer Museum affinity group's annual Celebrate! gala. This year's theme was The Roaring Twenties. Gentlemen dressed in black tie and ladies wore flapper attire. The evening featured entertainment by the Jacksonville University Jazz Orchestra and performances by Russian dancers from the Arthur Murray Dance Studio.
Adam Levine, director and CEO of the Cummer Museum of Art and Gardens was one of three speakers, also including Cummer Beaches president Peter Karpen and Cummer chair Pam Paul. Money raised by the gala helps fund the museum's educational programs. The group raises museum awareness by providing bus trips from the Beaches to museum exhibits and events.
"The gala was a success with a record number of attendees and funds raised, Karpen said.
Peace Corps Volunteers
On Jan. 24, David and Bernadette Miron hosted a party at their Sawgrass Country Club home featuring an exotic dinner prepared by Afghanistan refugee Hellai Noorzia. The Mirons are members of the First Coast Returned Peace Corps Volunteers. They served as volunteers in Columbia. Another former Peace Corps volunteer at the party was Michelle Karoisk, who served in Mauratenia.
"Our purpose is to live up to the third goal of the oath we took as Peace Corps volunteers: to promote meaningful interaction between refugees and Americans," David Miron said. "We focus on educating about the experience of legal refugee entries into the U.S."
One means to accomplish the goal is to organize a dinner for neighbors and friends who want to understand the refugee experience. Noorzia, an experienced Afghani cook, prepared the meal that included dishes such as tika kabob (chicken with masalas), ground chicken meatballs and boroni banjan (Afghani eggplant), and they drank doogh, a yogurt drink mixed with mint. Noorzia also talked about her refugee experience.
"Her story was so inspiring," guest Susan Gregg said. "Helping refugees get a new start in America is a basic tenet of this country."
DAR Essay Contest Among America's first immigrants were the British who traveled aboard the Mayflower in 1620. The voyage did not go smoothly as students from PVPV/Rawlings elementary school and Landrum Middle School related in essays they composed for the annual Ponte Vedra Daughters of the American Revolution essay contest. The winners selected from more than 275 entries were PVPV/Rawlings fifth grader Lincoln Rozen, and from Landrum sixth grader Evren Agar and eighth grade student Tyler Wilson. They were honored at a Feb. 4 luncheon at Marsh Landing Country Club. Chapter Regent Judith Delmar presided at the meeting, and DAR American History chair Brandy Hibbard introduced the winners.
"2020 marks the 400th anniversary of the voyage of the Mayflower and the founding of Plymouth Colony," Hibbard said. "Imagine you are one of the passengers on the Mayflower. Knowing what materials were available in 1620, what would you have packed to prepare for the trip and starting a new life in the wilderness?"
Rozen described the horrible conditions aboard ship; in spite of packing dried meat, fish and biscuits, they ran out of food and passengers got scurvy and died. Agar described the trip from the point of view of a mouse who "thought my whiskers would freeze off" because it was so cold. Wilson talked about starvation and cramped quarters. When they arrived he said, "I'm finally happy to be in the new world and can't wait to see what my future holds."
Each winner received a certificate from the national DAR office, a bronze American history medal and $50. At the conclusion of the readings Hibbard announced a big surprise. Rozen's composition was selected by the State Society DAR as the fifth grade winning essay for the state. DAR is a volunteer women's service organization founded in 1890. It has more than 185,000 members nationwide, who promote historic preservation, education and patriotism. The Ponte Vedra Chapter was founded in 1951.
Volunteeers in Medicine In 2003, Dottie Dorian and Dr. Jim Burt established Volunteers In Medicine Jacksonville, with a mission to advance the physical, mental and emotional well-being of the working uninsured. Today VIM operates with 230 volunteer doctors, nurses and assistants and a small staff. It is supported by generous donors and fundraising events, such as the fourth annual Women with Heart luncheon hosted by Florida Blue.
WJXT-TV4 nightly news anchor Joy Purdy emceed the sold out Feb. 5 luncheon that honored 11 Northeast Florida women "who have made notable contributions to the health and wellness of our community," VIM CEO Jennifer Ryan said.
This year's Women with Heart are: Kristi Aiello, Clanzenetta "Mickee" Brown, Charmaine Chiu, Tammy Daniel, Tracee Holzendorf, Ann-Marie Knight, Melanie Lawson, Mary Reval, Donna Orender, Nina Waters and Ellen Williams. They were recognized for leadership, advocacy and philanthropy. Waters was named 2020 Dorian-Burt Heart of Gold honoree for her work with the Community Foundation and its giving circle, the Women's Giving Alliance. Each honoree will take a monthly turn wearing a diamond heart necklace worth $15,000 donated by Allen's Jewelers, during which they will host events to fundraise and provide awareness for VIM. At the year's end a drawing is held for the necklace.
VIM-JAX has delivered $3.1 million in health care services and served 1,677 patients. As a VIM client Wade Cox said, "I never went without working, but just didn't have insurance. They're awesome people. They've been there for me and my wife every step of the way."
"We believe everyone deserves access to health care," Florida Blue market president Darnell Smith told the audience. "We believe women leaders are fiercely proud to support VIM and Women with heart." In addition to Florida Blue and Allen's Jewelers top sponsors include Bacardi and Publix Super Markets Charities.
SenioRITAs at Sawgrass Country Club celebrated its 20th year of supporting Baptist Medical Center and Baptist MD Anderson as well as Mayo Clinic with check presentations. On Jan. 27, the SenioRITA committee headed by RITA (Research is the Answer) founder Chuck Jantz and Karen Aaro gave Baptist $88,700 that goes in part toward the Buddy Bus Mobile Mammography vehicle and also to SenioRITA cancer endowments. At the presentation luncheon the committee heard about the hospital's revolutionary Robotic surgery.
On Feb. 3, the committee visited Mayo Clinic for an update on Mayo's breast cancer research by John A. Copland III, Ph.D. supervisor of Mayo's cancer research. They presented Copland with a $45,000 grant for research to cure NNN breast cancer, and added funds to SenioRITAs cancer endowment in honor of Chuck Saacke, former Sawgrass director of tennis.
The SenioRITAs fundraising includes a fall kickoff party at Pusser's followed by a live and silent auction dinner at Sawgrass Beach Club as well as a three-day women's doubles tennis tournament. Since its beginning, the all volunteer organization's impact on the community has been more than $1,486,094 plus Baptist Matching funds of $304,500.
Feb. 02, 2020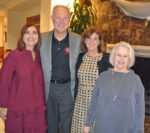 Friends of Library… On Jan. 23, there was no sign of spring in sight and Northeast Florida was experiencing a touch of winter. However, there was a large turnout for the annual Friends of the Library Ponte Vedra Beach meeting and dinner at the Ponte Vedra Inn & Club. President Leslie Kleiman welcomed members and guests and introduced new board members: Susan Holiday, Lydia Michalsen, Bill Oppenheimer, Phil Smith and Maureen Wildey.
Then she introduced the evening's speaker, former Top Gun instructor Dave Baranek, who said when he was 10 years old growing up in Jacksonville's Arlington community, he knew he wanted to fly jets.
"I rode my bike, played baseball, had a paper route, and I was a library user," he said. "This helped me decide what I wanted to be. I used to go read airplane books. If you ever wonder if you're making a difference, you are."
Baranek gave an entertaining talk about his U.S. Navy career as a "back seat RIO (Radar Intercept Officer)" and the "very maneuverable dog fight" planes he used to fly including the Tom Cat built by Grumman. He had very specific duties as a pilot in the backseat of jets that operated from aircraft carriers that were more than 1,000 feet long. He described the difficulty of landing and the time he had to eject when the plane went off the ship due to a cable failure.
He started as a Topgun student and eventually became a Topgun instructor. His experiences during 20 years in the Navy included time spent assisting Paramount Pictures make the movie Top Gun in 1985. He met Tom Cruise and other actors, whom "we had barely heard of…but when the movie came out it raised the profile of the Topgun squadron." He wrote a book about his Topgun Days, and the making of the movie. For more info go to www.Topgunbio.com.
"In my 20 year career I learned a lot of lessons. When I think back to 10 year old Dave hanging out at the library looking at books, the word 'rewarding' comes to me."
Friends of the Library Ponte Vedra Beach hosts monthly speakers, free to the public. At 6:30 p.m., Monday, Feb. 10 Lt. Gen. Rick Tryon will talk about "Today's Military; the all volunteer force" at the Nocatee Welcome Center. The March 31 meeting will feature chef Andrea Rosenblatt talking about "Food in Writing" at the Ponte Vedra Branch Library.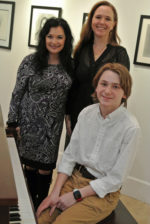 The Cultural Center at Ponte Vedra Beach hosted an opening reception for the annual Juried Artist Member Exhibition (JAME) Jan. 4. Distinguished local artist Margaret Curnow judged the exhibition that included all art mediums submitted by artist, patron and Renaissance members. The exhibition was open to all media including 3D work. Artwork also is for sale during the show that runs until Feb. 28.
Artists competed for the change to win cash prizes as well as the chance to win a solo exhibition at the center during the 2021 exhibition year. A solo exhibit of the works of 2019 winner Marisela Quiros is featured in the front gallery. The JAME exhibition is in the center's Scene gallery. The 2020 first place winner Norbert Ploetz won $300 for a painting "Passing Curtis Point Lighthouse;" The $125 second place prize went to Christina Mastrangelo for "View of the Hudson Rriver Valley, and Teresa Graham's "Bashful Peonies" won the $75 third place prize. Honorary mentions went to Caitlin Flynn, Loraine Short, Ronnie Buray and Miles Batt.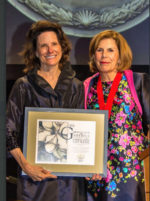 GCA Awardee…Thoughts of spring bring thoughts of flowers and Ponte Vedra Beach resident Laura Haley, a nationally recognized floral design judge, exhibitor, lecturer and educator. Last spring Haley, a member of Jacksonville's Late Bloomers Garden Club, received the Katharine Thomas Cary Medal, one of the highest honors given by The Garden Club of America. She earned the award for outstanding achievement in the field of floral design education. One of her biggest contributions has been the revision of the GCA Flower Show and Judging Guide, a reference for show chairmen, exhibitors and judges.
"Unwavering willingness to give 100 percent of her time and energy to educating members of the GCA in floral design makes her a stand-out," GCA president Anne Neal Petri said.
Haley also belongs to The Little Garden Club of Rye, New York, and has instructed judges on design styles and taught designers across the U.S. She is a multiple blue ribbon winner in Philadelphia, Newport and Garden Club of America Flower shows around the country.