March 23
Operation Shower…There were many dining opportunities during The Players Championship week. March 10 was a busy day and evening at TPC Sawgrass for top PGA TOUR player Jim Furyk and his wife Tabitha. The afternoon began with lunch at the Operation Shower and Birdies for the Brave "County Fair" for about 40 military moms-to-be. Tabitha hosted the event at the Brave Patriots' Outpost, a military-exclusive hospitality marquee, sponsored by United Rentals in partnership with The Players Championship, the Jim and Tabitha Furyk Foundation, Chicco and Birdies for the Brave.
The Players Championship executive director Jared Rice welcomed everyone and thanked them for their service. The Furyks were next at the microphone..
"I want you to know how special you are, and we're blessed to have you," Jim told the special guests, and Tabitha added, "we understand the sacrifices you make for our country."
On that note plush robes, the first of many gifts, were distributed to all the moms-to-be who were present. VIPs took turns thanking the women and distributing more and more prizes. For example, Operation Shower chief creative officer Amy Belle Isle, gave away Carousel bedding sets. Since it was started in 2007, Operation Shower has traveled around the country to "show all military families how they are loved and appreciated," she said.
Special military guests from Naval Air Station Jacksonville included Capt. Brian Weiss, Cmdr. Patricia Tyler and commanding officer Capt. Michael Connor, who expressed appreciation for the moms and their service. Antwan Houston of United Rentals, runs an emergency preparedness team that deploys to disasters around the country. He also helped create a service employment program for employees transitioning from military life. Patty Horoho, CEO of OptumServe also was among the speakers; she is a retired Army Lt. General and was 43rd Army Surgeon General, the first woman to hold that position.
It was an exciting afternoon for the military mom's who went home with gift bags, gift cards, raffle prizes and a variety of supplies for new babies, including a "Shower in a Box."
Furyk & Friends…The busy Furyks, were ready to rock and roll a few
hours later at the ninth annual Furyk & Friends concert followed the next day by a celebrity golf classic. The evening event at "The Grove" on The Players grounds featured samples of signature dishes and beverages supplied by Bearded Pig, Moxie & Town Hall, Ruth's Chris, Roy's, Rue Saint-Marc, 3 Palms, Jazzy, Florida Yacht Club, Protect the Revenue, Well Oiled Events and Crème de Cocoa. Guests bid for autographed celebrity golf items at a silent auction. Later in the evening top PGA Tour players competed to hit a ball closest to the pin on the 17th hole. The winner, Len Mattiace, earned "a $5,000 prize to be donated to a charity of his choice and $5,000 in his name to the Jim & Tabitha Furyk Foundation," Tabitha said.
A highlight of the night, of course, was the Furyk & Friends House Band playing country western music with celebrity guest performers: Lee Brice, Javier Colon, Jordan Davis, Patrick Davis, Colt Ford, Jack Ingram and Drew Copeland.
The following day professional athletes, actors and musicians teed up for the celebrity golf classic on the Sawgrass Country Club course. Among 20 PGA Tour pros that competed in the celebrity golf classic were Tony Finau, Rickie Fowler, Kevin Kisner, Peter Jacobson and Zach Johnson.
The Furyk Foundation funds programs that help needy children and families. For example, it has provided food to more than 80,000 students during the school year, packed and delivered 16,500 holiday meals, paid salaries for child life specialists, bought computers for after school facilities and more. The 2019 Furyk & Friends event specifically partnered with the Jacksonville Humane Society to provide field trips along with books and educational curriculum for Title 1 schools in Duval County. The money raised also will send 72 youngsters to camp. To help or donate, go to jimandtabithafurykfoundation.com.

Players Celebration… Festivities continued March 11 with The Players Celebration at the TPC Sawgrass clubhouse. This party was for partners of The Players Championship, corporate partners, national clients and their guests. Michael Cavanaugh, billed as the Voice of The American Rock & Roll Song Book, sang and played piano, while folks visited food stations and bars stationed at the entrance and in ballrooms. They mixed, mingled and sampled signature dishes from oysters, shrimp and crab claws to fish, barbecue and sweet desserts. It was a yummy affair.
Players Championship… On Tuesday of TPC week I got an early look at players practicing for the big game and folks gathered at the ropes to
glimpse celebrity golfers on the practice range and the course. The autograph area was packed with fans eager to get The Players flags signed by as many pros as possible. The weather was brilliant and breezy as players warmed up to compete for the $12,500,000 purse with $2,250,000 going to the winner. Crowds gathered behind the 17 tee, filled the hospitality tents, shopped for hats, Tee shirts and autograph merchandise at the fan shop and dined at the food court and many food concessions.

Volunteers were on their toes guiding folks and watching the ropes. This year's tournament chairman was Adam Campbell a 20-year volunteer at The Players. Volunteers come from all over. Dave Paterson from Canada manned the ropes at the 18 tee along with Bradley Breunig, Rick Lahy, Chad Maddux, Skeet Mitchell and Jim Thomas. Mitchell has volunteered for 16 years.
"It's a vacation for me. It's fun to be behind the ropes with the players," Paterson said.
"More than 2,000 men, women and children provide integral volunteer help with everything from tracking statistics, to greeting the players, feeding the fans and helping keep the grounds beautiful. They do it all," Chris Reimer of the PGA Tour said.
March 16
BSA Blue & Gold… Lions, Tigers and Bears…and wolves and Webelos, Oh My! On March 1, blue and gold were the colors of the day. The celebration at Christ Episcopal Church wasn't a scene from the Wizard of OZ. It was the annual Blue and Gold Banquet for Pack 277 Cub Scouts in Ponte Vedra Beach. The pack, one of the largest in the area, has more than 85 scouts, ages 5-11 years old, including for the first time kindergarteners and girls, Oh My!
The young scouts worked on achievements throughout the year and received awards at the banquet. Kindergarteners earned Lion badges; first graders got Tiger badges; second graders received Wolf badges; third grade scouts earned Bear badges; fourth graders stepped up for their Webelos (We'll Be Loyal)1 badges and fifth graders started as Webelos 2, then crossed over to Boy Scouts. Twelve fifth grade scouts, who worked extra hard, received the Cub Scouts highest honor of the Arrow of Light award in a special ceremony.
Service projects for the year included Mickler Beach clean-up, Jarboe Park clean up, shoe collection outreach, Episcopal Church wreath cutting as well as collecting food for Beaches Emergency Assistance Ministry. About 225 people attended the banquet of food donated by local restaurants and scout families. Twenty scout families organized the event, and volunteers from Ponte Vedra High School, Landrum Middle School and Palmer Catholic Academy helped serve and clean up.
Pack 277 special events throughout the year are the Soapbox Derby, Raingutter Regatta, Pinewood Derby and a basketball clinic. They also enjoyed trips to Camp Shands, the Jacksonville Jumbo Shrimp Scout Camp out, and overnight camping trips at the USS Yorktown in Charleston, SC, and Kennedy Space Center.
Newcomers Alumnae …. While golf-course green is the must-have spring
fashion for lawns, members of Newcomers of the Beaches Alumnae got a look at the latest fashions for women at a Mar. 6 fashion show/ luncheon at Marsh Landing Country Club. The entertaining show featured styles from Chico's at Sawgrass Village. Boutique assistant manager Linda Fazio moderated as alumnae member-models—Sandra Bertoglio, Bonnie Chandler, Cynthia Jones, Betty Kirchner, Thalia Lambert, Charlene Maroney, Hazel Piermatteo and club co-president Nancy Scott—showed off trendy yet practical apparel, including tees with reversible necklines, new no-stain, no-iron shirts, knit denim jeggings (similar to leggings), wrinkle free, packable Travelers and Zenergy outfits. After the show, guests were treated to a drawing for raffle prizes.
Piper Prinzi of Mary Kay Make Up and Donna Zimmerman of Zimmiz Hair Designers helped models look their best. The fashion show committee included chairwoman Margie Hesser, Anita Walker, Rosanne Lotocki and Clara Wittmann. Newcomers of the Beaches Alumnae has more than 200 members and meets for lunch the first Monday of each month at Marsh Landing Country Club. To join, contact membership chair Linda Richardson at richardson7751@aol.com.

Chambers After Hours at Players…About 900 members of the Jax Chamber including the Beaches Division in partnership with the St. Johns County Chamber of Commerce including the Ponte Vedra Division noshed and sipped and networked at the 2019 After-Hours at The PLAYERS. The March 7 event at the Stadium Village Welcome Center featured food donated by Anthony's Gourmet Catering, Mocha Misk'i Brownie Shop, Peterbrooke Chocolatier-Ponte Vedra, Ruth's Chris Steak House-Ponte Vedra, Ted's Montana Grill, Trasca & Co Eatery, Pollo Tropical, Mulligans Pub, 4 Rivers Smokehouse, Chicken Salad Chick, Monroe's Smokehouse BBQ and Catering, Bee Friends Farm and Another Broken Egg Café. Catered Cocktails and Martin Coffee Company provided beverages. Sponsors, such as ASAP Towing offered a drawing and Ponte Vedra Wellness Center and Stretch Zone Ponte Vedra gave relaxing massages and exercise.
One guest was overheard telling another, "this is the best event of the year."
Networking at chamber Before-Hours, At-Noon and After-Hours provides occasions for businesses to make local, national and international connections.
"It's a great opportunity for St. Johns Chamber and the Jax Chamber to create economic development for Northeast Florida," Jax Chamber president Daniel Davis said.
First Christian Women's Game Day…March 9 was game day for the
Christian Women's Fellowship of the First Christian Church of the Beaches. There were no video games or mobile devices in sight. About 85 players (including some gentlemen) sat around tables and interacted with each other—what a pleasure—playing Bunko, Cribbage, Bridge, Canasta, Yahtzee, mahjong and other board and card games. The players brought their own games and formed their own foursomes. The party included lunch and a drawing for door prizes, which were all spiritual books, according to event coordinator Linda Zepp.
This was the 12th year for the fun fundraiser that earned $1165, according to committee person Betty Chinnis. The proceeds will be split between Beaches Community Kitchen, which feeds the homebound, and Rethreaded, an organization that provides a second chance at life by employing survivors of human trafficking.
March 9
Questers… Although I don't know if they've ever taken up the topic of telephones, St. Johns Questers is a national organization for women interested in learning about antiques. In addition to exploring the world of old things, Questers donates to the preservation and restoration of antiquities, buildings and historic sites.
Easter is weeks away, but on Feb. 25, about 20 members of St. Johns Questers were already thinking about chocolate bunnies, chocolate eggs and, well, chocolate anything. It wasn't a departure from the antique theme. They gathered at the Sawgrass Country Club home of Cynthia Carson to learn about the history of chocolate and antique chocolate molds.
The cacao bean originated 3,000 to 4,000 years ago in the jungles of the upper Amazon. Over the years it has been "used as sustenance, currency and rituals of birth, marriage and death," Carson said. "Carolus Linnaeus, the botanist who created the plant classifications system, called the crop Theobroma cacao, which is Latin for food of the gods." In the 16th century, Spanish conquistador Hernan Cortes presented Spanish King Carlos V with cacao beans from the New World, and eventually, the love of chocolate spread throughout the world.
Carson concluded her talk with a look at some antique chocolate molds brought in by members and a description of how they were made. She topped off her presentation with trays of "delectable dark chocolate treats" from Peterbrooke Chocolates.
Mini Mixed Rita… On Feb. 23 and 24, Sawgrass Country Club tennis players
warmed up for their June MixedRITA (Research Is The Answer) tournament with a Mini MixedRita. Thirty-two male/female teams, all Sawgrass members, hit the courts to battle it out in a tourney that earns money for breast cancer research at Mayo Clinic-Jacksonville and Baptist Medical Center Beaches Endowment Fund for prostate cancer research and care.
Lorrayne Carless and Gary and Sherill Herzfeld founded the MixedRita in 2017 based on the success of the SenioRITAs doubles tennis competition for women age 40 and older. The idea was to have a doubles tournament for men and women. Multiple matches, including two eight game pro-sets were played during the weekend. As many as 64 teams could play in the June tourney, which is open to the general public.
The four division winners were: (1) Peg and John Fawcett; (2) Lisa Dalziel and Jack Wallner Sr.; (3) Aisling and Tyler Toby, and (4) Jeanne and Lisle Pilcher. For information and to sign up for the June 1 and 2 tournament, go to The-Rita-Foundation.org/mixed-rita.

Author… On Feb. 23, Jacksonville Beach resident Eleanor Maxwell invited friends to meet her Hollins College roommate Marietta McCarty for a book signing party. McCarty, a philosophy professor and author of three bestsellers, has been touring the Southeast promoting her latest book "Leaving 1203: Emptying a Home-Filling the Heart." Local stops included the Book Mark, Neptune Beach and the Beaches Museum, Jacksonville Beach. About 24 friends enjoyed hors d'oeuvres and the opportunity to hear McCarty talk about the book that reflects on her experience clearing her childhood home after her mother passed away.
"I covered the three months of actual home emptying from the first to the last day when I shut the door," she said. "The biggest part for me was a philosophical shift, when the job became an opportunity to learn the secrets the old house had to tell me and lessons to learn."
"It was a fun week of memories and laughs," Maxwell said. To purchase a book email Maxwell at grannyzook@aol.com.
Jax Beach Woman's Club…The history of the Jacksonville Beaches
Woman's Club, a member of the General Federation of Women's Clubs, stretches back to 1868, when journalist Jane Cunningham Croly tried to attend a dinner at an all-male press club and was denied admittance based on her gender. She responded by forming a woman's club, Sorosis. Twenty-two years later 63 clubs formed the GFWC.
The JBWC celebrated its founding and honored long-time members with a Milestone Membership Tea, Feb. 27 at North Beach Bistro, Atlantic Beach. The afternoon festivities began with musical entertainment by Darlene Larsen, Susan Oosting and Faye Wonnacott playing mountain dulcimers and Kim Larsen on guitar. President Liz Dallas welcomed members and awards (pins and certificates) were presented to 12 women in honor of their service during the many years they have belonged to the club.
Twenty year members were Mary Lou Jones, Karen Thomas and Pat Zazzarino. Lydia Porter was recognized as a 30 year member and those who have belonged 40 years included Fanny Bivens, Lillian Harrison, Hallilene Newby, Carla Philcox and Eve Steer. Belonging an amazing 50 years were Babe Brewer Brown, Rose Marie Legant and Marcella Shimp.
Shimp joined JBWC in 1965 and has the honor of being its longest serving member. Bivens recalled serving as president in 1983, when "we burned the mortgage on our clubhouse. What a great day!" Then in 2007, when Harrison was president, "I had to get the members to decide to sell the club property or fix up everything by borrowing money…we ended up selling the club, and I don't think we have any regrets with all the money we can now give away." Zazzarino watched the membership grow and be recognized with many state awards during her years as a member. She served as president from 1998 to 2000, was elected District 4 director in 1999 and served on the GFWC Florida board of directors.
The JBWC demonstrates concern for the community, promotes friendship and engages in philanthropic and educational activities. Go to jacksonvillebeachwomansclub.com.
March 2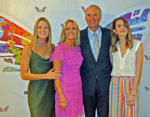 HEAL…When Lanier Weed, the third daughter of golf course designer Bobby Weed and his wife Leslie, was about 18 months old, she was diagnosed with autism. According to the Center for Disease Control, one in 59 school-age children have Autism Spectrum Disorder, characterized by varying degrees of difficulty in social interaction, verbal and nonverbal communication and repetitive behavior.
"We just jumped into action and tried everything. Even the girls (older sisters Carley and Haley) jumped in and helped, and we're still doing it. We never stop," Leslie said.
The Weed family goal expanded to help hundreds of youngsters with autism. They formed the non-profit HEAL (Helping Enrich Autistic Lives) Foundation in 2007 and have since raised about $2 million to educate and fund services for those with autism, such as summer camps, sports leagues, support groups, educational seminars for parents, teachers and therapists , as well as autism service dogs and educational materials for schools.
On Feb. 21, the 13th annual HEAL Gala at TPC Sawgrass included silent and live auctions as well as music by 7 Street Band. It was followed on Feb. 22 by Bobby Weed's Golf Gig, a tournament on the famed Dye's Valley Course that he co-designed with Pete Dye. The 2018 gala/tourney raised $58,000 to purchase iPads that help the 10% of non-verbal autistic youngsters communicate. This year's goal is to raise $60,000 to buy 200 Trikes for special physical education classes for students across Florida. Another goal is to build "All Abilities" parks in five First Coast counties. Go to www.HealAutismNow.org for details.
PVPV School… There were handshakes, hugs and exclamations of surprise
as about 350 people came together to celebrate the 60 year history of Ponte Vedra Palm Valley elementary school. The Feb. 22 reunion in the school cafeteria included former students, parents, teachers, cafeteria workers, bus drivers and staff, and marked the opening of what is now the oldest public building in Ponte Vedra. Principal Catherine Van Housen opened the program.
"We're here today to honor education and how it has changed in 60 years," she said.
Former PVPV student and teacher George McClatchey officiated, introducing well known students and beloved teachers, "people who are truly living history," with stories that evoked memories of early school years. To name a few, there was Betty Bass, a school bus driver, who worked until her 80th birthday. Sam Veal, known for the Jacksonville Beach Springing The Blues music festival, used to bring a drippy handmade peanut butter and jelly "sammich" to lunch every day; he presented a well-wrapped version to his former teacher Betty Hatcher. Marianne Hibbard taught many years in the primary grades and was the first teacher with a Masters Degree.
Wearing a top hat and tails, James "Randy" Brown Jr. told how he wore the outfit while standing on a box at fall carnivals in the '70s to raise money for the school. Watching out for PVPV was a family tradition. In July 1946, his father Randy Brown formed a commission to represent Ponte Vedra at the St. Johns County level. At that time children were bused to school in Jacksonville Beach. His father felt Ponte Vedra warranted its own elementary school and was key in getting 40 acres of land donated for the building. PVPV officially opened in Jan. 1959. "This school has nurtured and educated students from both communities." Brown said.
Kate Zarczynski organized the festivities attended by many notable members of the community connected to PVPV from the early years, such as Harriet LeMaster (wife of Ebbie LeMaster), Kathleen Furness, longest serving (17 years) principal and Brenda Mickler Cowgill, a third grader who was the first to walk in the door, when the school opened.
BLACK History… "We are who we are. We are a proud people," Rhoda L.
Martin Cultural Heritage Center president Lillie J. Sullivan told the 50 or so people gathered at the center to celebrate Black History Month. She introduced Eddie Collins, Ph.D. to facilitate a panel including Earnest Higgbotham, Richard Johnson, Jr., John B. Caine and Hazel B. Martin. As long-time Beaches residents, they were there prepared to discuss "365 Black: Growing up Black at the Beaches."
Collins didn't grow up at the Beaches, but "it has much significance for me. We have common ground. We went to the outhouse, walked 10 miles to school in bare feet and ate oatmeal and miss-a-meal." He asked the panelists about the advantages and disadvantages of growing up black, explaining "people don't see the world through our eyes and our brains." Their answers demonstrated a sense of humor and honesty that typifies the community.
For example, Higgbotham was born in 1940 in the Black section of Jacksonville Beach called the Hill. He pointed out Blacks were called Negroes when he was a boy. One advantage to living there was "I liked the closeness of the guys I was born with." A disadvantage was "you had to go to Jacksonville to get a decent job, but I love it down here." He laughed recalling "being so poor…there were the haves, have nots and what nots." He also remembered when the beach was going to be integrated. "You couldn't go there. It was something you had to live with," but added a bit of wisdom: "I learned not to hate early in my life. Hate eats you alive."
The center is a community resource showcasing the rich cultural history of the African American history and educational experience in Jacksonville Beach. The four-room brick schoolhouse, founded in 1939 by Rhoda L. Martin for African-American children at the Beaches, was restored as a facility that provides arts programs, tutoring, senior and youth activities. It's located at 376 Fourth Ave. S. in Jacksonville Beach.
Feb. 23
BRASS…Cheers to Beaches Residents Actively Supporting the Symphony for conducting an elegant evening of wine, music, heavy hors d'oeuvres and lively silent and live wine auctions at Marsh Landing Country Club. This seventh year of Wines for Music attracted a crowd of oenophiles and music lovers eager to cast their bid for some notable varietals.
There was no two buck chuck for this crowd. BRASS members and local merchants donated an exciting variety for the silent auction, and the live auction conducted by John Wagener featured eight extraordinary bottles. Among the pricey assortment was a 2010 bottle of Chateau Leoville Poyferré donated by auction chair Bill Maletz and his wife Barbara. He originally purchased it for $175, but wine critic Robert Parker gave it a 98+ rating, valuing it in the $1,000 range. "They all have a different story," Bill said about the selection.
A string quartet from the Jacksonville Symphony Orchestra added to the atmosphere. Vocalist Alec Hadden was accompanied by violinists Yuping Zhou and Patrice Evans, cellist Alexei Roanenko and Susan Pardue on the viola.
Nadine Sabatier chaired the event, and top sponsors were The Foley Food and Wine Society, the Atkinson Family and Marsh Landing Country Club. BRASS fosters concert attendance and music appreciation by bringing concerts to the Beaches and hosting the BRASS Ring Student Music Competition to encourage young musicians. The all-volunteer organization also raises money to support the symphony.
"At the end of the symphony season we donate about $1,000 to the orchestra," BRASS president Katheryn Hancock said.
Charity Challenge... Excitement builds as we close in on the big tournament week and hints are dropped about what's in store for The Players Championship. Kicking off the March tournament "puts us in a great position to start this cadence of significant events all the way through the Tour Championship in Atlanta. That's an impressive position to be in," The Players executive director Jared Rice said.
An exciting preamble to the 2019 players was the Feb. 11, 17th Hole Charity Challenge for 15 charities and their designated golfers. A few famous names among the players were: former Jaguars offensive tackle Tony Boselli driving the ball for the Boselli Foundation; former PGA Tour member Jeff Klauk for Epilepsy Florida; former Jaguar Josh Scobee for The First Tee of North Florida; K9s for Warriors president Brett Simon swinging for K9s; First Coast Living host Curtis Dvorak for the Tom Coughlin Jay Fund Foundation, and Web.com Tour member Aron Price for Wolfson Children's Hospital. Notably 15 times at the tee was 2018 Players champion Webb Simpson. Every participating contestant got two tries to get the ball closest to the 17th hole, and Simpson drove a third ball for each.
"One of these days someone will get it in one shot," event emcee Doug Kidd said.
Simpson's first attempt landed 5 feet 4 inches from the hole ensuring JAGA Amateur champion Davis Roche a $10,000 win for the Jacksonville Area Golf Association scholarship trust. In a follow-up consolation round between second, third and fourth place contestants, Billy Horschel landed the best ball 8 feet 6 inches from the hole to win second place prize of $5,000 for Feeding Northeast Florida.
Every year the champion has a dish named for him. This year Chef Azhar Muhammad presented the Simpson Sandy, a slow-cooked barbecue brisket sandwich topped with jalapeno slaw. Before the contest, Simpson was introduced to a K9s for Warriors service dog named Webb; naming a canine for the year's champion has become a tradition. At the TPC clubhouse, Simpson donated his sand wedge to the wall of famous clubs in the clubhouse; it helped him win the 2018 tournament. He said, "It hit some bad shots, but the best was on number 11."
Jay Fund… It was off to the Jacksonville Zoo and Gardens for 83 childhood cancer patients and their families, 353 guests in all. The Feb. 9 early Valentine's Day celebration was a "day off" from the stress that accompanies families with children who have cancer. They played games, made crafts, decorated cookies, ate lunch and afterwards had fun at the zoo.
The Tom Coughlin Jay Fund Foundation hosted the party. The Jay Fund was established in 1996 in honor of Jay McGillis, one of Coach Coughlin's players at Boston College. Coughlin and his family saw first-hand the physical, emotional and financial toll cancer causes. He wanted to help families in similar circumstances by providing comprehensive financial, emotional and practical support throughout the disease's duration. Working through social workers, families request help with rent, mortgage and household needs. About 100 youngsters in North Florida are diagnosed with cancer each year. The foundation serves young people up to 22 years old. It aided 385 local families last year. Go to www.tcjayfund.org for information.
Art Tapas… On Feb. 13, the media got to "Taste the Arts!" a preview of Art
Tapas that opens at 6 p.m., Mar. 1 at the Cultural Center at Ponte Vedra Beach. Activities demonstrated were cookie decorating, contributing to a group painting, making a corsage, and having a poem created just for you by Sally Constain Poetry. During the interactive evening, Jacob Schuman will sing, play and teach how to play the ukulele, and artist Ellen Diamond will demonstrate painting. There will be dancers, models wearing eco-fashionable costumes made of painted canvasses, hand-cut Silhouettes by Jeannine, body painting and more.
"Everything you experience today is art and culture," center director of community connections Jennifer Jordan said. "I want us to be thought of as the front porch of the community for art and culture. We want people to leave the event saying, I'd like to be a member; I'd like to take a class there, or I'd like to donate."
Go to CCPVB.org/Art-Tapas for tickets, which are $75 for general admission and $125 for VIP guests. Top sponsors are Robert Thousand III, DDS Endodontics, FlipperSplash Getaway2Give, Viking Cruises and Gerling Travel.