Jan. 16, 2021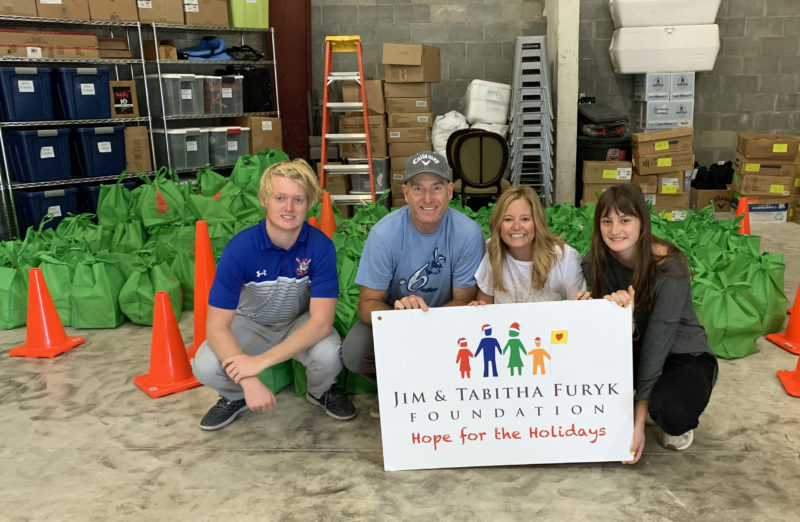 Furyk Foundation…Speaking of food, the pandemic created challenges, but it didn't stop The Jim & Tabitha Furyk Foundation from collecting and distributing food for the 9th annual Hope for the Holidays event.  More than 5,000 families in the Jacksonville area were given bags filled by support groups that came during specific time slots to pack bags with 15 items each, including green beans, corn, chicken broth, soup, mashed potatoes, noodles, gravy, stuffing, oatmeal, hot chocolate, candy canes and other treats.
"The event began as a way for children to actively help others in their community, and it was important to continue that tradition," said Tabitha Furyk. "Instead of having one night where the community could come together to help those in need, we created a week-long schedule with individual slots for packing in order to provide a safe and enjoyable experience."
Food was donated by Target, Pepsi Co, Quaker, Conagra Brands or purchased by the foundation and online donations.
Children in the Blessings in a Backpack program received bags as well as children in The MaliVai Washington Youth Foundation, Daniel Kids, Hubbard House, Foster Closet, Community PedsCare and the USO.
In October the foundation, which is dedicated to helping children and families in need, plans to bring a new event to PGA TOUR Champions. The inaugural event Constellation FURYK & FRIENDS will be at Timuquana Country Club to benefit Northeast Florida charities.
"It has always been our mission as a foundation to bring awareness and support to those less fortunate, and this year was more critical than ever. We are so thankful to our supporters, both the large corporations and the five-year olds that help us make a difference in Jacksonville and beyond" Tabitha said.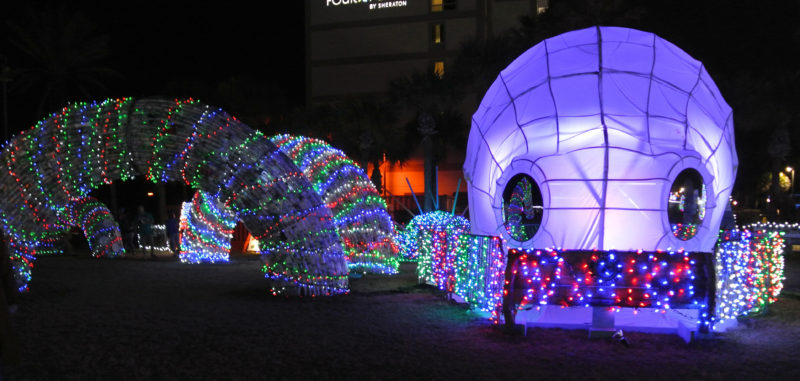 Deck the Chairs...The eighth annual Deck the Chairs wrapped up on New Year's Day. The free to the public Jacksonville Beach light exhibit based on the iconic lifeguard chairs seems to "glow" brighter and bigger every year. The chair exhibits were decorated by local businesses and non-profits. Highlights of the Seawalk Pavilion spectacular featured Santa, hosted Tuba Christmas and three weekends of children's dance productions.
"The light spectacle attracted more people than ever…probably the most we've ever seen," DTC founder Kurtis Loftus said. "In spite of Covid it was amazing to see how many people came, more than 1000 a night. In the more than eight years since DTC began, I estimate more than one-half million people have come."
Public safety features included multiple hand-sanitizing station and free masks. Activities scheduled during the day limited the chance of overlap between program audiences and exhibit attendance.
Visitors voted for their favorite exhibits. The Best of Show winner was The American Legion's Soldier and military symbols; first place went to Pablo Towers for a Santa Rocket sled; Fur Sisters—Furever Urs Rescue came in second featuring a chair filled with puppies and third place went to Beaches Go Green Octopus Garden.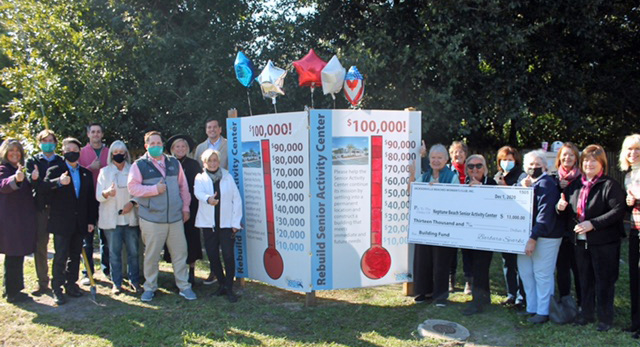 Jax Beach Woman's Club… Although the onset of the pandemic closed the Neptune Beach Senior Activity Center, director Leslie Lyne saw it as an opportunity to raise $100,000 needed to furnish and outfit the center's new 5,000 square foot building at Florida Blvd. and Forest Ave., Neptune Beach. She did an incredible job raising $87,000, but still needed $13,000 to reach her goal.
That is when the Jacksonville Beach Woman's Club stepped up and offered to gift the center with the final $13,000. The club and the center have a long standing relationship having participated in many activities, such as hosting an annual Tea Party for seniors.
JBWC member Katie McGuigan made a motion at the club's November board meeting; it was overwhelmingly approved. On Dec. 8, club members gathered around a sign board at the five-way intersection of Penman Rd./Florida Blvd. and Forest Ave. for a formal presentation.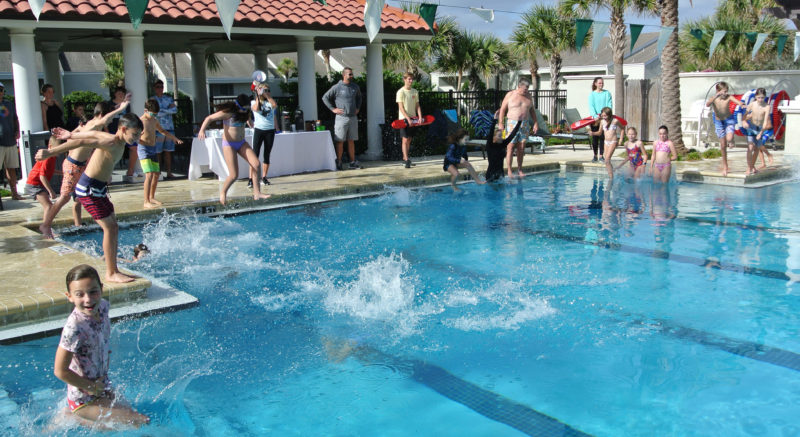 Polar Plunge…The 36th annual Sawgrass Country Club Polar Bear Plunge wasn't deterred by COVID-19 or chilly weather. A large crowd gathered at the Sawgrass Beach Club on Jan. 1, ready to raise their paws and take the pledge and jump into the frigid Atlantic.  Lacie Petry of the club's fitness center read the pledge:"I (state your name) hereby join the official, the one and only Sawgrass Polar Bear Club. As a member of this organization, I promise to take part in the annual ritual every New Year's Day no matter what my physical condition, or temperature outside." Then they shouted Happy New Year and ran into the ocean.
The 11 a.m. plunge was followed by a new event, the inaugural Panda Bear Plunge. The young participants had to be called out of the heated pool to take the pledge then jumped back in. They repeated a slightly revised pledge led by Petry: Promising to take part in the ritual "every New Year's Day until the warmth of this pool goes cold, or the ocean becomes warm." A Gr-r-r- reat time was had by all.
Dec. 19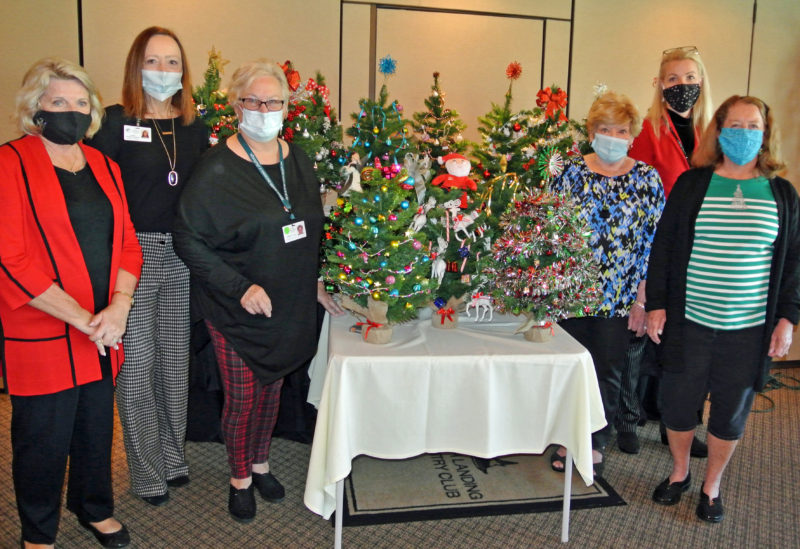 Hospice Trees Project About 45Marsh Landing women and friends donated their time, tree trimming talents and in some cases precious family ornaments to decorate and donate two-foot tall artificial trees to the annual Hospice Trees Project.
The project started about 20 years ago when the Marsh Landing garden club dissolved. Two of the club's members were in Hospice care so Sue McCaw organized club members to decorate and take cheerful tabletop trees to the bedsides of Haven Hospice and Community Hospice patients. Maryann Imbriani, Peggy Lehman and Karen Wilson organized the 2020 event at Marsh Landing Country Club, although some decorated their trees at home, and some did two.
The colorful trees were split between Haven Hospice represented by Sandra Francis and Pamela Kearney, and Community Hospice represented by Betsy Miller.
"They brighten the days of our patients," Francis said. "It kicks off the holidays for the staff. This year is very different because of Covid. We sorely miss the volunteers. The trees will go to nursing homes where the patients are alone with restrictions on visiting."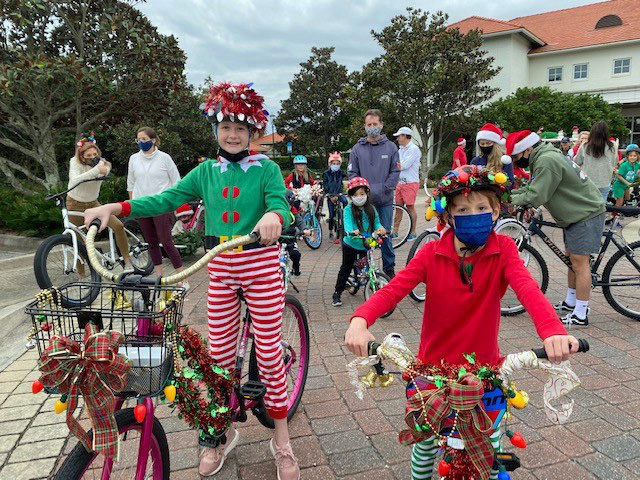 Christmas Parade…A holiday tradition many look forward to is the annual "Christmas Tree Lighting" ceremony and outdoor party at the Ponte Vedra Inn & Club sponsored by the Ponte Vedra Community Association. The primary mission of the PVCA is to build a sense of community and preserve the unique qualities that make Ponte Vedra a great place to live.
In the past, the highlight of the evening was an illuminated tree on a small barge floating in a lagoon. The event has withstood inclement weather, but Covid 19 was the fatal blow for the 2020 tree lighting. Nevertheless, the PVCA was equal to the challenge and decided to host a parade, toy drive and luminary event on December 6. Decorated golf carts and bikes led by a Ponte Vedra Fire Station 10 engine and Santa in a motorized sleigh lined up at the Inn & Club's spa parking lot where carts and bikes were judged. Winning decorated bikes were "Elves on Shelves" Austin and Ada Ludwig; they led the parade's bike riding contingent. The Huang family's festively decorated golf cart was the winning cart.
From the spa the parade headed north circling back through Ponte Vedra and returning to its starting point. The Inn & Club tree was on a float rather than floating in a lagoon this year, and a flatbed truck went along to collect unwrapped toys to be donated to the annual Ponte Vedra Fire Station 10 toy drive.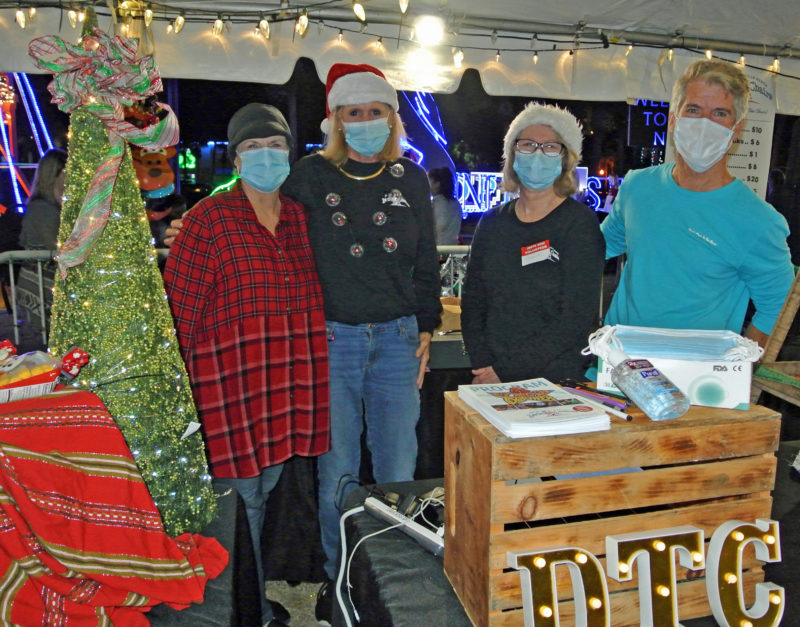 Deck the Chairs… Eight years ago, Kurtis Loftus was inspired to light up the Beaches in a very special way. He convinced Jacksonville Beach city leaders to back his idea to create a holiday exhibit unlike any other, featuring brightly lit and decorated lifeguard chairs and festive music. Jacksonville Beach Deck the Chairs was an instantaneous hit, attracting residents and visitors from across the country and around the world. The 2020 pandemic added new challenges, but the lighted affair opened Nov. 21 to bring joy to the community.
"This year DTC was named Jacksonville's best holiday event," Loftus said. "In its eighth season as Jacksonville Beach's favorite holiday tradition, DTC decorators went the extra mile to guarantee visitors the best display we have ever put together. We worked more than seven months getting this exhibit ready for the public. I'm very proud of the extraordinary creativity showcased by our sponsors and volunteers. It doesn't happen without them."
Located at Seawalk Pavillion, DTC is free and open to the public through New Year's Day. In addition to decorated and lighted chairs, popular exhibits include a 30-foot musical tree and an amazing 100-foot lighted Beaches Go Green Octopus. DTC, a non-profit public charity, promotes the arts and art education. For a virtual tour, go to www.deckthechairs.org.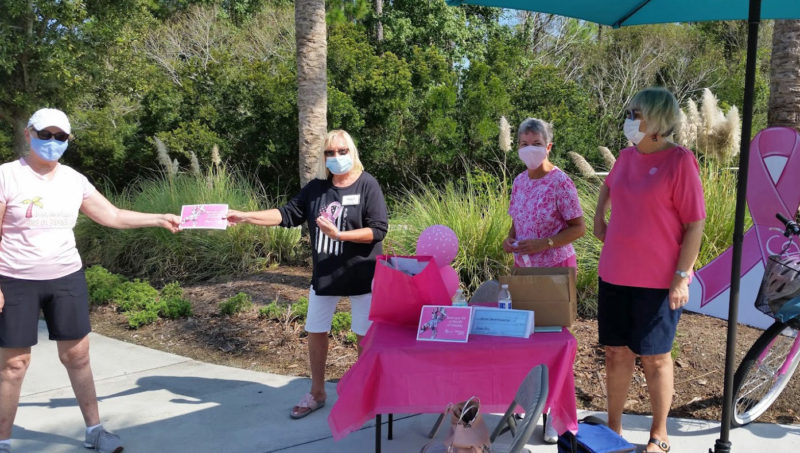 Riverwood Women's Club of Del Webb Ponte Vedra didn't let Covid-19 impede its efforts to commemorate October as National Breast Cancer Awareness Month with a drive-by and mail-in fundraiser to support an effort by Baptist MD Anderson and First Coast News to purchase a bright pink mobile mammography vehicle called a "Buddy Bus." It will serve six North East Florida counties.
The event was coordinated by women from the Canopy Oaks neighborhood in Nocatee; they even deputized a few husbands to build Buddy Bus replicas that attracted donors to the donation sites by car, golf cart, bicycle and on foot. All were welcome to free Buddy Check 12 kits of information about breast cancer that touches many families. Following the two-day fundraiser, the women's club was able to contribute $5,800 donated by members, residents, families and friends.