Sept. 26
Beaches Museum...Sept. 4 and 5 weather was extremely hot, but that didn't stop Beaches Museum friends from stepping up when called to help. It seemed as if someone with the persuasive powers of the Mark Twain character Tom Sawyer was lurking around the Beaches Museum and History Park. One of Tom's best known stunts was to con his friends into whitewashing Aunt Polly's board fence, a chore he had been assigned as punishment for playing hooky from school. He convinced his pals that painting the fence would be great fun.
The museum event was billed as a Socially Distanced Fence Painting Party. "Our gardens and grounds look beautiful, but our fence could use a fresh coat of paint," Beaches Museum director Chris Hoffman said. "When the fence was first erected, it was bare wood and community volunteers painted it…It was a great project for volunteers to help out, enjoy each other's company and still be socially distanced."
Sherry Black was among 80 or so volunteers having great fun painting the 1,250 foot picket fence surrounding the History Park in Jacksonville Beach. Black's motivation was that she retired and moved from New York to the Beaches.
"As a new resident, I wanted to reach out to this community and give something of myself, and I'm meeting interesting people," she said.
Nearby, Fletcher High School student Olivia Derechin was enthusiastically wielding a paint brush, dipping it into a hand-held plastic container of white paint. She was there because her "environmental management teacher Coach Brown put out a sign-up sheet," and so she did. Long time Fletcher coach Kevin Brown recruits students from the accelerated programs he heads, such as AICE, the National Honor Society and Fletcher Marine Coastal Club, to do community service.
Cultural Center House Tour… "This is my first moms' date. It's a beautiful day," said Beth Koch, who, accompanied by fellow mom Brieanna Blaylock, was taking the 10th annual Home Tour hosted by The Cultural Center at Ponte Vedra Beach. They were among the more than 170 folks enjoying the nice weather and three extraordinary manses designed by Mark Macco Architects in prestigious Ponte Vedra Beach neighborhoods.
On Sept. 12, mask-wearing guests checked in at The Cultural Center where they had temperatures taken, picked up programs and were given wrist bands before boarding Barr's Transportation shuttles. The houses on tour included the Levitch and Cheek homes on Ponte Vedra Boulevard and the Huang home at San Juan Drive. All featured wide-open spaces and architecture that connects the houses to nature as well as the homeowners' art and a chance to talk with the owners.
"We had a vision and Mark (Macco) put it on paper. The rest is history. We moved in June 2019." Nancy Huang said about her 7,000 square foot home with four bedrooms and "lots of bathrooms" that opens to a pool and fountain overlooking a scenic lagoon.
The popular center has canceled fall exhibits in order to pursue the sale of its building. Class sizes have been reduced, but virtual workshops are being offered to the community, and school programs are available online or in school. For information about virtual classes, arts education, workshops and school programs, go to www.ccpvb.org or call 904-280-0614.
Operation Underground Railroad An early Saturday morning Jacksonville Beach yoga event attracted about 50 enthusiasts eager to practice physical, mental and spiritual exercises while raising money for the non-profit Operation Underground Railroad.
The Sept. 12 oceanfront yoga session led by instructor Lucy Jane Hurley, was conceived and organized by Jacksonville Beach resident Jamie Ray, a dedicated yoga practitioner and mother of two. Ray is an enthusiastic supporter of O.U.R., a national organization dedicated to assisting governments around the world that rescue victims of human trafficking and sex trafficking with a special focus on children and seeking justice for those who victimize them.
Ray, who was recently recognized by Jacksonville Magazine as Jacksonville's top hair colorist and stylist, has made it her mission to further O.U.R.'s cause by inviting fellow "warrior" yoga practitioners, her social media network, clients and friends to help. She raised more than $1,000 hosting the yoga event and other gatherings for the cause.
"This is just the beginning of what I see as a major grassroots groundswell of support for Operation Underground Railroad," she said. "I am delighted that we are able to continue to draw much needed attention to a very dark issue and one so many people are uncomfortable talking about. I believe every child deserves a childhood, and it's up to us as parents, individuals and a community to step up and protect them and their innocence."
O.U.R. was founded in 2013, inspired by the Underground Railroad network of secret routes and safe houses established by abolitionists in this country during the early 19th century to help African American slaves escape to free states and Canada. Today world experts in extraction operations and anti-child trafficking are working to end child slavery. For more information, go to https://ourrescue.org.
Aug. 29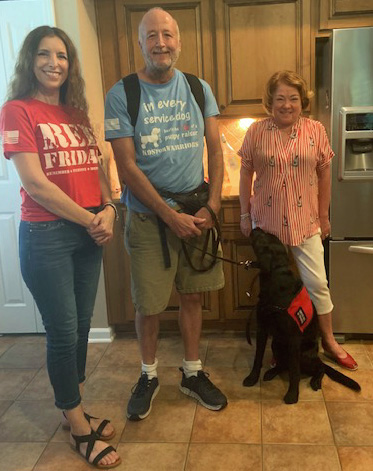 K9s for Warriors…I'm astounded by the number of birthday announcements that have floated in via Facebook during the Leo days of this month.
For example, Judith O'Malley celebrated her Aug. 14 birthday at her Ponte Vedra home with a "PAWty" to benefit K9s for Warriors. The local non-profit, founded in 2011 by Shari Duval, rescues shelter dogs and pairs them with veterans suffering service-connected post traumatic stress, traumatic brain injury and/or military sexual trauma.
The vets form a bond with their four-legged battle buddies as they train for three weeks at the main Ponte Vedra campus. After graduating they return to their home communities with a new sense of purpose and attitude that they can heal and reduce their medications, K9s community relations director Stephanie Vogt said.
Since its inception more than 650 veterans have completed the program and 1200 shelter dogs have been rescued. The wait list to participate in the program is almost three years long.
Due to restrictions of the Covidvirus crisis, traditional fundraising has been difficult for non-profits, so O'Malley, who began volunteering at the Ponte Vedra K9s campus more than two years ago, decided that something could be done and be fun at the same time.
She asked local and national businesses to contribute and held a drawing for prizes that ranged from a painting by artist Angie Maisengerger and a Coach handbag to gift cards from area restaurants and stores. More than $5,000 was raised. There were few actual guests at the affair which was conducted primarily on-line. However, Vogt, plus canine-in-training Brisket and puppy-raiser Scott Fuchs were on hand to watch the drawings for prizes.
"I could not believe how incredible the outpouring of giving was," O'Malley said. "It truly makes you realize how people want to come together for a special cause, even when they can't physically."
To help K9s For Warriors continue to fulfill their motto "A new leash on life," by volunteering or contributing, call 904-686-1956. Amazon shoppers can help by going to AmazonSmile; search for and select K9s For Warriors, and AmazonSmile will donate 0.5% of your purchases to the charity.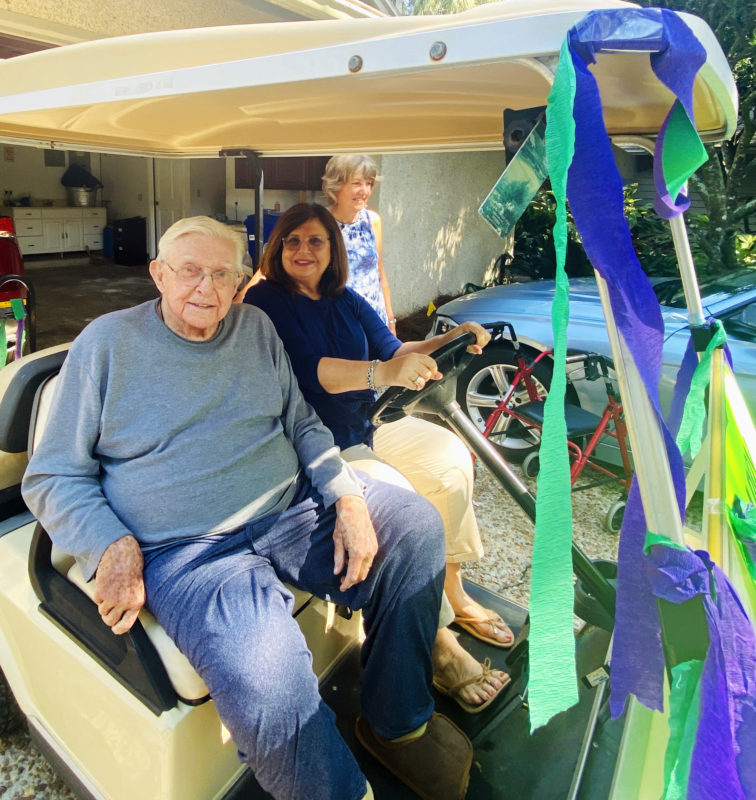 Tony Trabert…Aug. 16 marked the 90th birthday of U.S. tennis great Tony Trabert. Tournament Players Club neighbors and friends celebrated the International Tennis Hall-of-Famer outside his Ponte Vedra home with a surprise parade, yard signs, applause and cheers.
Over the years Trabert has been the subject of much applauding and cheering. As a young man in 1953, he won both the Wimbledon and U.S. Championships. In 1955, 25-year-old Trabert was the world's No. 1 ranked player. He was elected to the International Tennis Hall of Fame in 1970. His amazing career led to 31 years as a lead tennis and golf commentator for CBS Sports.
In 1982, Trabert met wife Vicki at a party, when he was covering the Players Championship in Ponte Vedra Beach.
"We fell in love that weekend," Vicki said. "He lived in Palm Springs, CA, and moved here after we married."
Vicki organized the birthday surprise that included a festive gathering of neighbors waving signs followed by a parade of 25 cars led by a TPC guard. They got in their golf cart, and drove to the end of their cul de sac, where cheering neighbors were assembled. About 15 minutes later a parade of decorated cars slowly drove by.
"The car parade was a complete surprise," Trabert said. "I was overwhelmed!
It was a fabulous 90th birthday celebration! It couldn't have been more special. "
Speaking of tennis, this year's SenioRITA (Research Is The Answer) women's doubles tennis tournament and related Pusser's party and auction dinner fundraisers have been canceled. However, the non-profit that in the past has raised more than $5 million dollars for local cancer research and patient care for Mayo Clinic and Baptist Beaches Medical Center is still seeking donations thanks to a generous matching gift.
Still not all the "fun" is gone. The infamous and successful "Booze Bucket Raffle" that has been a traditional feature of the annual auction party will carry on thanks to the efforts of Sam "Bulldog" Carter and Stan Roman. The Booze Bucket includes $1,000 of premier, quality wine from the Rob Stuart Winery in Willamette Valley, OR. First prize valued at $500 will be a case of premier selected wines and vintages featuring Pinot Noir, Chardonnay, Pinot Gris, Rose and sparkling wines. Second and third prizes will be three-liter bottles of single vineyard Daffodil Hill Pinot Noir valued at $250 each.
The goal is to raise more than $5,000. Tickets are $10 for one, $20 for three, $50 for 10 and $100 for 25. Participants can purchase tickets by contacting Roman at stanleyroman1961@gmail.com or Carter at bulldogcarter@yahoo.com. The drawing will be in October, Breast Cancer month. Contributions are tax deductible.
Aug. 15
BEAM…Social distancing and fear of catching the Coronavirus hasn't stopped Beaches organizations from carrying on with good works and celebrations that raise funds to continue charitable activities.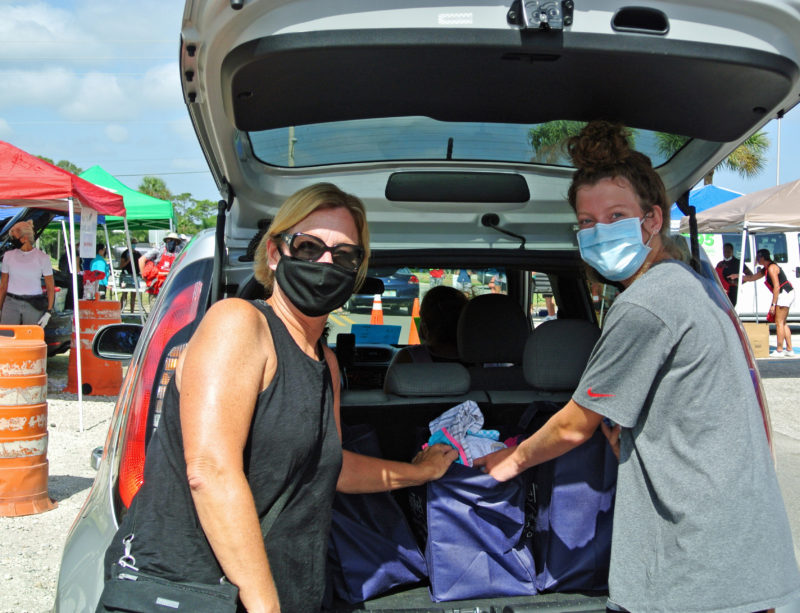 For example, Covid-19 cancelled the BEAM of Light Beach Ball that raises funds for Beaches Emergency Assistance Ministry. Nevertheless, the pandemic coupled with the threat of tropical storm Isaias did not undermine the 26th annual Back to School with BEAM charitable event that this year provided clothing, school supplies, back packs and books for more than 900 children from needy Beaches families.
Granted, there were changes to distribution place and methods at the 2020 annual give away. In the past, Beach Church opened its doors for BEAM clients; in 2019 parents and youngsters went inside and made selections from racks of clothes and stacks of backpacks and supplies. This year's Aug.1 drive-through event was at Neptune Baptist Church.
The Neptune Beach police department directed lines of traffic to Walnut Street next to the church, where masked BEAM volunteers loaded supplies into car trunks. There were $10 gift cards for new shoes at Wal-Mart or Target, and gift cards for clothing at BEAM thrift shops, school supplies based on grade and gender, three pairs of new underwear per child, and colorful backpacks. A van from READUSA was in the lineup to give each child three books and Ponte Vedra Beach Rotarians handed each youngster a bag of snacks.
"The Deerwood and Ponte Vedra Rotaries also donated vouchers to help buy school supplies and backpacks," BEAM development director Gracie Simendinger said.
"We had to reinvent the event. The venue was perfect," BEAM executive director Lori Richards said. "Since the outbreak of the Coronavirus all our food distribution has changed to drive-through or curb-side pantries at senior housing sites, such as Pablo Hamlet and Pablo Towers as well as Joseph Finnegan and Mayport elementary schools. It was incredible."
BEAM was founded by local churches in 1985 to provide low income families in the community with support in times of need and to prevent homelessness by covering overdue rent and utility payments as well as food. In 2019, BEAM helped 1,004 families avoid homelessness. In addition to programs, such as Back to School with BEAM, seasonal services such as Thanksgiving food are provided.
Because its main fundraiser was canceled for 2020, BEAM is holding a "No Show Gala" and asks people to donate what they would have given if they had come to the annual event. $50 will provide a weekend's worth of food for five elementary aged students, and $100 will feed a single parent family for a week. To help, go to www.jaxbeam.org and click on the DONATE button or call 904-241-2326.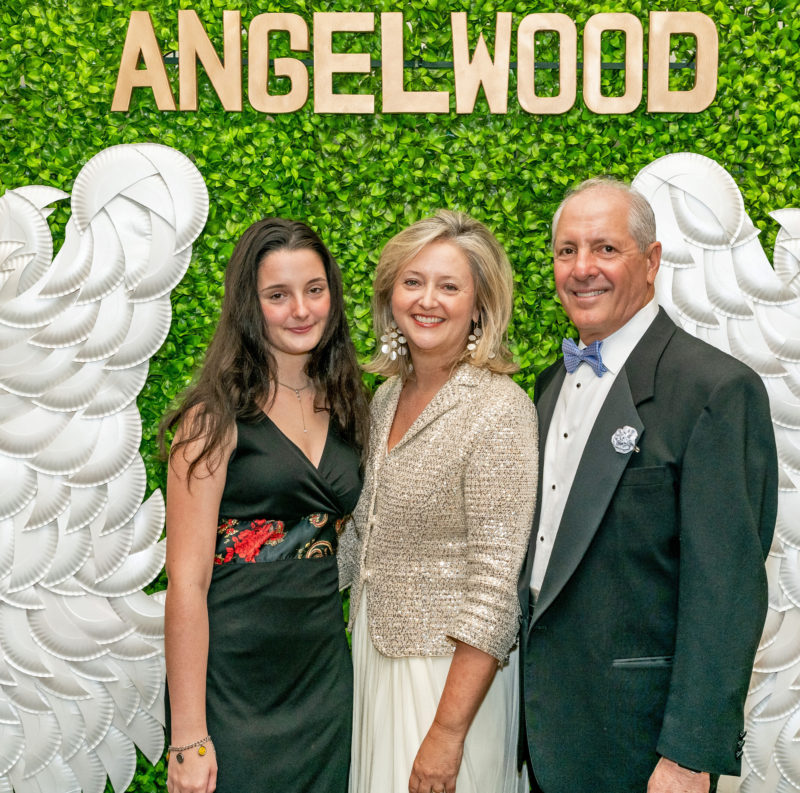 Tune into Facebook Live to enjoy a gala evening at home Friday, Aug. 21, while helping Angelwood, Inc., a Northeast Florida organization that works to improve the lives of children and adults with disabilities. The organization was founded in 1993 to offer high quality care and vital services to Jacksonville community residents with disabilities, such as autism, cerebral palsy, Down syndrome, spina bifida and intellectual disabilities. Angelwood provides group homes located in residential neighborhoods and respite to re-energize families living with a family member, who has a disability. Among its services are summer day camp, holiday kid's camps, an adult day training program, supported employment and vocational rehabilitation for children, adults and their families.
Angelwood's Soaring Possibilities & Silver Linings gala scheduled for 6:30 p.m., Friday, Aug 21, is a "live via Facebook" virtual event featuring an emcee and auctioneer. This year's affair honors board president Robin Wahby. She has served on the Angelwood board of directors for 20 years. Wahby has a passion and dedication to making sure Jacksonville's most vulnerable citizens have quality, dignity and respect in the care they receive. She advocates in the community and the legislature for Angelwood and people with special needs.
Visit www.Angelwood2020.GiveSmart.com to register to watch the online event, make a gift to honor Wahby, bid on auction items, donate and win prize drawings. For more information and to participate, go to www.AngelwoodJax.org and click "Events." Registration is free, and there will be a drawing for a $50 Amazon gift card.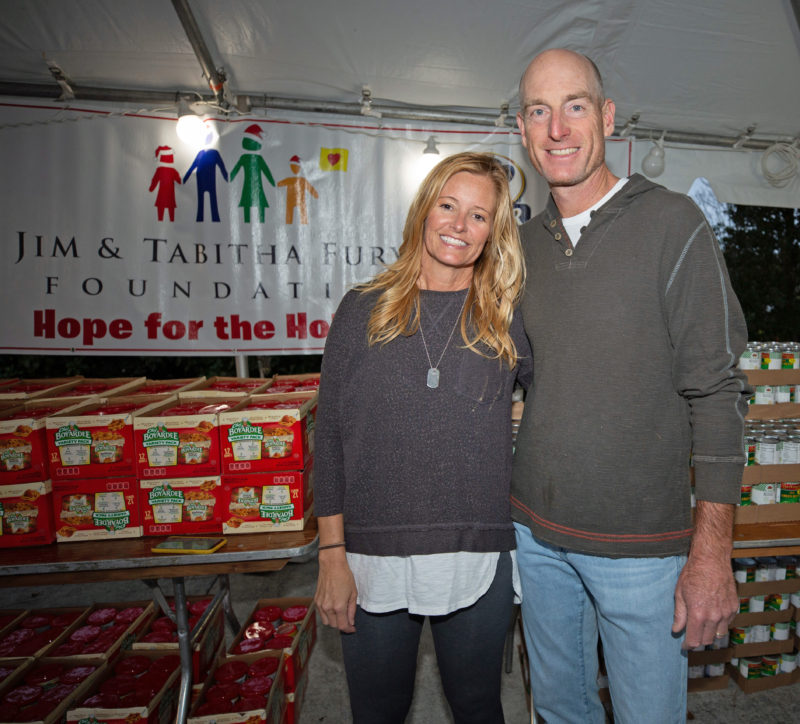 In May, Tabitha Furyk, wife of PGA Tour champion Jim Furyk, was recognized by the Rotary Club of Ponte Vedra Beach with the 2020 Rock of the Community Award for her numerous charitable efforts. The honor was supposed to be presented at the club's annual Mineral City Celebration, which was cancelled because of the Coronavirus. Proceeds from the fundraiser benefit local nonprofits and charities.
Tabitha and her husband formed the Furyk Foundation that provides Blessings in a Backpack meals for food insecure youngster each weekend, Hope for the Holidays meals for needy families, as well as helping with Operation Shower that gives expecting military families essentials for their newborns. She also has served as chair of the Baptist Foundation Board.
"The Ponte Vedra Beach Rotary has done amazing work in our community," Tabitha said. "It is truly an honor to be recognized by my peers and fellow community members for my efforts to support those in need."
The 10th Annual Home Tour hosted by the Cultural Center at Ponte Vedra Beach offers an opportunity for folks to get out and about to see five prestigious Ponte Vedra Beach homes designed by architect Mark Macco. The basic admission price is $45 for the tour that begins at 10 a.m. or 1 p.m., Sept. 12. There are other options for VIP tours and a benefactor party. Go to www.ccpvb.org and click events to buy tickets.