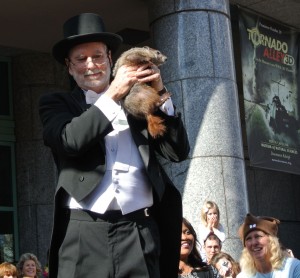 Azaleas are blooming, pollen is coating cars and a flock of birds heading north stripped red berries from the pyracantha bush near the Rooney Bin front door. Although it's mid-February, mild temperatures and a robin in the yard seem to signal an early spring.
On Groundhog Day, famous Pennsylvania prognosticator of spring Punxsutawney Phil saw his shadow and returned to his burrow to hibernate for six more weeks of winter. However, here in the south, Millie the Hedgehog, a Jacksonville Zoo and Gardens' resident, concurred with the migrating birds and early bloomers that winter is about over. So what's it going to be?
During the 16th century, German farmers used hedgehogs to predict the start of spring. The winters were long, and they had a lot of time on their hands to make up folklore. After all, the Audi hadn't been invented yet, and you can only play Monopoly for so long. They chose Candlemas Day, the midpoint between the winter solstice and spring equinox, as the day to consult their weather prophet named—um-m-m, let's call him Heinrich—about when to plant sauerkraut. Then in the 19th century, a group of resourceful German immigrants settled in Punxsutawney, PA, where apparently there was a hedgehog shortage. On their way to their new home just north of Pittsburgh, the Germans observed an abundance of road kill lying along the Pennsylvania turnpike and said, "Ist dass ein todt (dead) hedgehog? (I like to make up folklore too.) So they adopted the groundhog as their weather guru.
Rooney Bin residents spent a bright, balmy Groundhog Day, in Raleigh, N.C., where I joined hundreds of school children outside the North Carolina Museum of Natural Sciences to watch Sir Walter Wally, a 10-month old groundhog, predict the coming of spring. Naturalist Center curator John Connors, wearing a tuxedo and top hat, and Raleigh's new Mayor Nancy McFarlane officiated at the proceedings. Connors led up to the big announcement with some facts about the critters known as whistle pigs in the North Carolina Mountains: they are part of the squirrel family; they eat dandelions and grass, and add 30 percent to their body weight preparing to hibernate. And, of course, legend has it that if the groundhog sees its shadow on Feb. 2, there will be six more weeks of winter. Then Connors said prognostications made by Wally's predecessors have been correct more than 50 percent of the time. He held Wally high and a cloud momentarily obscured the sun—oops!—almost ruining the prediction's punch line.
The sun came out as Raleigh's Mayor stepped to the microphone. McFarlane remarked that North Carolina has had an unusually mild winter this year. Then she passed on the little groundhog's prediction: "There's good news and bad news. The bad news is Wally saw his shadow. The good news is…this is winter. We'll have six more weeks of 70 degree weather."