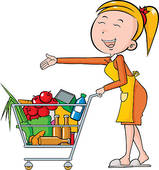 Get ready, get set, shop! This is the time of year when holidays converge. Christmas displays appear in stores before Halloween, and Thanksgiving gets totally lost in the rush toward New Year's Eve. Black Friday looms, but due to the pandemic and supply-chain snarls that have caused shortages and empty shelves anxious retailers and shoppers hold their collective breath, hoping there will be products to sell and buy.
Calling a day "black" used to portend catastrophe such as stock market crash dates. Things have changed. According to English economist Evan Davis, "Black Friday is not another bad hair day in Wall Street. It's the term used by American retailers to describe the day after the Thanksgiving holiday, seen as the semi-official start of Christmas shopping season."
Since the first Macy's Thanksgiving Day parade in 1924, the Friday after Thanksgiving has had an upbeat connotation. It was recognized as the unofficial start of the holidays. Philadelphia police coined the term "Black Friday" in the mid-'60s because it was a day of traffic jams and crowded sidewalks and stores as folks embarked on holiday spending sprees. It was associated with the start of the period when retailers go from being in the red to being in the black.
Things have changed once again. Even my spouse the Binmeister is concerned. His holiday shopping technique has always been to rush to the store the day before Christmas to grab whatever he can find to stuff stockings for our number one daughter and me. In Oct. we went to the Town Center to purchase tennis shoes when he picked up a piece of jewelry.
"What are you doing, and what is her name?" I asked.
"It's a Christmas gift for you," he said. "Stores are running out of things."
Wow! To quote the Beatles, "He loves me, yeah, yeah, yeah!"
The Final Word… The pandemic has disrupted supply chains to the point that we are already seeing empty shelves and shortages of many things from ketchup to toilet paper. There was hope that as Covid ran its course due to vaccinations those woes have been put to rest, but the Delta variant could upend holiday shopping. On the plus side, if there is nothing to buy one could save a lot of money to pay inflated gas prices. Another dollar saving technique is to bring up politics at Thanksgiving dinner and watch your holiday gift buying list shrink.
West Virginia University family and community development agent Lauren Weatherford advises folks to shop early because things could be out of stock or slow to ship and more expensive this year. "Planning is key to successful and responsible shopping," she said and suggested "avoiding shipping issues by supporting small businesses in your community."
Planning and smart shopping are important this year, but don't let it ruin your holiday. As Oscar Wilde said, "anyone who lives within their means suffers from a lack of imagination."