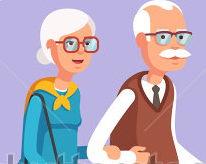 "As you get older three things happen. The first is your memory goes, and I can't remember the other two."—Sir Norman Wisdom, British comedian
In 1965, President Lyndon Johnson passed the Older Americans Act and proclaimed May "Older Americans Month." In President Joe Biden's Older Americans Month proclamation, he said "This month and beyond, I call upon all Americans to celebrate older adults for their contributions, support their independence and recognize their unparalleled value to our Nation."
It has become a tradition for presidents to declare May as a time to honor older Americans with theme-based events. The 2022 theme is "Age My Way."
If you are married that raises the issue whose way are you going to age? My spouse the Binmeister and I will chalk up 55 years of wedded bliss in June. Okay, not all of them were blissful, but we came through the hard patches by sometimes doing things his way and sometimes my way, which by-the-way brings to mind the Frank Sinatra song My Way: "…I've lived a life that's full; I've traveled each and every highway. And more, much more than this I did it my way." (Now try to get that tune out of your head.)
Memory loss is good to have at this age so you don't dwell on the past. My biggest problem is remembering names. I blame it on the past two years of folks wearing masks. Now they've taken them off and everyone looks vaguely familiar. Instead of masks I believe everyone should have their names tattooed on their forehead.
As No. 1 daughter once said in sheer frustration, "Mom, you can't remember the past; you can't remember the present and you sure can't remember the future!" (OK, there's another problem we can work on.)
May is also the Binmeister's birth month. Until August he will be the oldest Rooney Bin resident, and I can enjoy saying he is well aged.
The Final Word… A cartoon taped to my computer is titled: "The First Senior Moment on Record." It pictures a pair of dinosaurs sitting atop a mountain surrounded by flood waters. In the distance is Noah's Ark. One dinosaur says to the other: "Oh darn, was that today?" The caption reads: "And that's what happened to the dinosaurs."