GOOD AND EASY RECIPES & Menus PROVIDED BY RESTAURANTS AND PERSONS OF NOTE AT THE BEACHES and Beyond

THE JUNCTION
348 Depot Street, Asheville, NC 28801
820-225-3297
Owner Charles Triber (from left), server Teresa Bowser and Executive Chef David Van Tassel
The Junction restaurant in the River Arts District, was a great find on our recent trip to Asheville. It's a small, informal setting, but the menu, which changes frequently, is creative and tasty. In the SNACKS category (appetizers) we tried David's famous Cast Iron Cornbread with poblano pepper butter and Guajillo Agave Nectar, also tops were the buttermilk fried Springer Mountain chicken livers serve over blueberry & brunch bacon chutney. From the small (a misnomer for sure) plates choices, the Shellfish Bowl with NC clams, mussels, smoked shrimp, charred carrot and lemon grass was excellent, as was the grilled whiskey marinated quail over pilaf, fresh fig and peanut onion agrodolce.  We tried one item from the main course suppers menu:14 hour smoked lamb crepinette with Mom's Edisto style tomato pie, summer marinated cucumbers and pork jowl bacon. Yummy. The next time we visit Asheville or surrounding area, we will put The Junction at the TOP of our dinner list.
ACME Lowcountry Kitchen
31 J.C. Long Blvd.
Isle of Palms, SC
843-886-0024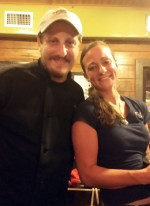 Executive Chef Frank Kline with server Ellie Ede
When visiting the Charleston, SC, area, go to the beach on Isle of Palms, which has a abundance of great eateries. One not to be missed (make reservations because it is so popular) is the Acme Lowcountry Kitchen. The setting is casual beach and the food is traditional coastal cuisine. Executive Chef Frank Kline has created a menu that would please any Low Country fan. Kline uses fresh local items, including seafood, to transforming a simple item into a gourmet dish to please different tastes.
For example, there are Wings to suit any degree of heat you like: Buffalo (mild), Walffalo (medium), Wally (hot), Jimmy (lava hot), Barbalo (hot bbq), Bleuffalo (bleu cheese buffalo), Heidi (teriyaki buffalo), Eddieyaki (teriyaki), Baby Mama (garlic Heidi)  and Dry Rubs.
Grits come in seven flavors: truffle whipped; blue cheese; coconut cream; Tasso Gravy; pimento cheese; Gouda grits and peaches and cream. There are shrimp and grits blackened, low country, southern hospitality, BBQ, Island, Shrimp and Scallops and Shrimp Trilogy.
But Rooney Bin taste buds fell in love with an unlikely dish–Succotash! Who knew a combination of bacon, butter beans, corn, snow peas and field peas with a hint of thyme and topped with your choice of fried chicken, shrimp, fresh fish or scallops could be so delicious? Try the wings and grits, but make sure you settle on the succotash.

www.aquagrill.net
There's no doubt about it, Aqua Grill at Sawgrass Village, Ponte Vedra Beach, FL  makes the best Soy Ginger salad dressing in the world!
Its fresh seafood menu is amazing as well.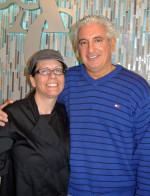 Carla Montgomery (from left) with Aqua Grill owner Cary Hart,
chef Mike Thomashunis and his daughter Eden, and managing partner Cary Paige
SOY GINGER DRESSING                                                                                                                                                 
8 oz Soy Sauce                            1 tsp Sesame Oil
2 cups Vegetable Oil                1 Tbsp Minced Ginger
1 Tbsp Minced Garlic               2 oz Brown Sugar 2 oz Rice Wine Vinegar         8 Egg yolks (or pasteurized equivalent) Combine all ingredients except oil in a blender or food processor. Mix until all is incorporated, then slowly add oil while machine is running. Please Note: This recipe calls for raw eggs, but we use and would recommend using a pasteurized egg yolk product.  Makes about 1 quart dressing.
____________________________________________________________________________________________
White Chocolate/Peanut Butter cookies, by Nancy Spadaro
Melt in microwave: 1.5 lbs white chocolate bars (that's about 6 four-oz bars) and ¼ lb. Chopped almonds
Add and Stir up: 10 oz crunchy peanut butter
                              12 oz dry roasted peanuts
                                 2 cups mini-marshmallows
                                 2 cups Rice Crispies
Drop by teaspoons (or a melon baller) on wax paper.
Put in fridge to harden
_______________________________________________________________________________________
Bu-Ku
The bu-ku restaurant in Raleigh, N.C.–a review and recipe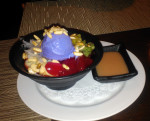 Beaucoup (pronounced bu ku) means "very much" in France, but in Raleigh, NC, it means an amazing menu of tasty "global street food." Bu-ku, is a nicely appointed restaurant with Asian accents, at 110 East Davis St.. Executive chef/co-owner Tony Hopkins and executive sous chef Amanda Haisley have assembled a surprising international menu of taste treats–many of which are served as fast finger food on street corners of their respective countries. No MacDonalds here, the selection of "small plates" (think tapas), includes Edamame, Burmese deviled eggs, empanadas picantes and Filipino lumpia, and "large plates," such as Pad Thai, Argentinean short rib, Belgian steak fries and South African lamb kebobs, as well as world breads–Indian Naan and German soft pretzel knots–salads and hot pots. Let's not forget dessert. We loved the colorful purple sweet potato ice cream with pineapple, kiwi, palm fruit and rhubarb sauce. If you're in Raleigh try it, you'll enjoy the dining experience bu ku. Not going to Raleigh anytime soon?  Hopkins shared a recipe: (I've halved the recipe, but you may want to divide the ingredients yet again for smaller portions.) Lumpia Sausage: 13 pounds of ground pork butt; 1/2 bunch cilantro; 6 scallions; 1/2 cup Thai chiles chopped; 1/3 cup sriracha; 1/3 cup fish sauce; 1/2 cup oyster sauce; 1/2 cup hoisin sauce; 2-3 shredded mangos.  1) combine all but pork in a food processor and blend. @) Add mixture to pork and combine thoroughly.  Place several heaping tablespoons of sausage in lumpia wrapper. Roll up and seal with water. Heat oil in frying pan and fry for a couple of mins. Serve with Cilantro Chutney. Cilantro Chutney: 1 quart mirin; 1/2 cup brown sugar; 6 scallions; 1/4 cup lime juice; 1/2 cup fish sauce; 5 bunches cilantro; 5 cloves garlic; 7 Thai chiles. Combine all ingredients in a food processor and blend.
_________________________________________________________________________________________
Moroccan Grouper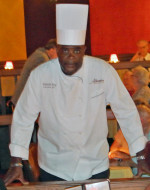 created by Alhambra Executive Chef DeJuan Roy
1 lb. fresh grouper filets cut in 4 pieces
½ cup chopped tomatoes
2 tbs. fresh chopped garlic
2 tbs. fresh chopped basil
1 tbs. fresh marjoram chopped
2 tbs. washed capers
¼ cup sliced red onion
1 tbs. cinnamon
1 tbs. curry powder
1 tbs. cumin
½ tbsp. sea salt
1 tbs. pepper
2 tbs. butter
½ cup white wine
1 /4 cup olive oil
Mix all five spices together and lightly dust the fish. In a medium size sauté pan heat olive oil with high heat. Sear the fish until golden brown on both sides and set aside. Turn the heat down and add garlic, red onion, tomatoes and capers. Add fresh herbs and butter then the fish. Cover and simmer on low for 5 minutes.   Serves 4
______________________________________________________________________________
Authentic Spanish Flan 
created by Raquel Roderiguez
Preheat oven to 350 degrees. Ingredients: 1 can sweetened condensed milk; 1/2 can warm whole milk; 6 eggs; 1 tsp vanilla; 5 Tbsp sugar In small pot: make caramel with 5 Tbsp. sugar and 2 Tbsp. water. Cook until it becomes caramel. Pour the caramel in the mold. tilt to spread over the bottom and sides. Add flan mixture. Mixture: beat 6 eggs with the condensed milk and add the whole milk and vanilla. Pour the mixture into the flan mold. Place the mold in a larger pan and pour boiling water in the outer pan. Place the deep pan in oven for 350 degrees for 45 to 50 mins. Remove the mold from the outer pan and let cool before putting in refrigerator. When time to serve, loosen the flan around the edges and flip over onto serving plate.
_____________________________________________________________________
Dark or White Chocolate Clusters  (sweet and salty can't be beat!) Lou Puopolo shared this recipe that she found in the Cincinnati Enquirer. 20 oz. dark Choc. (we used dark Choc. Chips) 13/4 c. Dried cranberries 11/2 c. Almond silvers 8 dried apricots, sliced or diced Sea salt-coarse /flaky (Murray River sea salt is suggested) Toast almonds in a dry pan over med. heat until beginning to color and smell, or toast in microwave for 2mins. Melt Choc. In double boiler or pan over smimmering water in pot, until melted. Add cranberries, almonds and apricot.  Mix well. Scoop 1 t. Onto wax paper.  Sprinkle with sea salt and let cool.  Refrigerate. Can make with white Choc. Top with pink sea salt _____________________________________________________________________
Dottie Stern's best ever "Coconut Cake" Ingredients 16 oz sour cream 1 3/4  cups sugar 14 oz coconut 1 boxed white cake mix 1 regular-sized container of Cool Whip Mix sour cream, sugar, and coconut and refrigerate the night before. Bake cake according to box directions, using whole eggs in 2-9″ cake pans (greased and floured).  When cake is cool, split each layer into two. Take 1 cup of the coconut mixture and fold into thawed Cool Whip. Spread remaining coconut mixture between layers of cake. "Ice" with Cool Whip mixture.  Refrigerate cake several hours so filling sets.
________________________________________________________________________________________
Breakfast Souffle This was a hit at a recent brunch and easy to prepare.
9 eggs
3 cups milk
1 1/2 tsp salt
1 1/2 tsp dry mustard
1 1/2 pounds sausage  (I use pre-cooked links and slice them into thirds)
1 1/2 cups grated cheddar cheese (I use the bag of pre-shredded in grocery dairy case)
3 slices bread  (I use English muffin bread, but plain white is fine)
Brown sausage and drain (or use pre cooked). Mix eggs, milk, salt and mustard together. DO NOT BEAT,  Just mix well. Break up bread and drop into mixture. Add cheese and sausage. Pour into greased casserole (9X13). REFRIGERATE OVERNIGHT. Bake at 350 degrees for about 1/2 hour until set and brown on top.
If eggs are small, you may want to use 10 or 12 instead of 9.  I haven't tried it, but you could substitute crisp fried crumbled bacon or diced ham for the sausage.
___________________________________________________________________________________________
Guy Boonsagnong,owner of Buddha Thai Bistro
, 301 10th Ave. N, Jacksonville Beach, Fl (phone: 904.712.4444) sent the Rooney Bin two authentic and easy Thai recipes:
  www.buddhathaibistro.com MANGO AND STICKY RICE: The most famous dessert in Thailand
Ingredients
 3/4 cup Thai jasmine purple rice or forbidden rice, soak in water over night. 3/4 cup Thai jasmine sweet rice or Glutinous rice, soak in water 2 hours. Mix both rices and wash in bowl, draining off starchy water.  Steam rice for about 30 mins. until it is soft. Warm 1/2 cup Thai coconut milk. Add 2 tablespoons sugar and stir to dissolve in coconut milk. Add to rice and stir. Thin slice Thai mango and arrange on a plate with a mound of sticky rice Sprinkle with sesame seeds
Go to
http://vimeo.com/47480426
to watch Guy prepare this delish dish _____________________________________________________________________________________
Lettuce Wraps 
Ingredients
1 head of iceberg lettuce–loosen and separate leaves
 Dice–1 stalk of celery
 1 Onion  small dice
1 carrot small dice
 1 water
chestnut small dice
In hot Wok add 1 tablespoon oil
add to cook 1/2 cup ground chicken
When the chicken is half done add several chopped shrimp and vegetables and cook quickly
Add: 1/2 teaspoon Fish sauce
1/2 teaspoon mushroom soy sauce
1/2 teaspoon Thai soy sauce (regular soy sauce)
 1/2 teaspoon oyster sauce
 1 teaspoon sugar
a pinch paprik
 chili flakes
Arrange on a plate with lettuce leaves for people to wrap
_______________________________________________________________
Sheri's Famous Lemon Cupcakes: Yummy lemon cupcakes were created by Sheri Martinez, K9s For Warriors Volunteer Coordinator and a wounded veteran herself.
Preheat oven to 350.
 Ingredients:
1 Box Lemon Cake Mix
1 Box Instant Lemon Pudding
8 oz Sour Cream
4 Eggs
1/2 C Oil
1/2 C Lemonade
Mix all ingredients until combined and then on high for 2 minutes.
Fill each cup up 2/3 of the way and bake 5 minutes more than called for by Cake Mix directions and then for 2 minutes at a time until toothpick is clean.
Ice with ready made lemon frosting and decorate with Lemon Heads or other lemon candies.
_____________________________________________________
The Mayor's Cake:Recipe from Neptune Beach Mayor Harriet Pruette 1 box devil's food cake mix;  1 box instant chocolate pudding; 12 oz pkg semi sweet chocolate chips 1 cup water (or water amount on box);  4 eggs; 1/2 cup Wesson/Mazola oil or cooking oil 8 oz sour cream Mix all the ingredients together by hand until well blended. Bake in well-greased bundt or tube pan at between 350 to 375 degrees from 45 mins. to 58 mins., or until cake tests done with tooth picks. Excellent when served warm. _____________________________________________________________
For St. Patrick's Day from the Rooney Bin kitchen–where else?
Corned Beef Brisket with Chili sauce glaze
1 corned beef brisket (4 to 6 pounds) peppercorns 1/4 cup chili sauce 2 tbsp corn syrup 1 tbsp minced onion (you can use the dried minced onion) 1/8 teasp hot pepper sauce Put corned beef in deep pot; cover with water and add a few peppercorns. Cover pot and simmer until meat is tender (about 4 hours). Remove from liquid and but brisket fat side up on a rack in an open roasting pan. Blend remaining ingredients; spread on corned beef. Bake at 350 degrees for 20 to 30 minutes, until glaze is set. _______________________________________________________
Easy Guacamole–a Rooney Bin favorite, it's soooo easy!
Mash about 3-4 ripe avocadas, leaving then lumpy. Drain and add one can Rotele diced tomatoes (Lime & Cilantro), plus 2-3 finely diced green onions and a sprinkle of lemon juice. Stir and refrigerate for an hour or more. Serve with your favorite tortilla chips.
_____________________________________________________________________________________
Dad's Favorite Meatloaf–My Dad loved this one.
Tear up 3 slices soft bread; Add 1 cup milk and 1 egg to 1 1/2 pounds ground beef (or 1 lb grd. beef, 1/4 lb grd pork, 1/4 lb grd veal). Add 1/4 cup minced onion; 1 1/4 tsp. salt; 1/4 tsp each of pepper, mustard, sage, celery salt and garlic salt; 1 tbsp Worcestershire sauce. Mix well.  Put in a loaf baking pan. Bake at 350 degrees for abut 1 hour.

_______________________________________________________________________________________
Mom's Maryland Crabcakes–No one makes crabcakes like my Mom
1 pound jumbo lump crab meat; 1/2 cup Mayonaise; 1/4 cup dijon mustard; 1 beaten egg; 2 finely diced green onions or shallots; 1 tbsp. Worchestshire; 1/4 cup cracker crumbs.  lightly fold together so as not to break up crab.  Form into cakes. Refrigerate so they solidify a little. Flour them and fry quickly in olive oil.  (For color and slightly different taste add 1/2 finely chopped red bell pepper.)