*[Rooney Bin 1
Aug. 7
Sawgrass Country Club executive chef Michael Meuse calls cooking "team work!" At the end of August, Meuse conducted a three day Kid's Culinary Academy at the Pub in the new Sawgrass clubhouse. The novice chefs learned basic food safety, sanitation and preparation, as well as where food comes from, nutrient content and kitchen organization.
On the final day 24 youngsters donned tall chef toques and white coats to prepare and serve a special luncheon for their parents. They lined up from smallest to tallest to hold (without breaking) a 30-foot long strand of rigatoni extruded from a pasta machine.
"Now this is team work," Meuse pointed out.
The young cooks served their parents a gourmet feast including a summer salad, braised short rib gnocci, and English trifle with strawberry sauce. A graduation ceremony followed.
Summer Dance Showcase Number One Rooney Bin daughter's hobby has always been music, singing and dancing. She has danced her way through the pandemic, wearing a mask and gloves and doing the hustle and salsa with regular lessons by dance instructor Allan Alday owner of Dance Alday Latin & Ballroom Dance Studio.
On August 6, Dance Alday hosted a dance party and "showcase" featuring his students performing exotic dances such as the bolero, hustle, foxtrot, salsa, rumba, samba, waltz and cha-cha. The evening began with a group hustle class, followed by refreshments and general dancing. Then Alday danced with each of his students ranging in age from 12 and 16 years old on up. All received trophies for their talented performances.
When asked his favorite dance, Alday replied "all of them!" He has been teaching dance for about 30 years. For information, go to www.dancealday.com. The Dance Alday Latin & Ballroom Dance Studio is located at 820 A1ANorth, Suite W19 Ponte Vedra Beach.
            Angelwood... For many Northeast Florida residents, volunteering is a popular and fulfilling "hobby." On Aug. 21, Kelly and Scott Gramling, Rachel DuBois and Kevin Padgett chaired the annual Angelwood Celebration: Soaring Possibilities at the Sawgrass Marriott. The evening was a duel success staged in the hotel ballroom and live streamed virtually from the organization's Facebook page. The attire was "Beach Chic" and included cocktails, and an island hopping buffet dinner, dancing, a silent auction and a live auction conducted by auctioneer Jason Alpert and 'Dan the Opera Man' from Jax Beach Brunch Haus.
Angelwood, Inc. is a Jacksonville based non-profit formed in 1993 to serve children, adults, seniors and families living with intellectual and developmental differences, such as autism, cerebral palsy, Down syndrome and spina bifida. Angelwood provides support to more than 300 individuals and their families in residential group homes, supported employment, adult day training programs, as well as holiday and summer day camps. Group homes located in residential Jacksonville neighborhoods provide 24-hour awake supervision.
The evening opened with words of welcome by presenting sponsor DuBois and Robin Wahby of Wahby Financial Group. Awards began with a standing ovation for the staff watching from Angelwood's six group homes. Firehouse Subs was named Corporate Sponsor Of The Year and Michelle Mollenhour was the Soaring Possibilities Award winner.
April 24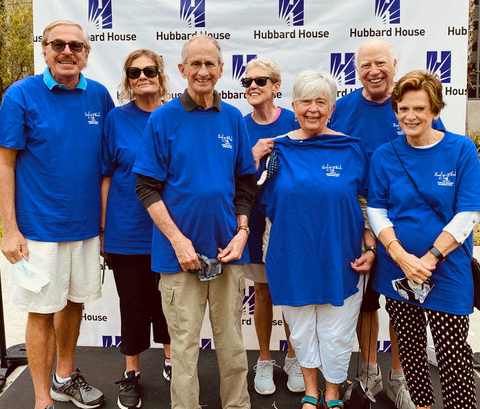 Hubbard House Walk… It's a good sign that folks are starting to emerge from isolation and get out and about not just for their own pleasure, but to help others.
On March 27, David and Bernadette Miron and Phil Stantial organized and co-captained a team of First Coast Returned Peace Corps Volunteers (FCRPCV) to stroll around downtown Jacksonville and see the sites for "a great cause," David said. The Mirons were PCVs in Colombia and Stantial served in Sierra Leone. The 2.5 mile walk was in support of the annual Hubbard House Stand Up & Stride fundraiser. Hubbard House is the only Duval County facility that provides shelter and services to domestic violence survivors and their children. FCRPCVs also marched in honor of former Hubbard House CEO Ellen Siler, who was a PCV in Jamaica.
Hubbard House was formed by a small group of women in the 1970s to address gender-based violence in the Jacksonville area. It has grown and now serves about 5,000 domestic violence victims annually, providing warm beds, hot meals and personal amenities as well as counseling and group support.
As they've done since 2017, the Mirons invited their Sawgrass Country Club neighbors to contribute and/or accompany them on foot or virtually. (Due to the Covid-19 virus, the 2020 event was virtual.) This year's 18 member FCRPCV team came in first raising $3,075.
"Sawgrass Country Club neighbors put us over the top," We had seven neighbors walking and two virtual walkers," David said.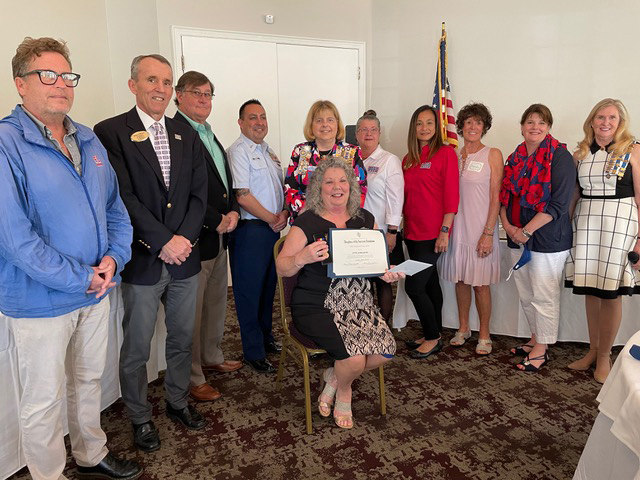 DAR Award… Members of the Neptune Beach Jean Ribault Chapter Daughters of the American Revolution gathered at Queens Harbor Yacht and Country Club April 8 to honor Joyce Schellhorn of Naval Station Mayport with the National Defense DAR Distinguished Citizen Medal for her lifetime support of military families. Atlantic Beach Mayor Ellen Glasser nominated Schellhorn for the award upon the recommendation of the USO of Greater Jacksonville, U.S. Coast Guard of Jacksonville and Naval Station Mayport.
Schellhorn was married to U.S. Navy helicopter pilot LT Matthew Schellhorn, so her contributions included many years serving in the Navy Officer Spouse Association. She also volunteered with the Morale, Welfare and Recreation office as well as the Navy Marine Relief Society and the USO. Under her direction, while working as Center Director of the Mayport USO, services were provided to more than 31,000 members and their families.
DAR is a service organization for women who can trace their lineage to an individual who helped secure American independence during the Revolutionary War. To learn more about DAR membership contact Jean Ribault First Vice Regent Sherry Saucerman at jeanribaultfirstviceregent@gmail.com .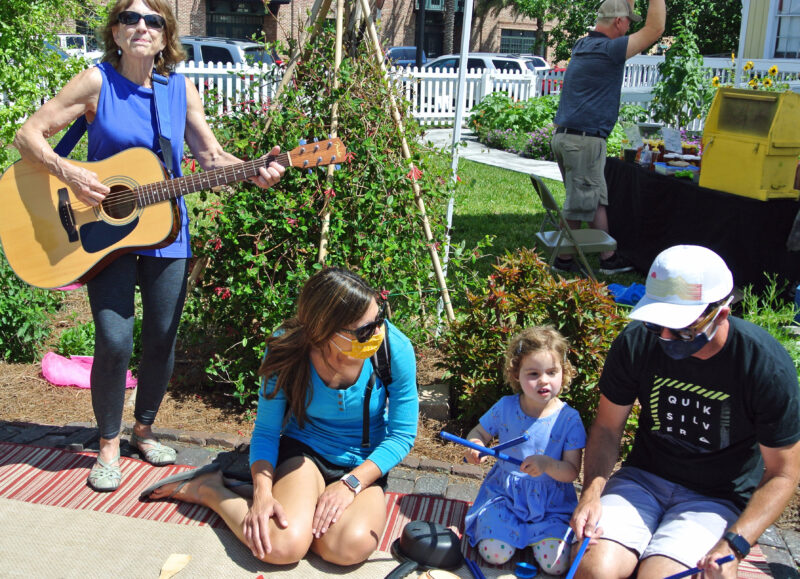 Beaches Museum… On April 10, the sun was shining and smiles were busting out all over at the Beaches Museum Pablo History Park where Springing the Blooms was in full swing. Children had a grand time planting sunflower seeds to take home and grow. University of Florida Extension Office Master Gardeners were on hand to give out wildflower seeds and information-packed gardening booklets and answer questions about gardening in North East Florida.
Escaped monarchs floated by the tables where demonstrations about the life cycle of butterflies captivated a wide-eyed audience of youngsters. A sea turtle exhibit was hosted by the Ponte Vedra and Beaches Sea Turtle patrols.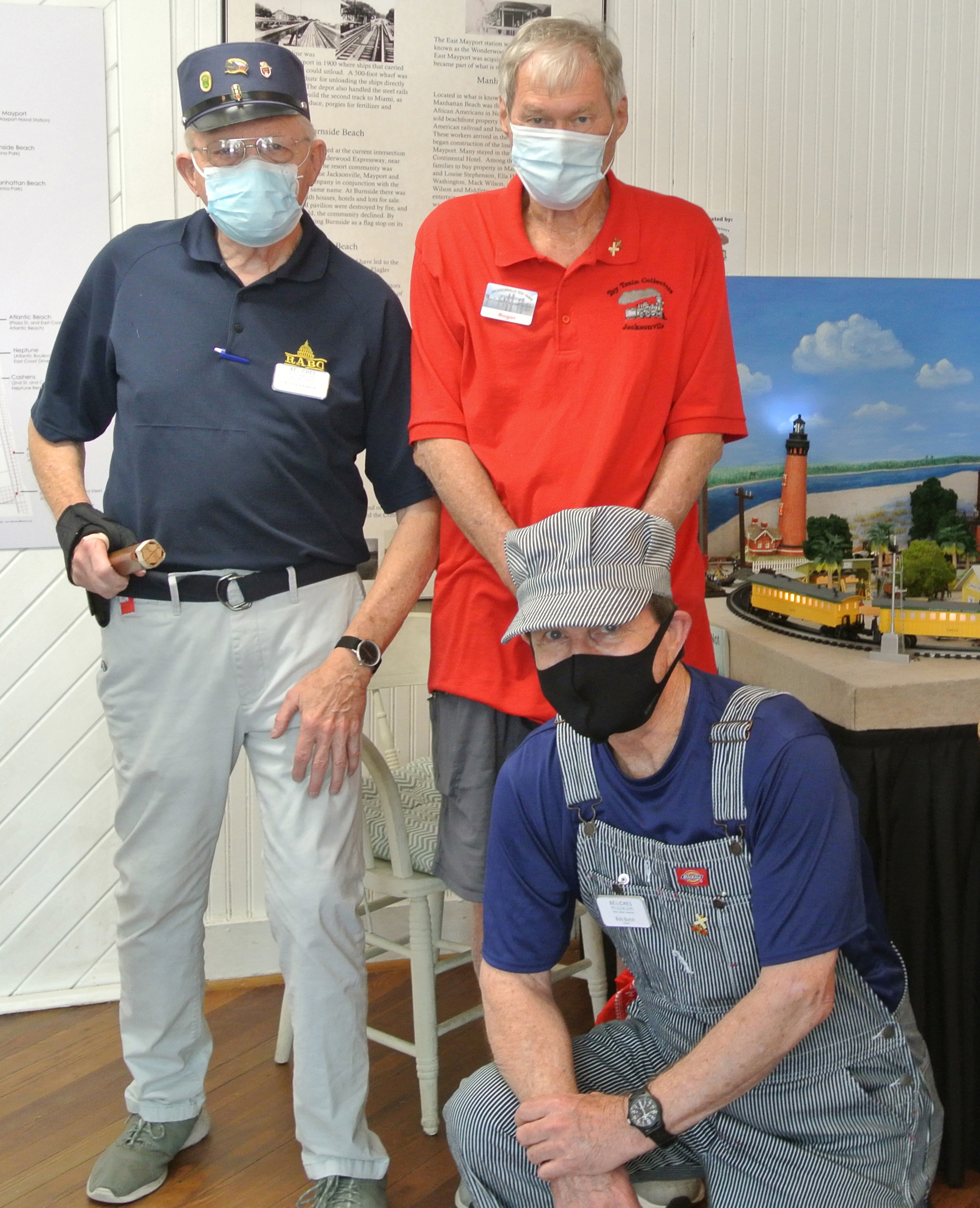 Guest speaker JoAnne Krestul talked about "Vertical Gardening 101;" city of Jacksonville parks naturalist described "Life in the Sand Dunes" and master gardener Evie Pankok inspired the audience to create sustainable landscapes.
Pablo Park is one of two demonstration gardens "The University of Florida Master Gardeners program cares for. "We're just trying to get volunteers interested in gardening," master gardener Lynn Franklin said.
Laughter and grins mixed with drumming and guitar music on the patio of the Foreman's House where Marcie Winnard of Jax Music Together played guitar and sang while parents and children had a grand time drumming. Always popular is the train depot that features a running Lionel train operated by Toy Train Collectors of Jacksonville.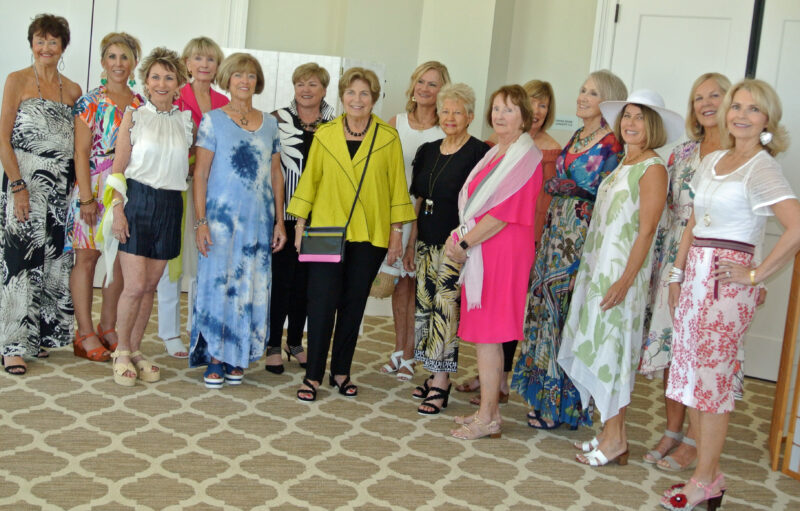 About 130 Sawgrass Women's Club members and guests showed up at the elegant new Sawgrass Country Club clubhouse for the first live fashion show in almost two years. The themed luncheon, 2021 Balloon Adventure, included raffle drawings, pop-up shops and 15 club members modeling outfits provided by boutiques A'Propos, Lemon Twist and Mainstream Boutique and Carla's footwear. Sharon Jones, Jeanne Pilcher and Marcia Haytaian piloted the afternoon decorated with colorful cut-outs of hot air balloons and travel brochures created by Elsie Jones.
"It's so good to be able to hold our most popular event this year," Sawgrass Women's Club president Laura Torrey-Kettell said.
Even though folks have been restricted in their comings and goings, designers have apparently been using their quiet time planning for a fashionable grand emergence. Boutique owners offered tips about what to wear now that the ladies have places to go and people to see.
Luncheons, dinner dates and cruises are reasons to put on large earrings and stackable bracelets to enhance wide-leg pants paired with light weight stoles perfect for travel or simply dashing out to the store. "Sneakers are making a huge fashion statement worn with dressy outfits," one boutique owner said. Another pointed out "square-toe shoes are among the biggest trends coming out of Europe."
April 3
Event organizer Carol Travis started things off with a tale about how she acquired a silver tea service on a trip to England. It was stolen after she returned home, so she managed to acquire another set in bits and pieces over several years. Gayle Banks showed a bath tub thermometer found on an antique hunting trip; it's in a wooden frame and registers hot, warm, tepid, cool, cold and freezing.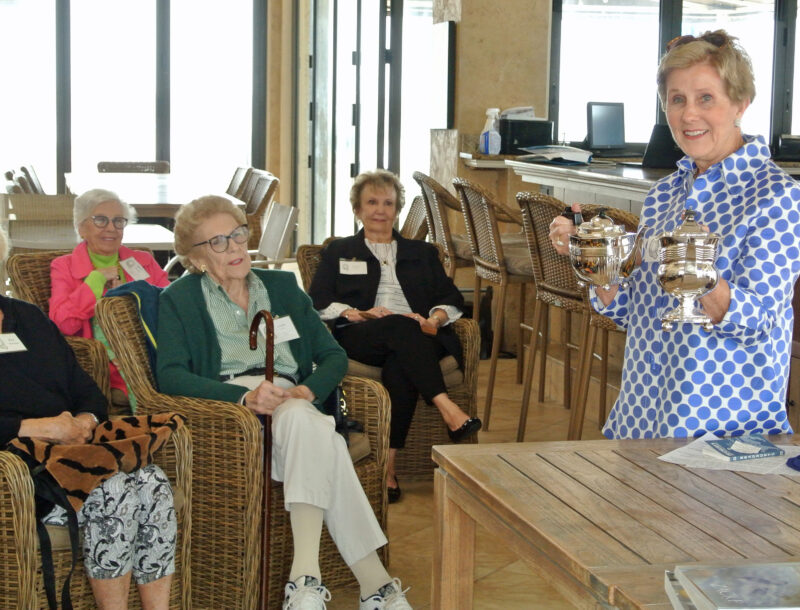 Others showed and talked about antiques inherited from parents and grandparents that ranged from pottery, cloisonné and cameos, to a Christmas book written and signed by Harriet Beecher Stowe. They were all treasures with personnel stories.
"That's the fun of it. You never know what you're going to find," Judy Branch said.
Sawgrass catch a Leprechaun … From antiques to leprechauns the end of March seemed devoted to treasure hunting. On St. Patrick's Day, about 30 youngsters were lined up (well, sort of) on the Sawgrass Country Club short game area all set to catch a leprechaun and pickup gold plastic coins for prizes. The weather was great, not a rainbow in sight, and the kids were pumped to win. Executive chef Mike Meuse conceived of the "Catch a Leprechaun Contest" and tried to give instructions to the excited children. Nevertheless the leprechaun (sous chef Ryan Pinkard) was spotted hopping across the green, and they were off and running.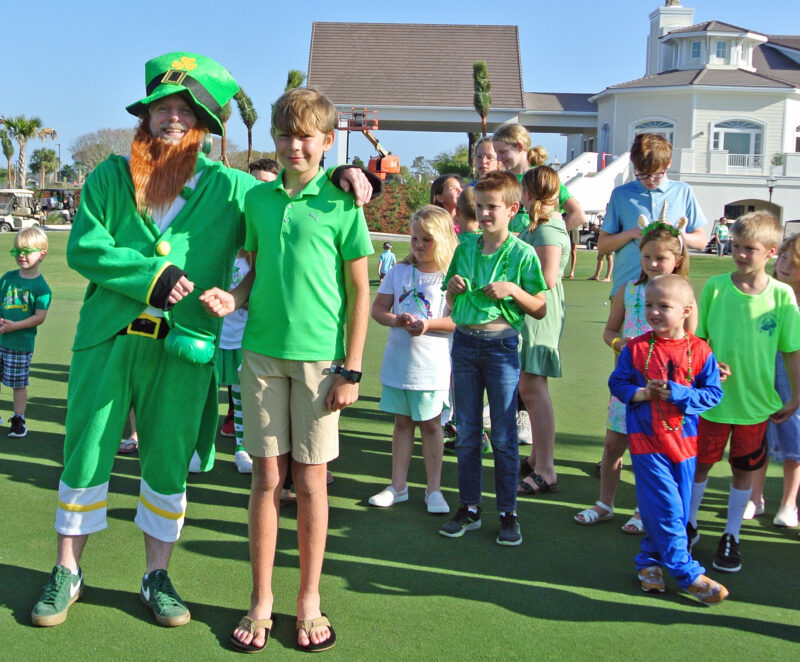 Lucky winners (everyone) who found 4 gold coins could spend them on a free meal from the kid's menu at the Sawgrass pub in the new clubhouse. After a romp across the green, Reece Kenning was the first to capture the slightly winded Irish elf; Reece won a complimentary kid's meal at the pub each day for the final two weeks of March. Parents were offered a beer in exchange for found gold.
Vicar's Ground Breaking… On March 18, Vicar's Landing, a continuing care retirement community in Ponte Vedra Beach, officially broke ground for its new Oak Bridge campus. Located on about 30 acres of natural landscape next to Sawgrass Village, when completed the gated community will have 235 residential units, including 175 independent living cottages and apartments ranging from 1,400 square feet to 2,400 square feet, 42 assisted living units, 18 memory care units, a clubhouse, dining options and heated swimming pool, as well as access to nearby amenities at Vicar's original campus.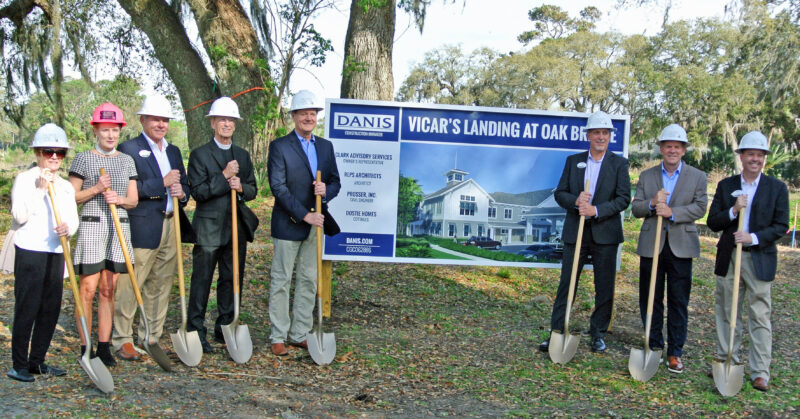 "Vicar's Landing has enjoyed 32 years of excellence," CEO Bruce Jones said. "We are in high demand and excited about this opportunity to expand and serve older adults."
A board representing Vicar's members and management worked on the design and construction of this $162 million project in conjunction with Clark Advisory Services, Danis Construction, Dostie Homes, Prosser Engineering Consultants and RLPS Architects. Independent living cottages are 90 percent sold out, and the first of four apartment buildings is 70 percent sold, prompting the release of a second apartment building, originally slated for sale in phase II. For more details about availability and construction time frame go to www.vicarslanding.com or https://www.faceook.com/vicarslanding.
March 13, 2021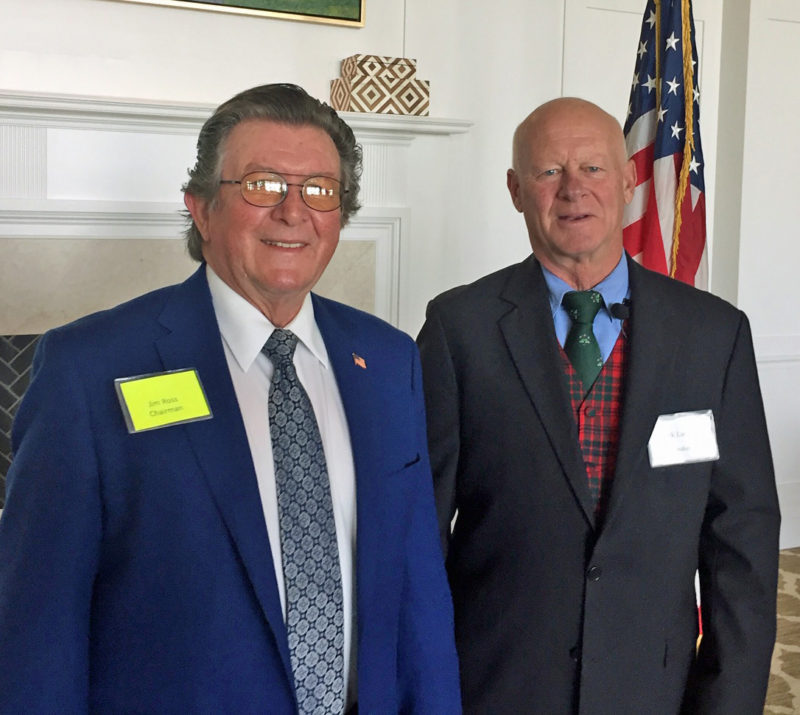 Churchmen… Golf aficionados at the February Churchmen luncheon were pleased to meet course designer Erik Larsen and listen to him reminisce about designing Sawgrass Country Club courses under the direction of course designer Ed Seay and developer Jimmy Stockton.
Sawgrass is unique in that each property within the club has either a water or golf amenity, he said. For example, 123-acre Lake Tifton in the middle of Sawgrass has 11 miles of shoreline.
Churchmen president Jim Ross introduced the famed golf course architect who began working at golf courses when he was 12. He discovered a knack for course design and went to North Carolina State University, where he earned a BS in Landscape Horticulture. He worked for the Arnold Palmer Design Company from 1983 until 2011 and is currently president of LarsenGolf, Inc. His combined experience designing and building sustainable golf communities focused on liberating and developing pocket neighborhoods and recreational amenities within about 100 golf facilities around the globe.
Larsen regaled the audience with stories about his "boss" Ed Seay. They traveled to Hawaii where they played golf in bare feet driving two carts plus two more for beer and fried chicken. He described his "big boss" Arnold Palmer as a serious, but kind person, who always looked right at you. Palmer realized he was a star, but was completely genuine, Larsen said.
The Churchmen organization was formed more than 40 years ago at Christ Episcopal Church as a non-denominational men's social group. It meets monthly at Sawgrass Country Club to hear notable speakers.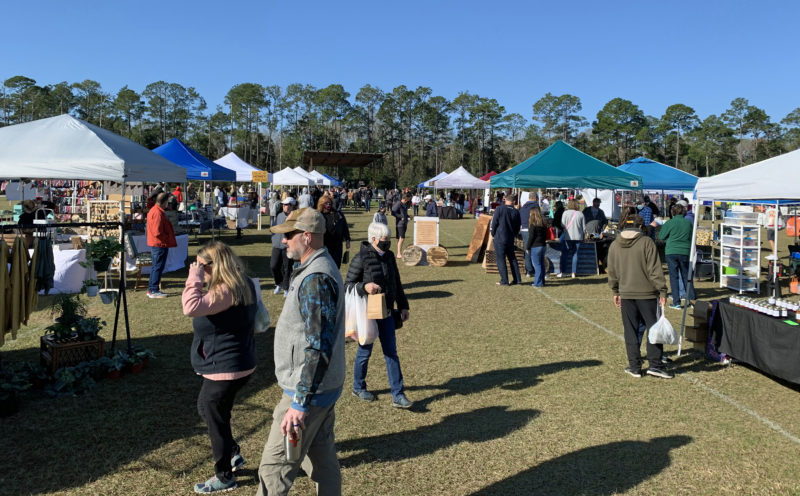 Nocatee Farmers Market…It's not quite spring, but every third Saturday of the month from 10 a.m. until 1:00 pm, fresh local produce—fruits , vegetables and herbs—are ready for the pickin' off tables at the Nocatee Farmers Market. Also for sale by about 80 vendors are homemade jams and jellies, honey, baked goods, plants, handmade quilts, art, crafts and pottery.
The market started in 2009 as a small event for residents because there was limited shopping at that time. In 2011 it added a monthly theme and entertainment that attracted people from all over the area. It has continued to grow and now hosts from 3,000 to 5,000 people at each market day.
"Several years ago we realized there are a lot of different Farmers Market choices and we wanted to make ours stand out, so we added a theme," community manager David Ray said.
The themes differ from month to month. February celebrated Mardi Gras; the March 20th event is designed around the History of the 1740 Saint Augustine Garrison and will feature a group reenacting parts of Florida history, and on April 17 the market will be a Spring Fling. To name a few more, folks can look forward to Kick-off to summer in June, Animal Encounters in August and a Fall Festival in October.
The market is located on the swim club green, Nocatee Station Field across from the Splash Water Park.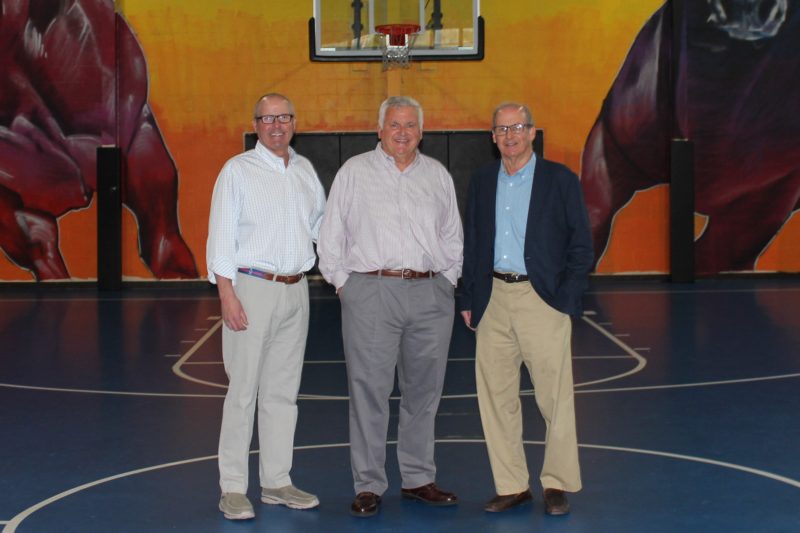 Grune Family Foundation Boys & Girls Clubs of Northeast Florida recently benefitted from a $200,000 contribution from the Grune Family Foundation. The gift was made to honor the late George V. Grune, a Ponte Vedra resident and long-time Boys & Girls Club supporter.
The foundation, consisting of George's widow Betty Lu Grune and their three sons George, Jr., Robert and Steven, pledged the money to honor their father by naming the gymnasium at the Citi Teen Center in his honor. The center provides a safe place for teens, ages 13-18, to go after school to complete homework, have fun, reach their full potential and choose a path to follow after graduating from high school. The Northeast Florida club was chartered in 1962 and expanded to 38 clubs serving more than 3,600 members each weekday in Duval, St. Johns and Alachua counties.
George, formerly chairman and CEO of Reader's Digest, and his wife Betty Lu, raised their family in Westport, Ct. After he retired in 2000 they moved to Ponte Vedra, where he had attended a conference at the Ponte Vedra Inn & Club.
Grune believed in "give something back," not just in money but also in time. Among his favorite charities were local YMCAs, the National Outward Bound board and Boys and Girls Clubs of America; he was National Chairman of the Boys & Girls Club while at Reader's Digest. After their move to Ponte Vedra, he joined the boards of the Cummer Museum of Art and Gardens and the Jacksonville Symphony, as well as the NE Florida Boys & Girls Club.
"We're extremely appreciative of the generous investment provided by the Grune Family Foundation to honor George V. Grune's legacy and his lifetime of service to youth at Boys & Girls 'clubs, said Paul Martinez, club president and CEO. "This generous gift will create great futures for youth in Northeast Florida by providing teens the opportunity to discover their possible career pursuits after high school."
"We're thrilled to be able to continue dad's tradition of giving to such a worthy organization," Robert Grune said.
Feb. 13, 2021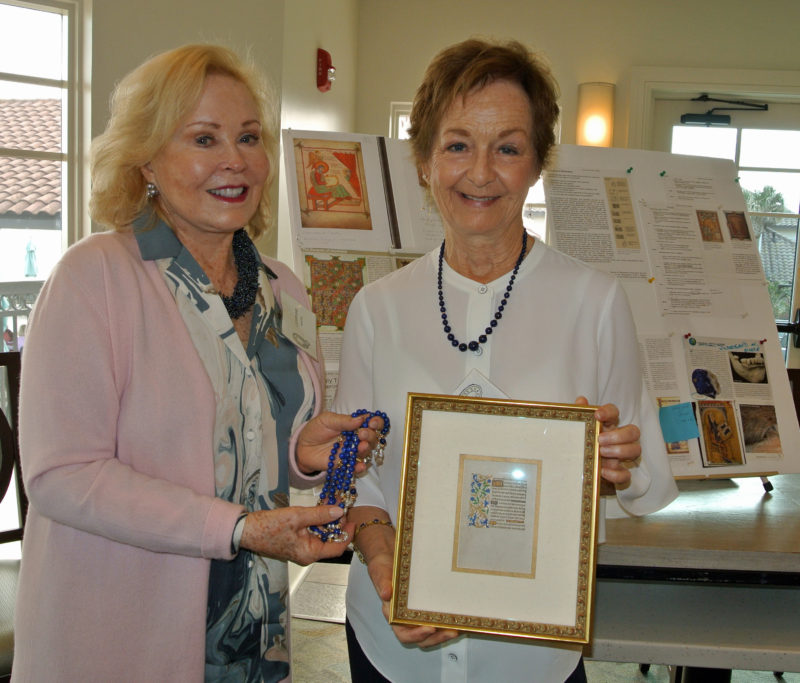 Questers… Illuminated manuscripts made the best seller list in the 5th century, former art history professor Janice Machin told her fellow Questers when they met Jan. 25 at Sawgrass Beach Club. St. Johns Questers is a national non-profit organization for women interested in learning about antiquities.
"We're going to cover the fifth century through the 15th," Machin, told her audience of Questers. A thousand years literally flew by as she presented fascinating information about the importance of illuminated manuscripts.
"Ninety percent of what we know about those years was because of these manuscripts," Machin said. "They were used for teaching by missionaries; they traveled all around Europe visiting centers of monastic learning."
These first books, known as codices, were handwritten on pieces of animal skin and illuminated with gold, silver and precious minerals such as lapis lazuli. She talked about the process of bookmaking on parchment made from goat or sheep skin or the most desirable vellum from unborn calf skin. Monks and nuns copied the books using ink made from soot, highlighted with gold and silver script and images and bound with leather or fabric. These early books were more valuable than the gold that colored their pages. They included books of the Bible, poetry, and recipes for game and fish.
In the 1450's, Gutenberg ruined the illuminating business by inventing the printing press. Then again in the 20th century the computer was invented, ruining the printing business. As is said, what goes around comes around.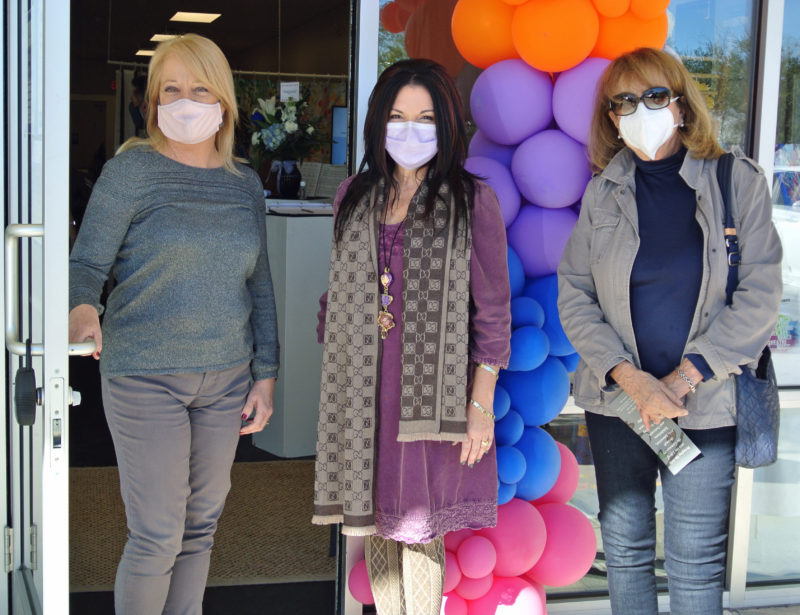 Speaking of art on the move, The Cultural Center at Ponte Vedra Beach has moved to Jacksonville Beachfor a few years, but retains its name and mission to bring the arts into the life of the community through arts education, exhibitions and outreach.
"We're hoping to make it back to Ponte Vedra," finance manager Alejandra Ordonez said at the Jan. 19 official opening/ribbon cutting.
The former center facility has been sold, and the center moved to a 1,400 square-foot storefront adjacent to Sally Beauty Supply in the South Beach Regional shopping plaza. It expects to be located there for three years or longer while searching for and building a new St. John's County site.
The former center served artists and students well for 26 years, but was showing its age. Covid conditions limited space available for most of 2020 into 2021, executive director Donna Guzzo said. "We offer 276 programs; we're reduced in space, but doing more in person, on line, after school and with music therapy…when fully realized, the center will be offering more services than ever to more residents than ever in Ponte Vedra, Jacksonville Beach and Nocatee."
The new space is fully utilized. The back provides exhibit space and is filled with paint spattered tables for art classes and projects. A piano at the front is available for music lessons that include guitar, violin, cello and voice. The piano is used for Kick Start after school programs. The center also provides Sound Connections music therapy programs for children with special needs that have expanded to six St. Johns County schools.
Just inside the front door is the center's popular artists' market featuring original creations for sale by local artists in a range of prices. Guzzo hinted that if the mall location is successful, after a new center is built it may keep the storefront location for sale of artist projects. Additional information is available at www.ccpvb.org.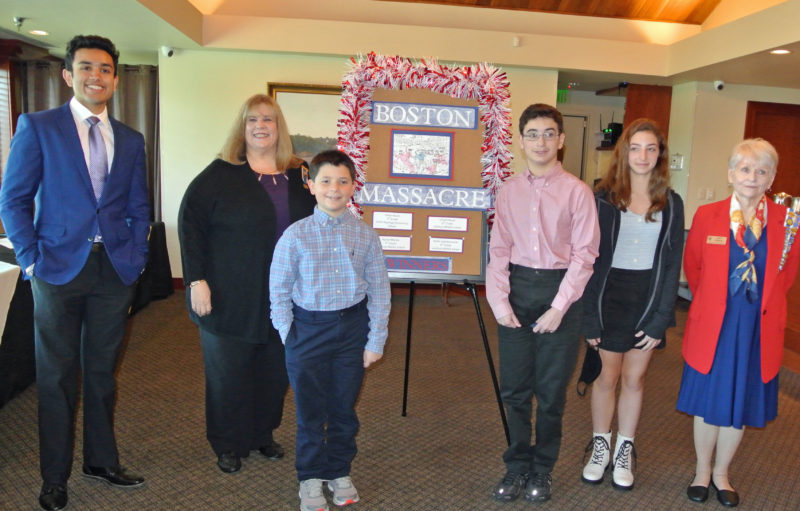 DAR… Every year the Ponte Vedra chapter of Daughters of the American Revolution invites local fifth, sixth, seventh and eighth graders to compete in an American History Essay Contest. This year's topic was "The Boston Massacre," a deadly brawl that occurred between American colonists and a British soldier on March 1770 in Boston. The students were challenged to write stories as if they had been there. Winners at each grade level received a certificate, a medal and a cash prize.
PVPV/Rawlings fifth grader Ethan Rozen wrote that he was an 11 year old at the time, who witnessed the battle and watched a friend get killed. He talked about taxation issues of the day that triggered the fight.
Taking a different approach was Ethan's brother Lincoln Rozen, the sixth grade winner from Landrum Middle School and a 2020 Florida State winner, described both sides of the issue as an adult debating with his wife. "Hearts were filled with sadness and despair," he wrote.
Landrum Middle School seventh grader Rachel Marino's essay took the audience from the massacre to the start of the revolution. "I try to see both sides of the story," she wrote.
And Landrum eighth grader Banks Vadeboncouer's essay (read by American History chairwoman Brandy Hibbard) talked about the colonists' desire for independence. Using the voice of a young girl in her story she heard her father say: "we cannot be ruled by the British any longer," and her mother said: "the revolution it has begun."
Chapter Regent Judith Delmar introduced this year's DAR Good Citizens Scholarship Essay Contest winner, Nease Senior High senior Shivam Shah, a salutatorian of his graduating class and a member of the National Honor Society. Shah has a record of academic excellence including a list of offices, awards and extracurricular school and community activities.
"One of the things that standout on his impressive resume is Shivam is Founder and President of i-Impact Initiative the youth group of Ummid A Hope Foundation," a non-profit that has donated over 200 masks to local grocery stores and 2,000 to the Angel Xpress Foundation; and raised money to fund education for girls in India and feed Indian children as well as raising money for Mainspring Academy, Ronald McDonald House and Pace Center for Girls.